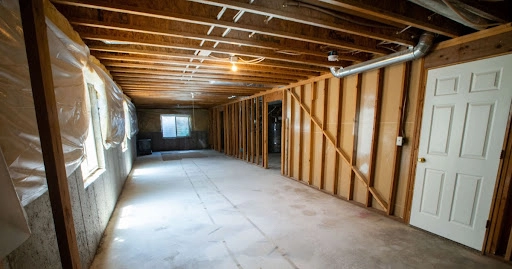 When you first move into a new house, it may feel pretty spacious. But all that empty space quickly fills up with furniture, belongings, and family members, and soon you may find yourself wishing you had even more room. Chances are you already have extra space in an underused, underground area that's not living up to its full potential. In that case, a first-rate basement remodel might be what you need.
Whether it's unfinished and full of moving boxes you never opened, or is finished but doesn't have the correct layout or amenities for your needs, that unused area is wasted space that a talented handyman can easily transform. Or, maybe you're thinking of selling your house in the near future and are looking for ways to increase its property value. If you've got an unfinished basement, the perfect opportunity to improve your selling price and get a solid return on investment is right beneath your feet—with a professionally completed basement remodel in Anne Arundel.
Ready to add livable space that will make your home more comfortable for your family, or raise your property value when it's time to sell? Rely on the team of Anne Arundel basement remodeling experts at Mr. Handyman of Anne Arundel and North PG to whip your unused areas into shape and give you the additional space you've been dreaming of—for everything from hobbies and family bonding, to an at-home office or flawlessly organized storage.
Finish the Space with Walls and Flooring
If you're working with an already-finished room, you're ahead of the game! But, if your basement lacks flooring and drywall, those additions are likely going to be the first step to create a comfortable, livable space. Finished basements can add quite a bit of property value as well. While it generally isn't included in the square footage of a home, it's a big perk that will help convince prospective buyers to seal the deal.
Keep in mind that you don't have to restrain yourself to the room's current layout. If the basement is more or less just a big, open room, you may want to consider putting in additional walls to partition off smaller areas for various purposes (more on that later).
What is the Best Flooring for an Anne Arundel Basement Remodeling Project?
When it comes to choosing a flooring material for your basement remodel, there's a wide range of options available. But whether you have a waterfront home or are a bit more inland, Anne Arundel homeowners need to be cautious about water incursion. Living near the water has many advantages, but excess moisture can also wreak havoc on homes. Basement floors are particularly vulnerable to moisture damage. While planning your basement remodel, avoid materials like hardwood or carpet.
Our flooring experts recommend luxury vinyl tile (LVT), or luxury vinyl planks (LVP). If you are picturing your grandmother's old-fashioned vinyl flooring, don't worry—LVT is nothing like that. It's highly durable, virtually maintenance-free, and comes in a vast array of colors, patterns, and styles—including many that mimic the appearance of hardwood or natural stone. It's also highly resistant to moisture and warping, which is an absolute necessity in Anne Arundel County's humid climate.
Ceramic and porcelain tile are alternative options that are durable, cost-effective solutions for basement floors. Tile can be installed over concrete, is water-resistant, and will hold up well in damp conditions. A third option is simply to seal the existing concrete flooring with a waterproof sealant, and refinish the surface to give it an attractive appearance.
Upgrade or Add Lighting Fixtures
You probably already have lights installed downstairs, but they may be inadequate, ineffective, or simply in the wrong location. It can be difficult to maximize natural light below ground, so it's important to have sufficient lighting to make the space feel welcoming—one flickering light bulb in the basement creates more of a horror movie vibe than an inviting hang out spot.
Recessed lighting, which is also called pot lighting, is a popular choice for basement remodels—especially on levels with lower ceilings. They sit flush with the surface of the ceiling, so they don't intrude on your headroom. Our handyman team can also install convenient touches like dimmer and timer switches to help save energy and create mood lighting. If you have the luxury of a higher ceiling, consider installing a ceiling fan to improve air circulation and save money on heating and cooling costs.
Create a New Room
Now we're getting to the good stuff! If you want a vast open space, that's a valid choice. However, if you'd prefer to use the basement for a number of different purposes, it makes sense to consider putting up partition walls to create multiple rooms. Need inspiration?
Here are a few ideas from other Anne Arundel basement remodels:
Extra bedrooms
Recreation room with a game table or pool table
Home theater for family movie nights
Home office
Children's playroom
Arts and crafts studio
Man or woman cave
Wine cellar
Home gym or workout studio
Additional bathroom
Laundry room
Find Storage Solutions
Chances are good that you're already using your basement to store some of your possessions. You'll need to move all that stuff out of the way to make room for the basement remodel—but where are you going to put it once the project is finished?
It's important to have plenty of storage options downstairs. From large sports equipment to random boxes you never unpacked when you moved in, the basement is a good place to keep stuff tucked out of sight. Our skilled remodeling team can create built-in storage solutions for whatever you need to keep out of the way. That could include large cabinets, hobby stations, bookcases, shelving units, storage racks, and lots more. With a talented carpenter on your side, the custom carpentry possibilities are endless—and it's a really nice feeling to have a place for everything, and everything in its place.
How Can I Get the Playroom Mess Under Control?
We hear you—keeping a children's playroom tidy is no easy task. You might have the entire rest of the house pristine, but it still looks like a toy bomb exploded in the playroom. We can create customized storage solutions for your remodel that will make cleaning up so easy, even a kid can (and should) do it. For example, a long bench seat along the wall that also happens to have hidden toy boxes underneath will add seating and lots of extra storage space. Cubbyhole shelves make it easier to fit large, awkwardly shaped toys, and you can still see what you have at a glance. We can even build in a wardrobe for dress-up clothes, or a little puppet theater to make the space more welcoming for kids.
Protect Your Home and Family
While this might not be the most exciting or fascinating part of your basement remodel, there are some steps you should take to help ensure that your home is safe and functions smoothly. Consider whether you need Mr. Handyman of Anne Arundel and North PG to take care of these preventative maintenance measures during your remodel:
Install carbon monoxide and smoke detectors
Clean out clothes dryer vent
Insulate hot water heater
Repair or replace sump pump
Seal windows against moisture and cold drafts
Install handrails or grab bars
Repair creaking or loose stairs
Replace stairs that are too narrow or otherwise unsafe
Add the Final Remodeling Touches
Don't forget about the little finishing touches that will make your basement remodel feel perfect for relaxation, socializing, hobbies, and more. Your handyman could install a bar with a mini fridge, mount a TV on the wall, hang framed photos, put up curtains, and whatever else you need to turn the basement into your favorite part of the house.
In Desperate Need of a Basement Remodel Expert? Mr. Handyman of Anne Arundel and North PG is Here to Help!
Whether you're in
Annapolis
, Crownsville, Glen Burnie, or another nearby community, you can trust the pros at Mr. Handyman of Anne Arundel and North PG to take care of your entire basement remodel—and many other
home improvements
. Give us a call to book a service appointment or find out more about how we can enhance your home!