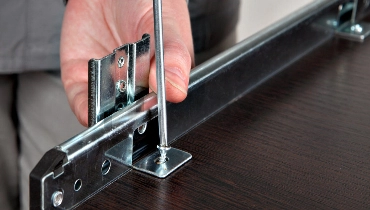 Furniture assembly is not everyone's favorite part of room decorating. It might take you back to woodshop classes in high school, and even if you excelled in it then, you might still sigh at it now. That makes perfect sense! When you purchase something expensive, the last thing you want is to spend extra time on assembly. Unfortunately, that furniture must still be put together before you can use it. Luckily, you can always get expert help with furniture assembly in Arlington.
Your Arlington handyman from Mr. Handyman of Arlington, Mansfield, and Grapevine will bring their team of professionals to take over this task. All you'll have to do is sit back and relax or take care of your other priorities around your home. We won't take too much of your time—many projects take just four hours or less. Feel free to purchase your dream couch, cabinets, or office furniture without worrying about putting it together. We are your one-call solution for the best furniture assembly in Arlington.
Furniture Assembly Arlington: Doing it Yourself
Whether your living room is empty, awaiting new furniture or messy with screws and wood boards lying around, you need a strategic plan. We're here to help with the best furniture assembly advice and strategies used by local experts.
1. Do Your Research
Once you have figured out what you want, you should dig deeper into it and read relevant reviews about other people's experiences with your dream item. You will notice that some reviews vary between quality and assembly. This will help you make a better judgment before you buy. Also, keep an eye out for pre-assembled items if that's what you would prefer.
Pro Tip: Product descriptions and reviews don't always reveal all the details you want. Sometimes, you want to know more about the manufacturer, the type of wood used or whether the product has ever been recalled. You might need to rely on different sources than the company's website.
2. Unwrap Your Furniture Carefully
If you have decided to have your unassembled furniture delivered to your home, unwrap each piece carefully. Treat them similarly to puzzle pieces, separate big from small and place screws, hinges and hex keys in a safe spot (like a bowl) where you won't lose them.
3. Did The Manufacturer Include Everything?
The worst thing you can do is start right away without knowing if you have all the essentials for a successful furniture assembly project. Because factory packaging still requires labor, you can never be 100% certain that you have received every little piece of equipment.
Pro Tip: While companies usually include all the essential assembly pieces for your product, you will often find that there are not enough screws, or worse, they aren't quality screws. Your expert Arlington handyman recommends investing in stainless steel for replacement screws, as it has elevated rust resistance (as long as it has more than ten percent chromium content).
4. Equip Yourself with The Correct Tools
Companies like IKEA provide relevant hex keys, but if you own a toolbox with all the power tools you need, you will have the advantage of speeding things up and even making this project enjoyable.
Tools You May Find Useful Include:
An Allen wrench or hex key set
Phillips and flathead screwdrivers
Power drill
Impact drill
Set of driving bits
I-Beam Level
Lightweight hammer
Safe work station
Pro Tip: If you have your tools ready, we recommend conducting your Arlington furniture assembly in a safe area where you won't accidentally knock over antiques or scratch-sensitive floors. If you don't have carpets, you can protect your floors with furniture pads, blankets or cardboard.
Note: Some manuals may suggest not using power tools because they tend to overtighten or cause misalignment when not handled correctly. We recommend using your best judgment before moving forward or hiring your local Arlington handyman if you're unsure about your tools.
5. Read Instructions Carefully
We understand if this is where you lose your patience. Not every company is perfect at designing instructions for manuals, even when they include pictures. Still, reading instruction manuals carefully is important. It's safest to read it more than once, view the diagrams and see if you can identify the materials from the pictures. It helps to get a second opinion because we tend to overthink something that might, in fact, be simple.
6. Start Aligning/Connecting Parts
Again, when we start a puzzle, we tend to put similar colors together and slowly build on them to make out the bigger picture. But during furniture assembly, we have to think in terms of forming a structure that is built to stand and hold weight. In many cases, large projects involve three or more steps. If, for instance, you're working on a bookcase, you might start with the cubby holes or the main structure. They will all eventually come together.
Pro Tip: Do follow instructions carefully and don't fully secure anything at this stage until you know exactly where it goes. Co-joining parts are often not secured or fastened until the end of the assembly.
7. Always Have At Least TWO People
Having two people doesn't only speed things up, it minimizes the chances of injury and damage. If you are both new to this, one is likely to have a different opinion than the other, which allows you to view things from different perspectives—but it's important to remember that for most pieces, there is only one correct way to complete furniture assembly.
What Can an Arlington Handyman Do?
Anything you can think of⁠—try us! No task is too small or too big as long as we know what you want. You can rely on us to put together even the most complicated furniture piece or project.
The most popular furniture assembly jobs our team gets are assembling a:
Desk
Bunk bed
Sofa
Futon
Table
Cabinet
Storage rack
Bookcase
Shelving unit
Fence
Bike
Entertainment center
Aside from these, we also get special requests for:
IKEA Furniture
While IKEA's self-assembled products are straightforward with their user manuals, it doesn't mean that one person is able to handle them all alone. Some bed frame assemblies are time-consuming and difficult for one person to do—as are desks, chairs and cabinets.
Decks
Constructing your own deck is a very exciting experience. We first recommend Arlington homeowners to source their materials well. Look at pressure-treated lumber, for instance, as well as good-quality beams, frames, joists, diagonal bracing, stairs and railings. Your Arlington handyman has the expertise to build or assemble your dream deck if you need help or want to learn some tricks. Because of the time, tools and expertise required to get the job done right, deck assembly and installation is a common project that many people choose to complete with a professional handyman service.
Commercial Furniture Assembly in Arlington
If you are the owner of an office, food services business or another commercial space, assembling hundreds of desks, tables or chairs may not be what you want to spend your time on. Your skilled team at Mr. Handyman of Arlington, Mansfield and Grapevine brings many years of experience setting up office furniture and completing other commercial assembly projects, ensuring a safe and comfortable workspace for everyone.
Commercial assembly service includes putting together:
A work desk, office chair and other office furniture
Desk dividers, partition panels, and cubicles
Patio furniture and other outdoor furniture
Demountable walls
Shelving units
Filing cabinets
Storing racks
Wall-mounted TVs and displays
Custom Carpentry as An Alternative
Customers that turn to us for custom woodwork prefer having personalized materials in their living space because it adds more uniqueness and helps boost their home's value if they ever think of selling them.
Custom carpentry is a specialty that we are proud to offer to our customers. Unlike commercial prefab furniture, we give you the option to choose your preferred material. We like to support our locals and use locally sourced wood since some of Texas's native woods include oak, cedar and elm—all of which make quality hardwood material for your home.
Unlike prefab, our Arlington carpenters ensure that any quality material used is protected accordingly with the correct finishing. For extra protection, it helps to make them weather resistant. Waterborne UV coatings are popular among many quality finishes.
One of the biggest advantages of custom carpentry is that your Arlington handyman listens carefully to your needs and can physically be present and inspect the areas in which you need custom woodwork. We are precise and thorough, moreover, everything will be assembled for you in the end.
Furniture Assembly Arlington FAQs:
Who knew you could gather so much extra knowledge on furniture assembly? Tackling easy and medium is one thing, but difficult includes much larger objects, which are never a one-person job. Here are the answers to some of your frequently asked questions from your dependable Arlington handyman.
Is Furniture Assembly a Safety Hazard?
It is if you are poorly equipped and aren't sure what the steps are. Manually handling heavy wood without support can be dangerous, as you could trap your feet and fingers. It's also unsafe to have kids and pets nearby during your project.
How Long Does It Take to Assemble a Large Furniture Piece?
It could take up to four hours, depending on the size. Anything that is bulky and heavy is rarely a one-person job. Many larger pieces like a couch, bunk bed or sectional sofa have frames that you need to put together, along with legs and other individual pieces.
Do Furniture Stores Offer Furniture Assembly Service? Are They Free?
Not everyone does, but some companies hire third-party partners that may not be immediately available when you need them. Unfortunately, most do not offer free services as it still requires workers to enter your property and invest time in providing service.
Is IKEA the Most Trustworthy Commercial Furniture Company?
They are surely the most popular among other renowned companies, providing customers with many details about material sourcing. While we recommend sticking with brands that you know, be careful when purchasing products online that don't specify the material's origin and fabrication location.
Apart from Mr. Handyman's custom carpentry services, it's always worth connecting with local lumber companies and familiarizing yourself with their partners (such as us!). This way, you'll know where your wood comes from and that it's of high quality.
What Are Cam Lock Fasteners?
These are cylindrical fasteners that hold pieces together. They help with quick and secure connections that are usually invisible after building. With your furniture piece, you may receive some cam lock bolts and connectors, which are designed to fit together if your furniture arrives with pre-drilled holes. There are different types, from A-E, and they're often used for building cabinets.
Do I Need to Secure My Furniture to The Wall?
Most large furniture pieces should be securely attached to the wall to prevent tip-overs. Whether you have an adventurous climbing child or a curious cat, anchoring your dresser or drawers to the wall is essential and adds extra protection against tipping or falling. Your Arlington furniture assembly specialist is always happy to help with those final safety touches.
Can I Put Glue on Wood Dowels?
Do-it-yourselfers like to use glue on wood dowels, which isn't something we recommend unless you know exactly what you're doing. Glued dowels do present an even stronger holding power, but there's no going back if you've assembled the wrong pieces together. You can assemble the pieces without glue first to ensure they are the right fit.
How Much Does Arlington Furniture Assembly Cost If I Hire a Pro?
Some companies charge per hour, while others charge per project. Mr. Handyman is very transparent with pricing, and we'd love to learn more about your specific assembly needs, so that we can provide an upfront estimate. We are a locally owned company that's always happy to help Arlington residents feel safe and comfortable in their homes, and therefore, we never charge any overtime fees.
Need Help Around the House? Hire the Pros at Mr. Handyman of Arlington, Mansfield and Grapevine
We offer a wide range of other home repair and improvement services to our clients in Arlington and throughout nearby areas, including Grapevine and Mansfield.
Whether you need help with putting furniture together or custom carpentry, flooring installation or drywall repair, our team of experts has it covered. Each of our technicians has over ten years of experience working in the trades.
Give us a call to book an appointment today or chat with our helpful team of customer service representatives about your home maintenance needs.