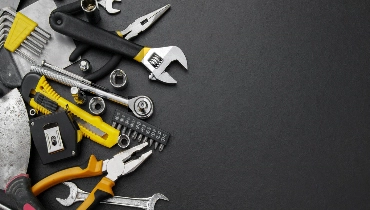 With a population of under 400,000, located just east of Fort Worth, Arlington has become one of the most popular places to live within Tarrant County. Arlington hosts major sports events, exhibitions and other exciting highlights but still offers a solid suburban feel. It also has many great local services, which means it's always easy to hire a handyman in Arlington.
Many residents own their homes and other properties, making Arlington a special place for families and professionals to settle and start a business. Their renowned school system is backed by the University of Texas, which has a modern planetarium that attracts visitors daily. All those residential, commercial and other public properties require routine maintenance to remain safe for use and help prevent future damages. If you hire a handyman in Arlington, you can rest assured that they will look at every detail and provide you with a detailed diagnosis for property maintenance—and provide every service you need to get it done.
Your Arlington handyman brings over ten years of experience and has provided nearby communities with reliable home improvement and maintenance services for many years. Whether you need drywall repair or new tile installation, attic insulation or help with kitchen remodeling and bathroom remodeling, you can hire a handyman at Mr. Handyman of Arlington, Mansfield and Grapevine to get the job done.
Hire a Handyman Arlington: Property Maintenance
Arlington property owners are remarkably busy keeping their properties in shape because they want to live up to their community's name and reputation. They are most likely working full-time and have families to care for. Business owners have daily workflows to manage while attending endless meetings or conferences. That busy lifestyle could make you forget about maintaining the indoor and outdoor environment you work and live in.
Is your family complaining about cold drafts at home, but you haven't had time to caulk your window frames or check your insulation? Or have you been playing with the thought of installing a new countertop for the staff kitchen or fixing the slamming bathroom door that always startles your employees because they sit nearby?
Property maintenance chores will only add up if you don't deal with them right away. In some cases, that lack of maintenance could lead to deterioration. For example, continuously slamming doors will eventually cause cracks in the walls and damage the floor. A damaged windowsill or a misaligned door could potentially compromise your home's insulation system. If you hire a handyman, they will have it all fixed in a day. Mr. Handyman of Arlington, Mansfield and Grapevine is your one-call solution for home repairs, maintenance and improvements, so you don't have to feel guilty or stressed anymore.
Gutter Cleaning
Homeowners dread gutter cleaning, and we don't blame you for postponing this grimy task. But that doesn't mean it can wait forever. Although Arlington's wettest season is in the high summer, the chances of clogged gutters and downspouts are still high after summer because the city gets lots of wind when fall arrives.
If you decide to clean your gutters yourself, we recommend first taking your ladder in for a routine inspection. Unfortunately, this is one of the most overlooked precautions. Old ladders are prone to having frayed rail sheets and rust and should undergo inspections every three to six months.
Alternatively, you could hire a handyman service. Professionals equipped with a gutter scoop, gloves, safety glasses and a tarp are happy to take this burden off your shoulders. We scoop debris for a living! While we're already up the ladder, we'll also inspect your gutter's shape to ensure that you won't have to worry about leaks that could potentially damage your siding, drywall or structural foundation. De-clogging your downspouts may be more challenging if you don't have the necessary tools (e.g., spray, wire or vacuum system). If you hire a handyman for gutter cleaning, you can save time and avoid lots of problems in the future, especially when you live in a tree-dense area.
Attic Insulation
If you notice a drastic change in your home's energy efficiency, the first things you'll check are your windows and doors. Next, you will inspect your attic insulation. When it's clean and dry, it will circulate cool fresh air through your home in the summer and maintain heat in the winter. Although many people don't go up to the attic much, it's important to watch for the telltale signs that hint toward deteriorating attic insulation in your Arlington home.
Hire a Handyman if You Notice:
Overworking HVAC systems
Increased energy bills
Drafty rooms
Wood rot
Moisture damage
Window and door condensation
Old insulation
Good-quality insulation can last for many decades. Still, to ensure immaculate performance, our experts at Mr. Handyman of Arlington, Mansfield and Grapevine recommend replacing insulation every 15 to 20 years.
Since Arlington, Mansfield, Grapevine and nearby parts of Texas are susceptible to cooler winter weather, you must have secure insulation systems to stay safe during extreme cold weather conditions. Your certified Arlington handyman is happy to help if you need more information about spray foams, cotton denim insulation or installing preventative solutions like hurricane straps, ties and clips on roof trusses.
Deck Staining and Finishing
Your deck is where you find refuge on pleasant sunny days when you're not working. Or where you watch pets and kids play on the lawn and enjoy throwing some food on the grill. Although Arlington homeowners take pride in their decks, they often forget the necessary maintenance they need to stay in shape. You want your deck to be spotless when you have guests.
While Arlington is primarily sunny, decks are still susceptible to weather damage depending on the materials used to build them, or if you didn't use a strong enough sealant to treat the surface. We usually recommend pressure-treated wood that contains an insect and moisture-resistant preservative. Also, resealing your deck every year will further protect it from moisture.
It's best to hire a handyman in Arlington to have your deck maintained, as they bring the tools and eye for detail to ensure nothing is overlooked. You might have rotting wood that isn't immediately noticeable. Failing to fix it could result in serious damage. Mistakes like these are easy to make without a wood rot expert. Whether your deck needs restaining or repairs or power washing to recover its original looks, we are your team!
Additional Maintenance Work
We are versatile technicians who always approach our tasks with optimism. Unlike other handyman companies, we aim to be as client-focused as possible because we want you to tell us the type of comfort you want at home.
Fence
Fences serve as safety barriers for your children and pets, and they always need maintenance, whether they're made of wood, vinyl, PVC, wrought iron or aluminum. We have installed many custom-built fences or fence gates for Arlington homeowners, offering a range of styles that serve different purposes.
If you have an existing fence that merely needs maintenance, our services include repainting or restaining, termite checks, replacing hinges and repairing broken boards.
Window and Door
We repair and install interior and exterior doors. Have your doors gone through general wear, have rusty hinges or show signs of rotting wood? Hire a handyman in Arlington who has the tools and expertise to fix it all in a day. We also specialize in framing and molding around windows, fixing sills and more. Many instances of door installation also involve oiling and caulking.
Ceiling Fan
We install and repair ceiling fans, light fixtures, motion detectors and smoke detectors, ensuring everything is in working order. These installation projects will enhance your overall comfort and safety, whether after a home remodeling service or as part of other upgrades.
Dryer Vent Cleaning
Many signs point to a clogged dryer vent. If your clothes take too long to dry after each cycle or your dryer overheats, you must check the ventilation hose for any lint clogs. As a highly combustible substance, it can easily cause fires. According to the US Consumer Product Safety Commission, over 15,000 house fires are caused by clogged dryer vents. It's easy to avoid that complication when you hire a handyman in Arlington.
Furniture Assembly and Custom Carpentry
While it may be easy to assemble a bed frame or chair when you follow IKEA's instructions, you can also hire a handyman to help assemble larger projects like decks, cabinets, shelving units and more. Whether residential or commercial, we have set up numerous home and corporate offices. Do not hesitate to ask us about custom carpentry as well because we offer personalized woodwork to suit your needs and boost your home's value.
Arlington Handyman Service for Commercial Spaces
Whether it's a retail shop or corporate office, commercial spaces need reliable handyman services to function on a daily basis. Every workplace needs a comfortable workspace for employees to focus and execute their tasks.
You already have a never-ending to-do list to keep your business running as the owner. The last thing you need is damaged drywall or broken door handles. Or perhaps you just need to hire a handyman because you haven't had time to set up a desk for the new person starting next week.
Some of our most requested commercial handyman jobs include:
Pressure Washing: Corporate, retail and other public buildings suffer from unwanted wear and grime buildup. We'll be able to determine whether pressure washing or other solutions are the best method for removal without damaging your siding.
Commercial Carpentry: Easy furniture assembly and custom carpentry using power tools to create structures and fixtures or install walls and ceilings.
Commercial Door Installation: Professional installation for a wide range of doors, including specific commercial units. We ensure your doors are secure and not a safety hazard.
Handle and Lock Installation: Easy replacement or installation of new locks, handles or other types of hardware for doors, windows or other parts of your commercial property.
Hire a Handyman Arlington: Repair Services
Whether you have a residential or commercial property, you will always find a specific area that will eventually show signs of aging or deterioration. You can hire a handyman in Arlington to conduct a thorough analysis to check on your structural integrity, which involves surface hardness, concrete resistivity, floor defects and much more. If that inspection reveals something minor, there are preventative measures you can take to help maintain those areas and avoid early replacement requirements. If there are major issues, you may need more serious business or home repair services.
Weather damage and gradual wear don't always call for immediate action until unexpected repairs seek your attention. The sooner you hire a handyman to eliminate early signs of concern, the fewer problems will arise. Residential and commercial spaces require safety and comfort to keep routines going. A drafty window by your desk or a slamming fire exit door is a potential nuisance that can be fixed by an experienced handyman.
Do you have stress from unaddressed repairs like those? Your local handyman in Arlington could make all that stop right away by providing a wide range of repair services, including:
Drywall Repair
Do you have a dent in your wall or some foundation cracks that need further inspection?
Drywall repair or replacement is common throughout all kinds of properties, with water damage as the leading trigger for most problems. Less severe cases include small holes, which you can fix with a decent patching job using drywall compound and tape, followed by some sanding and painting.
Drywall panels are made of a soft sulfate mineral called gypsum, which is non-combustible and lighter than other wall materials. As an affordable interior wall material, you will find it in most modern homes, where it is also installed as ceilings to replace the old labor-intensive lath and plaster construction. The average drywall thickness is 1/2 inch, and while durable, some boards are only water-resistant, not waterproof. Other variants include cement board and green board, which have waterproofing characteristics. They are commonly used behind tile installations in bathroom remodeling or kitchen remodeling projects.
Note: Cracked tile and grout will cause leaks and damage existing drywall panels. A reliable maintenance technician can inspect the walls behind your tiles and even offer tile repair to manage leaks.
When you hire a handyman in Arlington, you can also fix:
Tiles
Grout
Flooring
Ceilings
Doors
Windows
Countertops
Decks
Patios
Stairs
And much more!
Need Home Maintenance and Repairs? Hire The Pros at Mr. Handyman!
Whether you're in Arlington or need to hire a handyman in a nearby area, such as Grapevine, Southlake or Colley, you can trust the service technicians at Mr. Handyman of Arlington, Mansfield and Grapevine to have the experience and skill necessary to deliver high-quality maintenance and repair services.
Give us a call to hire a handyman in Arlington or to chat with our friendly customer service representatives about all the professional handyman jobs we can complete for you. You can take advantage of a wide range of Arlington handyman services for all situations when you choose our team.