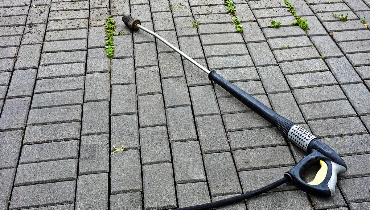 Everyone knows how important it is to maintain the interior of your home, but when someone talks about boosting curb appeal, you immediately remember that home maintenance doesn't stop inside. When you take a step outside after the cold winter months, your house siding might look run down or your gutter might be clogged and dripping. Perhaps you're looking at your deck and realized that you never gave it the required sealing treatment the year before. Now it may look like it has gone through some moisture damage. But don't despair! You can make all those problems go away with Arlington pressure washing services.
We hope that you are ready for some exterior home maintenance services with your Arlington handyman from Mr. Handyman of Arlington, Mansfield, and Grapevine. We provide reliable inspections and professional pressure washing services that will restore your home's original looks. Our skilled service technicians bring many years of experience in helping our community with home maintenance, improvement, and repair services, from gutter cleaning to repairing outdoor furniture to pressure washing. Arlington, TX homeowners can rest assured that we will save you tons of time, so you won't have to worry about any time-consuming maintenance tasks adding up on your to-do list.
Why Do I Need Arlington Pressure Washing Service?
Arlington, TX has many attractive homes that deliver the WOW factor to potential buyers. Maintaining that curb appeal is important—especially if you're planning on selling your home. First impressions matter, but you must also be ready for anyone that's coming closer to marvel at the details around your home. If you have signs of green algae on your vinyl siding or grease stains on your concrete surfaces, people might get put off by the lack of maintenance. With Arlington pressure washing service, you will get immediate results without needing to scrub your rocks and stoops or rely on your garden hose to clean your driveway. It also often includes a quick inspection of the other exterior surfaces of your property from your handyman, to determine the material's condition and strength before going ahead with professional cleaning. Often, soft washing with heated water will do the job splendidly.
It's important to know that Arlington pressure washing is about more than just fixing cosmetic issues. When you neglect any type of cleaning duties, they could lead to material deterioration, damage and even affect your health.
Types of Pressure Washers and Cleaning Solutions
This equipment can vary in size and is available as gas-powered or electric. Whether you need lightweight or heavy-duty equipment highly depends on the surface that you want to clean. With all the different types and sizes out there, we understand it's a headache to pick the right pressure washer. Arlington, TX homeowners can rely on our team to bring the right equipment for effectively cleaning all their surfaces.
If you need to remove stubborn oil stains, we recommend choosing a power washer, which operates with heated water and cleaning solutions. Cleaning commercial properties would be another specific example where you might need a heavy-duty unit. That's where service technicians typically use cleaners that contain sodium hypochlorite. When hired to do exterior cleaning for residential homes, we prefer using multi-cleaning purpose solutions or biodegradable detergents that are more environmentally friendly.
How Does Arlington Pressure Washing Protect My Home?
Damage Prevention
Many properties suffer from wear and damage over time, such as from wasps and other insects chewing through wood siding, or from clogged gutters compromising the health of nearby roofline features, and the siding below it. Those can be frustrating situations, but you can prevent them with routine maintenance services like Arlington pressure washing.
Protect Your Home's Value
When scheduling an annual appointment for pressure washing, Arlington, TX homeowners can rest easy knowing that their property will be protected from the problems caused by wear and weather, which means they can also rest assured that their clean, well-protected property will retain its value. In some cases, an appointment for pressure washing can even help boost curb appeal.
Taking Care Of Family's Health
Algae and other contaminants that tend to grow on siding not only look bad, but they can also threaten the health of people and pets that come into contact with them. The best way to remove all that algae and other bacteria from your outdoor surfaces is with thorough service from an expert handyman with a pressure washer.
Prepare Surfaces For Staining or Painting
This is on many people's to-do lists before the peak of summer. If your deck boards or fence are due for their next staining session, you can get started by clearing any debris and grime with professional pressure washing. Arlington, TX property owners can rest assured that we will safely wash all those areas, and keep an eye out for other potential problems. We can help detect wood rot, decay, and many other types of damage.
Other Benefits of Pressure Washing in Arlington, TX
Who says you need a full makeover or renovation to give your home's exterior a facelift? If you're not keen on investing in costly repairs or remodeling projects, home maintenance services like pressure washing are a must. This way, you will protect your home's resale value and always be on top of any issues that could potentially cause bigger problems. That peace of mind is a huge benefit that comes from this type of service.
Signs You Need Arlington Pressure Washing
Algae or Stains on Siding: To clean your siding, your local handyman will determine whether pressure washing or soft washing is the best option, as it can depend on your siding's type and age.
Pollen, Stains, and Grime on Decks: After a thorough inspection of the deck boards, a clean will get it ready for refinishing and staining. It's usually recommended to get this done on a nice sunny day to accelerate the drying process.
Grime on Fences: Whether it's washing off winter wear or seasonal stains, cleaning your fences is an important part of home maintenance.
Clogged Gutters: You can easily clear out clogs and clean off the areas around your gutters with pressure washing equipment.
Oily Garage Floors: You can eliminate all kinds of oily stains from your garage floor with a professional power washing service.
Decorative Rocks: If you have a hardscape yard that looks run down due to a lack of maintenance, we can revive it with pressure washing. Arlington, TX homes with hardscape decorations will always look sharp with a cleaning from us!
Driveway Cleaning: Oil in concrete or nasty tire marks doesn't have to ruin your curb appeal. Our environmentally friendly detergents will effectively remove those ugly stains.
Arlington Pressure Washing—Frequently Asked Questions
What Is The Difference Between Pressure and Power Washing?
While people tend to use both terms interchangeably, there is a difference. Power washing involves the use of hot water, whereas the latter uses cold to standard temperature water. Heated water is ideal for highly-saturated surfaces such as oil stains on garage floors, and depending on what cleaning solution you use, it can help control weed growth too.
Do I Hire A Professional or Rent A Pressure Washer Myself?
You know your property and material best, but it can be difficult to know whether or not those areas are safe for pressure washing without a professional eye to look for issues like a minor crack on your siding or a small hole in your gutter. It's safest to get this type of service from a certified handyman who can perform a thorough inspection, so you don't have to worry about potential complications. Hiring an experienced professional also saves plenty of time, leaving you free to enjoy your clean, shiny outdoor areas.
Can Pressure Washing Cause Injuries?
It is possible for this type of equipment to cause both injuries and accidental damage. That's another reason why we recommend leaving it to pros who are equipped with safety glasses, gloves, enclosed shoes, and the required safety knowledge. The high-pressure water jet could easily cut through materials when set to high and cause damage to your property.
What Other Safety Precautions Should I Know?
When you walk around your property to decide if it needs a cleaning, we urge you to examine the exterior surfaces closely. Some homes may experience settling that triggers foundational cracks on siding and interior walls. While not a major concern, those problems need professional attention and minor repairs before you can move forward with Arlington pressure washing services. We always inspect all the surfaces we'll be cleaning before we give you a thumbs up for pressure washing. This is to ensure the material can withstand the water jet, and help you fix any underlying issues quickly with other professional services like siding repair.
How Often Do I Need Arlington Pressure Washing?
This highly depends on the location of your home, seasonal weather patterns, and other unforeseen weather conditions. Our hot, muggy summers often encourage harmful algae growth on siding, and homes in tree-dense areas may easily get clogged gutters. As a rule of thumb, you can never go wrong by scheduling Arlington pressure washing once a year. We would recommend doing it in the early spring once winter has passed and you can get things ready for the summer. That said, you might want an appointment after the rainy season in May and June instead, to clean away any new debris.
Why Choose Mr. Handyman for Arlington Pressure Washing?
Our skilled team at Mr. Handyman of Arlington, Mansfield, and Grapevine brings many years of experience in pressure and power washing services for residential and commercial buildings. Our priorities are your safety and creating a clean living environment, which is why you can trust us to get the job done right without leaving any mess behind. We are a locally-owned and operated business, happily serving satisfied customers in and around Arlington, TX. But don't just take our word for it. Our reviews speak for themselves.
Need Arlington Pressure Washing Services Or Other Maintenance? Hire The Pros at Mr. Handyman!
Whether you're in Arlington or in a nearby area, such as Grapevine, Southlake, or North Richland Hills, you can trust Mr. Handyman of Arlington, Mansfield, and Grapevine to have the experience and skill necessary to deliver high-quality exterior home services. While pressure washing is an integral part of home maintenance, we also offer many other handyman services that will keep your home in top-notch condition.
Give us a call to make an appointment for pressure washing in Arlington, TX, or to chat with our friendly customer service representatives about all the professional handyman jobs we can complete for you. We urge you to take advantage of a wide range of handyman services for all situations and feel free to ask us any questions that you may have. The likelihood of us having the right solution for you is high!