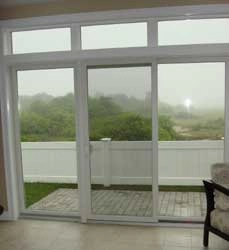 It's amazing how many different names we have for building materials and features such as doors and windows. Why do we use the term "patio door" when most of us assume this refers to a sliding glass door, a far more descriptive term? In fact, if you go to Wikipedia to research where the term patio door came from, you find that their entry is for sliding glass door.
Maybe it's because patio doors more generically mean doors with two or more glass panels that are door height. Patio doors include at least one panel that acts as a door, providing access between two areas, which most commonly are a home's family room/kitchen eating area and the outdoors, typically a deck for outdoor cooking and family meals. Patio doors come in two styles - sliding doors (shown above) and hinged French doors (diagram below) with two to four panels.
Decisions When Ordering a Patio Door
Let's look at the various decisions a homeowner makes (or Mr. Handyman makes on your behalf when you have us take the measurements, order, and
install doors
or windows).
Size is the first decision. Most often you're going to replace a patio door with one that is the same size, but it is possible to install a larger or smaller door. A larger door will require extra framing to support the new width. A smaller door will need more framing for wall space that doesn't exist today. You won't want this expense unless you require more interior wall space for furniture, as new siding outside can be a challenge.
Choice of door materials comes next. While doors most often match other doors and windows in the home, it's quite common for patio doors to be made of fiberglass for fewer maintenance issues. Choices include wood (which can have a low-maintenance skin on the outside), fiberglass, aluminum, steel and vinyl.
Glass styles vary, with the most common choices being plain glass, beveled glass or grids like the door below. From experience at Mr. Handyman, we know that you want a good eight to 12 inches of frame at the floor so that people aren't kicking (and breaking) the glass, which is a common problem with storm doors.
Security in the form of lock hardware is important. Every movable door panel should include a lock that may be keyed, although that's unusual. There are also foot bolts available (common with interior French doors) to secure the door to the floor.
Door trim should match your other doors and windows.
Weatherproofing includes the use of weather stripping along the sides of the movable door plus a rain deflector at the bottom of a swinging door panel.
Colors for paint/stain and hardware come last. It's important that homeowners know that even fiberglass doors require painting. You'll also want to consider the type of metal you want for the locks so that you can order your door with matching hinges.
Here are a few tips for maintaining your patio doors:
Twice a year (spring and fall), check your doors to see that they are operating smoothly and are easy to lock. If you find a problem, it probably means the door is out of alignment and needs to be adjusted.
Check for gaps around the moving door panel(s), and replace weather stripping as soon as you see a problem. You don't want to let any water damage start, and doors are more susceptible because the rain hits the ground and splashes up against the house.
Rolling screen doors cause the most common problem found with patio doors, and it's not unusual to have to replace the screen rollers periodically, as they're often made of plastic.