Types of Showers for Your Bathroom Upgrade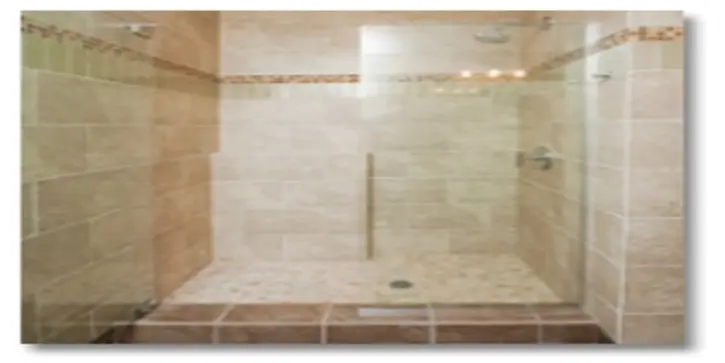 A bathroom remodel offers a lot of bang for your buck and has a fairly high return on investment. People like their bathrooms to have a luxurious spa-like quality that feels clean, bright, and spacious. Choosing the right shower for a bathroom remodel can add or detract from an overall remodel, so homeowners should spend some extra time considering the best shower remodel options for their particular home and bath needs. There are three main varieties of showers - fiberglass, glass, and tile. All three come with advantages and disadvantages to consider, given your home and your lifestyle.
Fiberglass
A fiberglass shower is by far the most ubiquitous material option among homeowners. Fiberglass showers are easy to install and even easier to clean. Compared to tile or glass, fiberglass baths, and showers usually cost less money. They come in a wide variety of shapes and colors. Unlike tile or glass, fiberglass showers are far less prone to mold and mildew problems, soap scum buildup, or hard water stains.
A downside to fiberglass showers and bath units is their appearance. Almost every home buyer has walked into an outdated bathroom with an avocado green or coral pink shower. Choosing an overly bold color for a fiberglass shower can quickly date a home's overall decor and reduce a home's value. Fiberglass also scratches easily so you must choose cleaning products carefully.
Fiberglass showers arrive in bulky packaging materials as they damage easily in transport and must remain in the packaging until installation to prevent cracking. It is wise to hire a professional handyman to install a fiberglass shower unless you have experience moving large objects or have previously installed a fiberglass tub. The bulky nature of fiberglass is less of an issue in new construction when a tub or shower may be delivered through an unfinished door or window.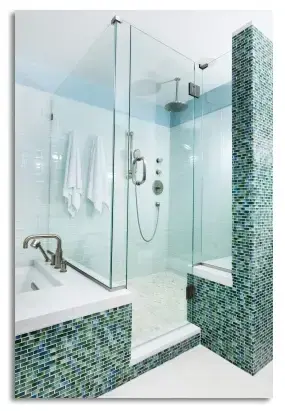 Glass
Glass showers - usually combined with other materials as well - make a shower space feel more open and bright. They look more expensive than fiberglass and lend a spa-like quality to your bath area. Homeowners can customize glass shower doors and enclosures to their specific bathroom spaces and get more creative with shower shapes, sizes, and construction, or even consider an open shower by using glass. Hire a professional shower door installer to ensure a great result.
Glass tends to be more expensive than fiberglass options, and is prone to soap scum buildup. Cleaning glass showers may take extra diligence or different cleaning products to keep the glass looking as clean and clear as the day it was installed.
Tile
Tile showers make for beautiful bathrooms. The tile is endlessly customizable to any decor or shape. It comes in an infinite variety of shapes, sizes, colors, and materials and brings depth and luxury to any bathroom. Some homeowners get really creative with tile and create original mosaics.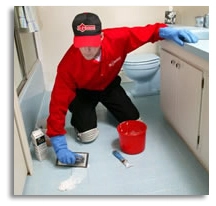 Just like any bath option, tile has its downsides, too. Tile is more difficult to install than fiberglass and could take the inexperienced homeowner a lot of time to do it right. Grout attracts mildew and mold and can be difficult to keep clean. If the tile isn't installed and sealed properly, water damage can ruin the tile and the walls behind the tile. The best bet for installing ceramic tile is to hire professional tile installers to get the unbeatable style that tile brings to a bathroom.
Choosing the right material for a bathroom remodel really depends on preference and budget. Each option has advantages over the others. Take time to weigh the advantages and disadvantages of each option before remodeling.
This article is part of the Bathroom Remodeling series. Read more for bathroom makeover tips from Mr. Handyman. Related Posts: Low-cost, Big-impact Kitchen and Bath Upgrades
Replacing and Restoring Tile Grout
Mr. Handyman Can Help!
Mr. Handyman can maintain your home to save you money. One call really does take care of everything on your to-do list. Make sure to stay on top of all your household repairs, improvements, and maintenance needs, and request service now online.
Repair. Improve. Maintain. One call does it all!