Refinishing and Painting Furniture Found at Garage Sales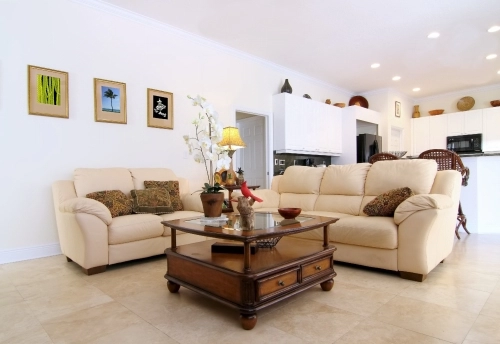 Picking. Restoring. Refurbishing. No matter what you call it, the practice of finding furniture at garage sales and bringing the items back to life can result in treasured pieces for your home and serious savings on decorating costs. Let's take a look at the most common types of restoration.
Cleaning
Some furniture you find may just need a good cleaning, especially if it has been tucked away in an attic or stored in the garage for years. The Utah State University Cooperative Extension recommends creating a cleaning solution of 1 gallon hot water, 2 tablespoons gum turpentine, and 4 tablespoons boiled linseed oil. Simply use a soft, clean cloth dipped in the solution and wrung out to clean the dirt from the item, then wipe dry and buff with another cloth. You can follow with lemon oil or a wax if necessary. If the piece has a heavy wax buildup, you also may need to use an abrasive, such as fine steel wool or a rotten stone, as part of the cleaning process. Other processes , including overcoating, reamalgamation, French polishing, and patching, also offer options for pieces that don't require complete refinishing.
Refinishing
If you decide the item does need a full makeover, you must first remove the finish. Sanding and chemical stripping are two options, with the latter requiring sanding at some point in the refinishing process, as well. Use sanding tools and chemical strippers only as directed to avoid damaging the furniture beyond repair.
Once the finish has been removed, you must sand with the grain until the piece achieves the most uniform look and feel possible. Start with medium-grit sandpaper and finish with a fine grit.
Next, you will need to apply wood filler if necessary before allowing it to dry. After one more round of sanding, apply a sanding sealer, wipe off excess, then sand again with a fine-grit sandpaper.
At this point in the process, you will need to choose between oil-based and water-based paint or stain and between water-based polyurethane, polyurethane, lacquer and penetrating oil finish. One-step stain/finishes also are available and save you serious time in the refinishing process. Lowe's offers an excellent guide to refinishing that explains the differences between the types of paints, stains and finishes. You can also assign this task to your professional handyman if you care more about the finished piece than embarking on refinishing furniture as a hobby. He will have the tools and expertise to get the job done in a fraction of the time it would take a beginner.
Reupholstering
Replacing the padding and upholstery on a piece of furniture varies in complexity by the piece. For example, reupholstering the seats of your dining room table chairs proves a fairly simple task that can be accomplished by a beginner, but reupholstering a sofa or armchair requires the experience of an expert, not to mention the various tools that will require a significant monetary investment. If you do plan to take this on as a hobby, start with something small and work your way up to more involved projects. RepairHome offers an excellent guide to get you started.
Whether you contribute the elbow grease yourself or hire others to do so, the most important factor in turning garage-sale "trash" into treasures involves the picking of items. Look for real-wood pieces with a solid structure that simply need a little TLC. Also bring along a magnifying glass for up-close inspection, as the last thing you want to do is bring unwanted pests into your home.
Mr. Handyman can maintain your home to save you money. One call really does take care of everything on your to-do list. All Mr. Handyman franchises are Fully Insured with General Liability and Workers Compensation. Some services are subject to state and local licensing and may not be available in all locations. Make sure to stay on top of all your household repairs, improvements and maintenance needs and request service in your area.