Sliding Patio Doors or Exterior French Doors? | An Ordering Guide
With the right patio doors, you can incorporate the beauty of your outdoor space into the design of your indoor space. Glass doors provide a view to the outside and can even serve as a design element themselves. You have two options when it comes to ordering glass patio doors: sliding and French.
Sliding Glass Patio Doors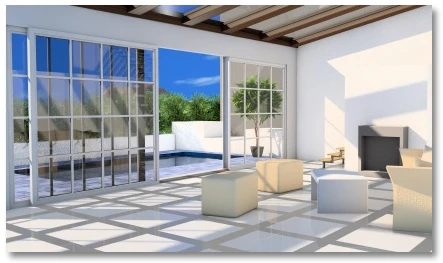 While traditional two-panel sliding glass doors remain readily available, other options now exist. You can choose to install three panels, four panels or more, depending on the manufacturer, and in any number of sizes. The panel configuration also can be customized. Pocket panels slide into the wall and disappear completely from view. Stacked panels, on the other hand, slide and stack within the frame of the door. With the stacked configuration, you even can choose to have the outermost panels slide toward the center, creating two openings in the doorframe.
Sliding glass patio doors come in wood, vinyl, fiberglass, steel, and aluminum frames, and you can add grills to the glass to create a windowpane effect. The number of interior and exterior finishes proves seemingly endless, allowing you to easily customize doors to match or complement existing interior and exterior design elements.
In terms of the glass itself, you can choose from single and double panes, with the latter being the standard as it provides greater energy efficiency, of course. You can also opt to temper, tint and/or obscure the glass on sliding patio doors. Tempered glass proves stronger than regular glass and when broken shatters into pebble-sized particles, not into slivers. Tint comes in a variety of colors, such as bronze, gray and green among others. And obscured glass comes in many patterns, including cascade, fern and reed. One manufacturer, Anderson, even offers art glass that features decorative panels between the glass panes. The company makes three series of this art glass: Frank Lloyd Wright, Classic and Historic. If you wish to make your sliding glass patio doors a design element themselves, an art glass pattern exists to suit your current architectural style and décor.
Exterior French Doors
Just like sliding glass patio doors, exterior French doors - hinged glass doors that work like conventional doors but swing open to the exterior - now come in additional designs. The traditional two-door setup remains popular, but manufacturers now also make French doors with additional glass panels on each side to further expand the view. The door configuration also can be customized, allowing the doors to fold upon opening, much like a folding closet door.
Exterior French doors typically come in wood, fiberglass or steel. A variety of finishes, decorative panels and glass options also are available with these types of doors.
Deciding Between the Two
While the style of door currently leading to your patio may heavily influence your decision, it need not. A professional handyman can easily convert an opening with sliding glass patio doors to accommodate French doors, and the opposite holds true. Choose the style that best fits into the architectural style and décor of your home. For example, charming French doors work well for a Craftsman-style home or cottage, but a more modern dwelling with an amazing view would benefit from sliding glass patio doors with more than just two panels.
If the thought of replacing existing sliding glass patio doors or external French doors sounds like too big of a project right now, consider refurbishing your existing doors. Another excellent job for a handyman, the project can be done in no time at all and at a fraction of the expense of replacement doors. You can choose to simply repaint the frame, or you can have the glass replaced, as well, to improve energy efficiency in an older home.
---
This article is part of the Deck Repair and Maintenance Series.
Mr. Handyman can maintain your home to save you money. One call really does take care of everything on your to-do list. All Mr. Handyman franchises are Fully Insured with General Liability and Workers Compensation. Some services are subject to state and local licensing and may not be available in all locations. Make sure to stay on top of all your household repairs, improvements and maintenance needs and request service in your area.