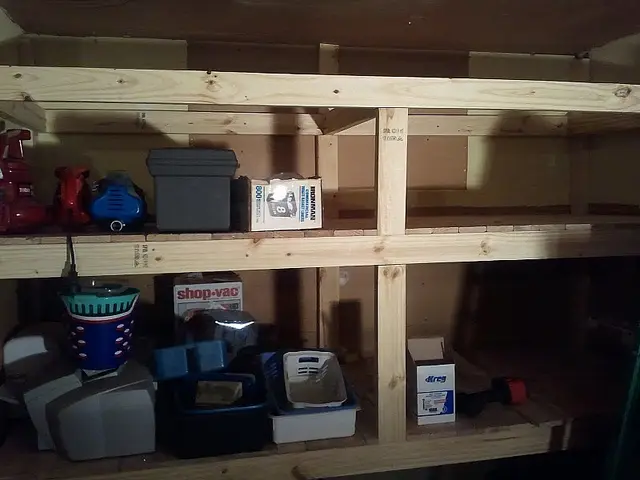 If your home has limited storage space, or if you just have a bunch of stuff, consider adding shelving to your garage above where your vehicle gets stored. Learn more about the process to first to decide whether or not this will be a DIY project or require the expertise of a professional handyman.
Required Supplies and Experience Odds are you have the necessary measuring tape, power drill, screwdrivers, and wrenches for this job, but do you own or have free access to ratchets, a circular saw, a carpenter's level, and a square? You can pick up 4x6 and 2x4 lumber, 4x8 plywood, brackets, metal studs and 1-inch screws at your local home improvement store, as well as paint or stain for finishing, but how do you feel about turning them into shelves, even with instructions? If you do not have experience using a circular saw, for example, you may want to assign this task to a professional.
Measuring Your Vehicle Since the shelves will hang from the ceiling above your vehicle, getting accurate measurements of the available space is vital. Measure the height of your garage ceiling and the height of your vehicle. Decide the height of the shelves, allowing for at least 12 inches between the bottom of the shelves and the top of your vehicle.
Building the Frame and Shelves Cut 2x4 lumber, according to the measurements determined above, for the frames. Attach one to the ceiling, then bolt the other frame together with corner brackets and set aside.
Cut 2x4 lumber for the horizontal braces to fit inside the lower frame; you need braces at either end of the shelf and middle braces every 2 feet.
Finishing and Securing the Shelves Apply your chosen paint or stain according to the manufacturer's instructions. Allow to dry for the recommended amount of time. If you want the frame finished as well, do this after cutting but before assembly.
Connect side braces to the frame at the top and bottom using the brackets. Slide the shelf into the lower frame and secure it with screws.
Knowing When to Tackle a Job Yourself and When to Hire Help If you need more detail than these instructions provide, you may want your professional handyman to handle this job on his or her next visit. You can also use one of the step-by-step videos found online, such as the one below from Craftsman Tools. Keep in mind, though, that it too assumes a basic level of wood handling knowledge and possession of the required tools and supplies. You don't want a poorly installed shelf to come crashing down on your vehicle. Your insurance company will surely hold you responsible, at least in the form of a deductible.
http://www.youtube.com/watch?v=2I9Wd0pK590
If you do decide to hire help, make the most of the visit and have your handyman install shelving throughout your garage, not just above your vehicle. He or she can provide the ultimate storage solution , allowing you to neatly store whatever you need instead of having to get rid of items you still want.
Mr. Handyman
can maintain your home to save you money. One call really does take care of everything on your to-do list. Make sure to stay on top of all your household repairs, improvements, and maintenance needs and
request service
now online.