Last Edited: 9/15/23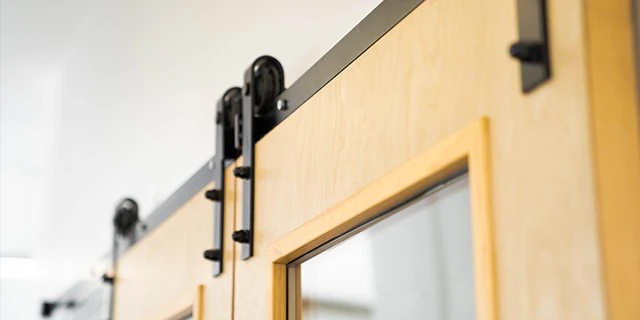 Sliding barn doors add rustic charm and character to a home's interior. These doors, which come in a variety of sizes and designs, blend style and function. They're great for closets, pantries, and home offices, but because there's a small gap between the sliding barn door and the surrounding drywall, they may not work well for bathrooms or other rooms where privacy is essential.
How to Measure for a Sliding Barn Door
No matter where you decide to install one, knowing how to measure a sliding barn door correctly is crucial. It's especially important to consider the space above and to the sides of the opening.
Follow these steps to learn the process:
First, make sure that the space over the opening, also known as the header, can support the weight of the sliding barn door. There must be a support beam or strong studs in place for anchoring the sliding track and ample space between the top of the opening and the ceiling to install the track. Generally, at least a 6-inch clearance is recommended, but there are barn door track hardware options that work with less room.
Next, you need to make sure that there's enough space next to the opening to accommodate the door as it slides open. If you are installing double sliding barn doors, check on both sides. Look for light switches, heat registers, electrical outlets, and other things that might interfere with the smooth opening and closing of the door.
When it comes to sliding barn door measurements, the width of the opening is most important because this determines the track size. In many cases, the barn door track hardware can be adjusted to accommodate different sliding barn door sizes, but it's still a good idea to get as close a match as possible.
Measuring the length correctly is essential. If this figure is inaccurate, the door may touch the floor once it's hung. If this happens, it will cause the sliding barn door to stick when it's opened and closed, damaging your flooring and the door.
How to Determine Your Barn Door Height
Another important requirement for hanging a new sliding barn door is to know the barn door height. Follow these steps to determine the correct height of your new door.
Using a tape measure, begin at the left edge of the opening and measure straight across to the right edge. (If the doorway has moldings, measure from outside edge to outside edge.) To determine the proper door width, add about 4 to 6 inches to your measurement. Ideally, the door will cover 2 to 3 inches beyond the opening on each side.
To figure out what size barn door track hardware you need, double your final width measurement.
Measure from the header to the floor to determine the door length you need. Don't forget when measuring doorways with moldings, always measure from the top edge. Remember, the barn door track hardware will be installed a few inches above the opening, so you will need to factor that in. You also need the door to hang ½ to 1 inch above the flooring to ensure smooth operation.
If you replaced an old door with a sliding barn door, don't throw it away! Upcycle your old door instead.
Why Choose Mr. Handyman for Sliding Barn Door Installation
Getting sliding barn door measurements just right can be tricky. Whether you're uneasy about installing sliding barn doors yourself or you just don't have time for a DIY project, give the experts at Mr. Handyman a call!
Our highly qualified home repair professionals will make sure that your barn door operates smoothly and looks great. In fact, Mr. Handyman can help with virtually any type of home maintenance, repair, or installation project, and our Done Right Promise™ means all of our workmanship is guaranteed. Give us a call or request a quote online today!
FAQs: Sliding Barn Doors
Are sliding barn doors easy to install?
Sliding barn doors can be a good DIY project for a mechanically-inclined individual. This project can get tricky when it comes to barn door dimensions, though. If they are not exact, you risk your door not operating properly or getting stuck on the bottom and damaging your floors.
Do the professionals at Mr. Handyman know how to build a sliding barn door?
Yes! The experts at Mr. Handyman can build and install custom-made sliding barn doors. These doors will be made to the exact measurements of your existing door frame.
Our team can also work on other custom carpentry projects to accompany your new sliding barn doors. To learn more about how we can help transform your home, give us a call at
How much bigger should a sliding barn door be than the opening?
The exact answer can vary, but generally speaking, you should allow for a minimum of a one-inch overlap on either side of your door opening. If you want to create more privacy in between rooms, install a wider door that allows less light and sound to flow between the spaces.
How thick and wide is barn door track hardware?
It's recommended to purchase a track that is double the width of your door. However, that does not mean that sliding barn door track hardware is significantly larger than regular door dimensions.
A standard interior door is 1⅜ inches thick, whereas a standard sliding barn door is 1¾ inches thick. There is only a slight difference between the two.
How much space do I need to hang a sliding barn door?
Sliding barn doors typically stick out between 1¾ and 2 inches. Depending on your baseboard and trim thickness, it could stand out more. It is important to measure your space before committing to any renovations.
How can I schedule Mr. Handyman to install my sliding barn doors?
The experts at Mr. Handyman are happy to help! Just give us a call or request a quote online. One of our friendly customer service representatives will be happy to answer all of the questions you may have about your home renovation project.