Closet Organization Ideas You'll Love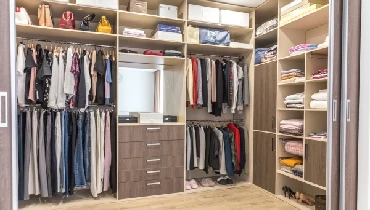 It's common for people to think about their winter wardrobe, but you don't often hear about winter closets. As you check off the things you want to organize over the winter, you'll want to include your closet on the list of organizing projects. To help you with that task we've assembled a list of tips and best practices to help make organizing your winter closet easier.
How to Organize a Closet for Winter
Before trying to organize your closet, you should take a few steps to ensure that you start off on the right foot:
Look at Your Clothes This might seem obvious, but before you can begin organizing, you'll need to review your clothes and see what you want to keep, what can be put away for the season, or even what you want to donate or discard. Pull all the clothes out to appropriately sort into keep, storage, or get-rid-of (donate) piles.
Evaluate What Needs to Be in This Closet Take a quick assessment of what's currently in your closet before you begin. You may realize there are a few items you've been storing that don't really belong in your closet. For example, perhaps bulky winter coats shouldn't be kept in a bedroom closet, maybe the hallway closet is a better, more practical option. And those beach towels that have been taking up valuable space in your hall closet can be put into storage until early summer.
Look at Fixtures Does your closet have shoe racks, enough hanging space, or drawers? As you get clothes pulled out to review, now is a perfect time to add things like a shoe organizer and custom shelving installation. Another organizational improvement is to add additional lighting. Being able to see the entirety of your closet will help inspire you to utilize the entire space more efficiently.
Related Topic: Closet Design Ideas
Once you have determined what stays and what goes, and how you want your closet set up, it's time to get to the fun part, organizing:
Put Away Summer Items: Your storage pile will probably include things like shorts, beach attire, and other warm weather items. These should be placed somewhere else or kept in bins or cube organizers within your closet.
Organize Your Hanging Clothes: If you only have one bar in your closet for hanging items, you'll want to make sure you use it effectively. Make sure you leave yourself enough room to fully access your hanging clothes. Things like sweaters and sweatshirts are best stored folded, so determine what can be removed from hangers and added to a closet shelf organizer or drawers. If your closet space is not restricted by height, adding a second clothing rod can really maximize your hanging space, and make it easier to find items you wear more frequently. You may not have given it too much thought, but tiered hangers can help double the number of items you can hang. Another option is space-saving hangers, which can provide more usable space without taking up more space on the closet bar.
Organize Your Winter Accessories: Belts, scarves, and hats are all great things to keep in a closet for easy access but can often take away from hanging space for your clothes. Adding hooks to your closet wall space or designating some shelf and/or bin space for these items will give your closet a more organized look without losing access to all your items. Bins also work well for organizing hats and gloves in your closet for winter. A better option might be a hat rack, many can be hung inside the door of your closet, which will help keep them orderly and organized. Because of the shape of most racks, you could place gloves on the prongs instead of hats just as easily.
Need Some Help?
Following the steps above will certainly give you a great start towards organizing your winter closet, but you may soon realize you need more space, shelving, or even lights to bring it all together. That's where Mr. Handyman can help. We offer custom shelf installation, lighting, and remodeling services that can take your winter closet to the next level. Once you have your new closet, you may want to get a whole new wardrobe to match! To get started give us a call or submit a request online today!