Plan and Organize the Garage Workshop You've Dreamed Of
Last Edited: 9/14/23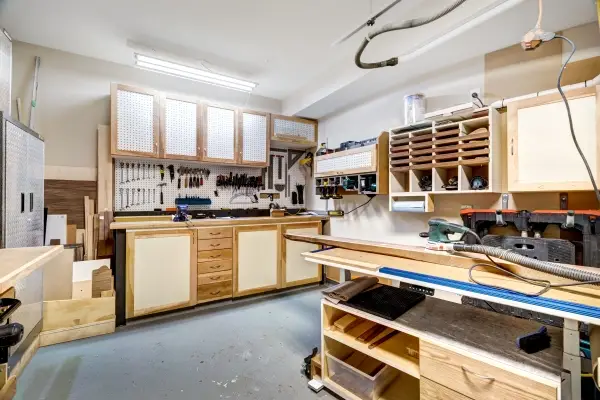 A workshop in your garage can certainly make your DIY projects a little easier. But what if you don't have one? Setting up your first workshop is an exciting process, but it can also be frustrating if you're not sure how to get started and what should be included. Whether you need small garage workshop ideas or plans for a large garage workshop layout, we're here to help you figure it all out.
Garage workshops are a very personal space. Everyone has different expectations, goals, and budgets. Are you a woodworker, metalworker, or working on cars? Perhaps you're a homeowner who just wants an area to assemble furniture or work on small DIY projects.
Use this guide as a general outline for setting up your workshop. You can always add, subtract, or expand once you figure out how you are actually going to use it and exactly what you need.
Planning Your Garage Workshop: Layout and Equipment Needs
Before deciding on a specific layout ask yourself how you'll use your workshop. For example, if you're a woodworker you might want to consider including some sort of ventilation system to minimize the amount of dust in the air. If you just want a space to tinker on some small projects throughout the year, you'll want to look at heating and cooling options.
Below is a list of things that are typically included in most garage workshops. Once you determine what and how you want to use your workshop, consider which features you need to include.
Power Up
An essential part of most workshops is the ability to plug in and power up. Whether you're using advanced tools like a table saw or smaller power tools, having a reliable source of power can be a huge advantage. Layout the number and location of each power source to make sure your workshop has the power to meet your requirements. This could be as simple as a few outlets to run those power tools or installing 220V for a TIG welder. Once you have assessed your electricity needs and decided on the best locations, hire an electrician to review your plan, make suggestions, and complete installation.
Light it Up
No matter what kind of projects you are working on you'll need to see what you're doing. Installing the proper type and amount of lighting in your workshop is another essential part of workshop planning and design. Today many workshops use LED lighting because it is affordable, efficient, bright, and relatively easy to install. Of course, there are other options to choose from based on what you want to use your workshop for and the atmosphere you want to create.
Access & Security
Your workshop should also be secure and easy to access. If you have kids running around, make sure they can't easily reach the power tools or anything else that can cause injury. If you live in a busy neighborhood, you should have a lock installed on the door. If you want to pull in a car, make sure you plan your layout accordingly. The same goes for exterior lights. These won't just help you find your way to the workshop at night, they can also prevent theft.
Workbench
No matter what, you'll want a stable workbench with enough surface area to work on. You can build your own workbench by laying some 3/4" plywood across two sawhorses, or simply head to your local hardware store and pick something out. If you can't find the perfect workbench, Mr. Handyman® can build one for you. Once you have decided on the type and size of workbench you want, you'll need to place it strategically within the layout of your garage. We will cover more of these details below.
Garage Workshop Layout
This is tricky since every space is designed a little differently. Although we can't tell you the best way to set it up without seeing it, there are a few guidelines to help you design an efficient workshop.
Follow the Power
The layout of your workshop might be dictated by where the outlets are located. If you don't want to install additional outlets, then it's best to place your workbench where you already had access. If you have your heart set on a corner of your garage with no outlets, hire a licensed electrician to run the necessary wires for new outlets.
Follow the Light
If you have a window in your workspace, setting up your workbench as close as possible will allow you to work in the natural light during the day. This is a nice feature that also helps reduce energy costs.
Follow the Flow
If you spend most of your time at a workbench, then organize your shop layout around the bench. Make sure tools or machines don't impede the natural flow of how you use the workspace. If they do, then it's time to revisit your current layout and come up with something more suitable.
It Doesn't Have to Be Permanent
Just like a new home, it takes time to get to know a garage workshop. Give yourself a few weeks to use the new workshop before you make a final determination on whether it works for you or not. It's natural to make a few changes as you grow more accustomed to the space.
Related Topic: Garage Cabinet Ideas
Organizing the Garage
Creating a workshop takes storage space away from your garage, but there are tons of ways to compensate for this loss. After all, you don't want to sacrifice your garage as a good spot for storing seasonal equipment, like mowers, snowblowers, wheelbarrows, bikes, garden supplies, etc.
Here are a few garage organization tips to get the most out of your remaining space:
Use the Vertical Space
Garages, especially small ones, should utilize as much vertical space as possible to keep items off the floor. This allows more space for items that can't be hung up, and helps you keep the garage floor clear, which makes it easier to clean.
Use an assortment of hooks, nails, shelves, and brackets to hang as much as possible from the walls and ceiling (if possible). Since many garages don't have drywall, all the studs should be exposed, which makes figuring out how to fit things on the wall easier. An exposed ceiling with rafters is also fair game for storing items. You will be surprised just how much space you can create once stuff is off the floor and hanging on the walls or in the rafters.
Organize with the Seasons
You don't need skis or the snowblower after the last frost, so why are they there next to your lawnmower in May? Organize your garage according to the change of seasons.
Use Custom-fit Bins and Shelves
Many don't realize the value of a quality shelf system for bins. Design the shelves around the size of the bins so you can maximize storage space.
Categorize the items in each bin with labels to help you keep everything organized—camping gear, holiday decorations, fishing gear—you get the idea. Milk crates work great but so do the plastic storage bins they sell at most big box stores. Whatever you do, make sure they're all the same size, type, and color. This makes stacking easier and more visually appealing.
Pegboard Is Your Friend
Pegboard is an inexpensive and easy to install way to organize tools and small accessories. Pick up a sheet at your local hardware store along with three dozen hangers. Avoid 1/8" pegboard and use the 1/4" size which is more durable. Install the pegboard on the wall opposite your workbench to organize hand tools or use it on a blank wall to hang garden tools.
Related Topic: How to Organize a Garage for More Space
Help When You Need It
If you enjoy small DIY projects or have a hobby that requires a dedicated workspace, a garage workshop can be a great addition to your home. But setting one up and choosing the right location can be overwhelming. Mr. Handyman can help you achieve the garage workshop of your dreams. We have garage storage and organization options that make the whole process easier. We can build custom shelves to your exact specifications, and assemble and install pre-built shelves for you too. Need lighting? No problem. We install lights where you need them and can even install the garage door opener. For helping setting up your workshop give us a call or request service online.