Modern Kitchen Ideas for Your Pantry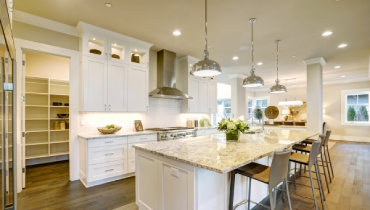 Kitchens are often the busiest places in the house. Between meal prep, being a family gathering space, and acting as the central hub of the home, the modern family kitchen can easily devolve into chaos. And even if it doesn't, it's still one of those areas that is so much more enjoyable to spend time in when it's organized, and everything flows well. Two of the best places to add organization and functionality to the kitchen are the pantry and the kitchen island.
Kitchen Pantry Organization Ideas
It's so easy for the pantry to become a jumble of bags, boxes, cans, jars, and other miscellaneous items. Aside from the annoyance of having to deal with a cluttered, disorganized spot, this often makes cooking or snack preparation more complicated than it needs to be. And it's much easier to forget what's in the pantry if everything's in a pile.
LUCKILY, WE HAVE KITCHEN PANTRY IDEAS TO GET YOURS UNDER CONTROL.
Add bins or baskets. Buy a few bins of whatever material you like (you can even re-use cardboard boxes of the right size if you don't want to spend extra money on this) and use them to store similar items. You could keep snacks in one, grains in another, and baking ingredients in a third, for example. Label the outside of the bin to make it even easier to find what you're looking for.
Label your shelves. Use a label maker, pencil, marker, or anything else that works for you to label the edges of your shelves indicating which items go in each spot. This makes it easier to both find things and know where to put things away when you buy new groceries. Less decision fatigue is always a good thing.
Restructure your pantry. This is the most complex option, but sometimes the configuration of your existing pantry just doesn't work for your family. In this case, it might be a good option to remove the existing shelves and storage options and replace them with new ones, organized in a way that works better for your household. Some shelving systems even feature adjustable shelves, which will allow you to quickly restructure your pantry layout as your family's eating habits evolve.
Kitchen Island Upgrade Ideas
Aside from the pantry, the kitchen island is the next most-likely area to become cluttered and chaotic. In many homes, it acts as a "dumping ground" for everything from groceries to homework and incoming mail. But the island is another vital storage area in many kitchens, so it pays to make the most of it. Try these kitchen island upgrade ideas to make the most of your space:
Use the top of the island to display and store fruit and other healthy snacks. A fruit bowl looks great and serves as a handy reminder to eat the fruit before it goes bad. And the bowl you choose can also be tied into the overall style of your kitchen. Consider a large vintage bowl, a carved wooden bowl, a basket, or a decorative tray, depending on your style. Take a walk through your local homewares store for good modern kitchen design ideas with an island.
Incorporate a wine rack. If you find you don't make much use of the cabinets beneath the island, but you do need a spot to store wine, consider retrofitting one of the cabinets with a convenient wine rack.
Use the cabinets to store your most-used ingredients. The island is such a central spot and as a result, it's easily accessible from all areas of your kitchen. If you're an avid baker, consider storing your baking ingredients in your island for easy access. And if you're not a baker, consider storing your most-used spices, oils, vinegars, and sauces in the island cabinets so you'll always know where to find them.
Add slide-out shelves for better access. It's so easy to forget what's in the cabinets if you can't see all the way to the back. Shelves that slide out on sturdy glides allow you to see everything at a glance, so items aren't as easily forgotten or lost.
Create mail and charging stations elsewhere in your kitchen. Paperwork, mail, and electronic devices often end up on the kitchen island because it's such an easy, central spot to toss them. But if you're constantly having to clear the clutter to prepare food, it becomes a hassle. Setting up an area on a less-used counter in your kitchen to be an "inbox" and charging station for phones and tablets will help keep the clutter off the island and make it easier to sort through mail and other paperwork.
Related Topic: How to Remove a Kitchen Tile Backsplash
Make Your Modern Family Kitchen a Reality
It takes time and planning to truly make your kitchen work well for your household. If you think you might need a hand, or if you want to take advantage of the Neighborly Done Right Promise, your local Mr. Handyman can help. Give us a call or request service online for your kitchen upgrade.