Last Edited: 9/15/23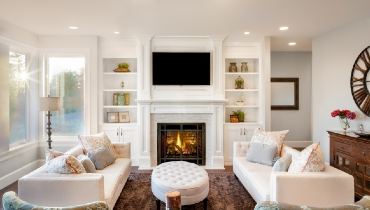 The thought of a crackling fire on a chilly night is certainly appealing, it can also be a lot of work to consistently use your wood-burning fireplace. If you never have the time to enjoy your fireplace, it may be a good idea to close it off to save money on your home energy bills, reduce uncomfortable drafts, and reduce irritants like dust and pollen.
Should I Close Off My Fireplace Permanently or Temporarily?
If you plan on using your fireplace occasionally, you may decide to focus on closing the fireplace opening. This option is more accessible to remove when necessary. The drawback, however, is that by leaving the chimney clear, cold air can gather near your fireplace opening and possibly escape from blower vents, if present.
Open fireplaces are not as efficient as heating your home with a furnace or boiler, so consider making improvements in insulation or furnace maintenance instead of relying on a fireplace during cold weather.
Keep reading to learn how to close off a wood-burning fireplace safely.
When closing off your chimney, always make it clear to all home occupants that the fireplace cannot be used. Lighting a fire in a blocked chimney is a fire hazard and could lead to dangerous smoke inhalation as well.
How to Close off a Fireplace Opening
There are commercially available options. Many are plugs that can be cut to fit the exact dimensions of your fireplace opening. Some are removable, making it possible to use your hearth-style fireplace, say, for a special occasion (as long as the flue/damper hasn't been permanently closed off—see steps below on how to do that).
You can also make your own fireplace insert. Plywood can be cut to the correct size to cover your fireplace and then backed with insulation. The plywood can then be painted or lined with a neat fabric to suit your room's décor.
Here's how:
Measure the height and width of your fireplace opening.
Cut a piece of ½-inch plywood to these dimensions.
On the back of the plywood, use self-adhesive insulation to cover one side of the plywood.
Decorate the front-facing side of your plywood with paint or create a textured effect with fabric. Cut the fabric large and staple or glue to the reverse of the plywood to keep edges out of sight.
Press your new insulated fireplace cover into place. Voila.
Related Topic: Where Do You Put a TV in a Living Room with a Fireplace?
How to Close off a Fireplace Chimney
Many homeowners choose to take the additional step of closing off their chimney. This involves plugging the flue by sealing the damper. Flues can be round or rectangular, but simply looking at the opening at the top of your fireplace should be enough to determine what shape yours happens to be. This opening is called the throat or throat damper.
There are a few ways to close off the damper:
Use silicone to fill in and seal the damper permanently. This is the most effective way, but it's essentially permanent.
Make a plug. Following the steps above, you can seal the damper with a similar DIY plug as the fireplace opening plug described. (Since it will be completely out of sight, you don't need to decorate a flue plug.)
Buy a damper plug. There are commercially available options designed for both rectangular and round damper openings. These can be removed, if necessary. Employing this option alone can also eliminate drafts and save you money while preserving the look of your open fireplace. Removable Inflatable flue plugs are available as well.
Save on Energy Year-Round by Closing Your Fireplace
Whether it's a permanent seal or a temporary plug between uses, covering your fireplace helps keep warm air in and cold air out during the colder months. A closed fireplace does the reverse during the summer, so your air conditioner doesn't have to work as hard. To learn more about how to close off your existing fireplace, contact your local Mr. Handyman for help. We experts at helping homeowners complete their home projects, both big and small. Give us a call or request an estimate today.