Last Edited: 9/15/23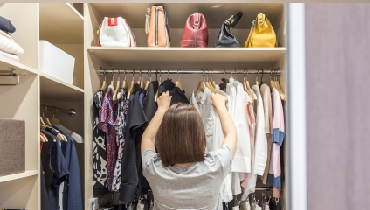 If you dread getting ready in the morning because your closet is extra chilly, it may be time to learn about a few ways you can keep it warm.
A cold closet may be more than uncomfortable—it can also lead to frost and then mold, especially if you have an uninsulated closet on an exterior wall. The coldness may even spread to your bedroom and other rooms in the house, which can increase your energy costs and cause your HVAC system to work harder to keep your entire house warm.
To help you with your cold closet fix, we've compiled some tips and suggestions to guide you. With a few of these closet enhancements, you can enjoy a cozy closet and start your day right.
Related Topic: Closet Organization Ideas You'll Love
How to Insulate a Cold Closet
If you've determined your closet lacks insulation, taking steps to insulate it can help solve the chilly closet issue. Here are the different ways you can give your closet the insulation it needs:
Have the existing drywall removed, install an airtight vapor barrier insulation, and then rehang and finish the drywall.
Have holes drilled in the closet wall and have insulating spray foam or cellulose injected into the cavities. After the insulation is injected, wood filler can be used to patch the holes. Then sand and paint the walls to finish.
If you notice the closet floor is the source of the cold, insulating it may be the ideal solution. Adding carpet is one option, or hire a professional to insulate the floor. The process may also involve plumbing and electricity so, leave this type of work to the experts to get the best results.
If the cold air is coming from the ceiling, insulate the ceiling to reduce draft and heat loss. For optimal energy efficiency, fiberglass insulation should be used. Again, the work may involve repositioning existing wiring, so utilizing a licensed professional will be your safest option.
Insulating your closet can make it comfortable all year long and reduce condensation that can lead to mold and mildew. It can also help make your home more energy efficient.
More Tips to Achieve a Cold Closet Fix
In addition to insulating your closet, there are some other things you can do to warm up the area, including:
Installing or moving existing air vents to increase warm-air circulation.
Leave the closet door open to allow heat from other areas of the home to enter the closet.
Install overhead lights that create warmth and brighten up the closet space.
Incorporate a heat source, like underfloor heating or an infrared space heater.
Considering adding an additional heat source or updating your current ventilation systems? Consult with your local HVAC professional. They can make recommendations that can solve your cold closet problem and improve overall efficiency.
Related Topic: 5 Tips for Keeping Your Home Warm This Winter
Getting Cold Feet?
While these tips can help warm up your cold closet, you may find that they are a little more than you can take on right now. If you need professional assistance, your local Mr. Handyman can help. Whether it's a new closet installation, moving air vents, or adding insulation we can provide the cold closet fix you need. Give us a call or submit a request online to get started.