Why a Built-in Deck Bench Is a Good Idea
Last Edited: 9/15/23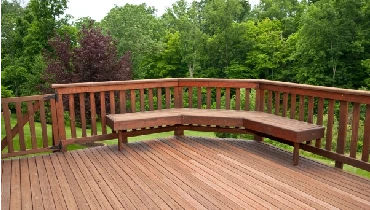 When the weather outside is pleasant, it's tempting to spend more time out on your deck. But if your deck doesn't have proper seating, you might not feel as enthusiastic about the prospect of spending as much time outdoors. Well, Mr. Handyman has a solution: install built-in deck benches.
Built-in seating will help maximize the surface area of your deck—no need for bulky or unstylish chairs. If you have a deck that's over 30 inches above the ground, you're required to have a railing, but with the right built-in benches, you can complement and utilize the railing by putting the bench backing up against your railing.
Deck Bench Ideas for Your Home
Deck benches aren't a one-style-fits-all solution, as each home's design choices and deck shape will affect what bench works best for your needs.
Here are a few of the most popular options:
Backless deck bench. Depending on how big your deck is, a backless bench provides seating and a non-obstructive barrier, compared to a railing that you can't utilize or step over. With a larger deck, you can use a backless bench to divide the space and allow seating on either side.
Deck bench with back. This type of bench can be used as a perimeter to your deck space while creating an environment primed for conversation.
Deck storage bench. Decks often have furniture and other items that don't stay out all the time, like pillows or other décor. Instead of adding bulky storage units to your deck, benches with built-in storage provide a solution for two problems: storage and seating.
Deck bench railing combination. Because decks over 30 inches off the ground require a railing, incorporating your bench with your railing can provide an excellent backing to your seating area while also ensuring your deck is up to code.
"Letter-shaped" deck benches. Deck benches can come in various letter-based shapes; a few of the most common ones are:
C-shaped or curved deck bench
L-shaped deck bench
U-shaped deck bench
Integrated deck bench and planter. Adding plant life can liven up your deck space. By integrating planters into your benches, you can get the benefits of flowers without sacrificing seating.
These are just some of the most popular seating configurations. When it comes to deck benches, there are even more options to consider.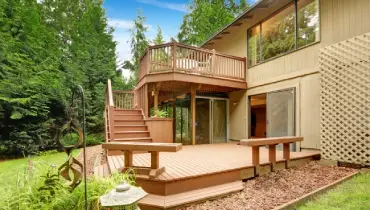 Related Topic: How to Get Your Deck Ready for Summer
Other Ideas for Your Deck Bench Seating
Want to accent your bench from the rest of the deck? Try using a different color stain or type of wood to give it a distinct look. You can also use other materials, like stone or brick, instead of wood to build a unique deck bench.
Call Us Today for Built-in Deck Bench Builders You Can Trust
Your deck is a wonderful place to enjoy your morning coffee or a quiet evening. It's also ideal for entertaining family and friends. With some well-designed and well-placed built-in bench seating, you can also improve the functionality and look of your deck. If you need help with design, installation, or both, your local pros at Mr. Handyman can help. To get started, call us or request an estimate online for built-in benches and other deck-related services.