Last Edited: 9/15/23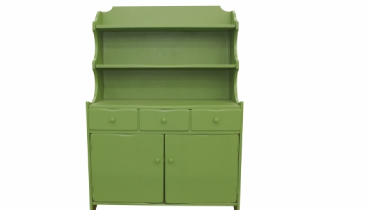 Simply put, a storage hutch is a set of shelves or drawers. Hutches are often used to store items that are needed but not used daily, such as dinnerware or seasonal clothing. Hutches differ from shelving units or a chest with drawers in that they are not only used for storage. Some hutches have a fold-down table, pull-out desk, or counter space for work or displaying items. Some also have a detachable top half.
Understanding your options when it comes to choosing a hutch, including designing a custom one, can help you select one that is right for your needs.
Common Storage Hutch Options
Hutches come in distinctive styles to fit various rooms, home designs, and personal needs. We will review some of the more common types of hutches, all of which you could have professionally assembled or custom-built by an expert carpenter.
Kitchen Storage Hutch
Available surface space defines a kitchen storage hutch, as it's usually big enough to hold things like a coffee maker, microwave, or other items. The space for these items is created because the top of the hutch (if it has one) is elevated so items (like small appliances) can fit under the top. It may also include kitchen-specific features, like hooks for coffee mugs and glass doors that allow you to see the items stored within. Kitchen hutches usually have larger cabinets and drawers on the bottom and smaller ones above, giving you the option to store different-sized kitchen items conveniently in one location.
Related Topic: Home Storage & Shelving Units: Five Cool Ideas for Your Home
Corner Storage Hutch
The most common hutches have flat backs that sit against one wall. Corner storage hutches are designed to come to a point in the back (i.e., triangular prism shape), allowing them to sit flush within the corner of a room. One advantage a custom-designed corner storage hutch offers is extra storage space. Without taking up too much space, you can add additional shelves, drawers, and a working surface. Corner spaces are often underutilized when it comes to conventional furniture pieces because they are not specifically designed to fit in a corner. A corner storage hutch addresses that problem. They can even work in a corner created by a refrigerator or other appliance.
Storage Desk with a Hutch
In the work-from-home era, you may have realized that your home office doesn't have the same storage capacity as your company's office. A desk hutch can fix that! Much like a kitchen hutch, a storage desk with a hutch has a work surface and an elevated top section with shelves or cupboards. It's an ideal solution for storing notebooks, pens, files, and other items while keeping the surface of the desk clean and tidy.
A storage hutch can help you keep those non-essential items out of sight until you need them. It's a great way to keep them from accumulating dust.
Hall and Entryway Hutch Storage Cabinets
Many people instantly associate hutches with kitchens or home offices. But you can also add storage and style to your hallway and entryways with hutches just as easily. Items like hats, gloves, coats, and keys can be stored in a hutch, which may negate the need for a full closet or numerous wall hooks that can damage your wall.
Help with Your Storage Hutch Projects
Depending on your storage needs and available space, a hutch can be a great addition to your décor. They are versatile, stylish and offer unique features that make them ideal for a kitchen, hallway, or office.
If you need help installing a hutch, or would like to discuss a custom-built hutch option, your local Mr. Handyman can help. To learn more, give us a call or request service online today.