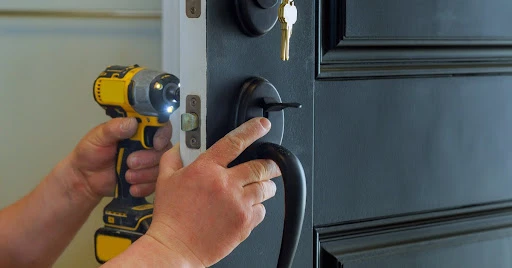 Door repair is a very important part of home maintenance, even if it doesn't always seem that way. Unlike other maintenance tasks, like staining your deck every year or replacing your caulking every 5 years, door repairs in Colorado Springs are often easily neglected. Yet, it's essential to take the best care of your entrances as you can.
Doors play an important role in the flow of your home. They welcome friends and family into your place, and provide privacy within a busy household. Doors help hide clutter and mark the entrance to various rooms. Perhaps you work from home and welcome clients into your home office, or shut the door for a bit of peace and quiet during meetings. In any case, we use our entrances every day in Colorado Springs. Thus, it's natural that as time goes on they need a little TLC every now and then.
Wear and damage can be caused by numerous factors. The good news is, with help from our team at Mr. Handyman of Colorado Springs, you can be confident that your entries will always be in tip-top shape. Our Colorado Springs handyman experts offer a range of repair and installation services. Whether your front entryway squeaks horribly when you open it, making you feel like you live in a haunted house, or your bathroom door won't latch correctly, causing privacy concerns, we can help. Our service professionals have efficient, professional solutions for all problems that require door repair in Colorado Springs.
We provide outstanding repair and installation solutions for your interior and exterior entries, and we can also fix damaged garage doors. If you require garage door replacement, or replacement of any of your other entrances, our team will help with that too. Keep reading to learn more about common door repairs. Colorado Springs homeowners can rely on us for great service and expert info, plus maintenance tips to prevent the need for future door repair in Colorado Springs.
1. The Latch Doesn't Close
Exterior doors are integral to keeping you, your family and your possessions safe. Yet, this safety is compromised when a latch won't work properly. You don't want to be worrying about an intruder breaking in or your pet getting out in the middle of the night. It's tough to sleep well when you're constantly worried about the security risks that accompany a poorly latched door.
Likewise, interior locks and latches should work correctly as well. Locks create privacy, which is really important for certain rooms, like the bathroom. It can be frustrating when a latch fails you, and that could lead to embarrassing moments—moments that could be avoided with an appointment for door repair in Colorado Springs.
If your latch doesn't work correctly, there could be a number of problems affecting the lock. The frame might be twisted and the latch bore (the small hole opposite the lock that connects with the latch) no longer lines up properly. Thus, the lock will be practically useless. Get broken latches fixed as soon as possible to keep your home safe and maintain privacy.
2. Outdated Appearance
Does your entrance work as it's supposed to, but it doesn't really suit your personal style? Maybe you've recently renovated and your entrances don't match the rest of your home, or replacing them with a new model was always on your home renovation to-do list. When it comes to finding replacements, you have many options to choose from! And, our team at Mr. Handyman of Colorado Springs is more than happy to help with that new installation.
3. Opening and Closing Issues
Since entrances exist to let you in and out of a certain space, opening and closing them should be easy. In fact, those that don't open and close correctly could actually be serious safety hazards—especially during an emergency, like a fire. That's one reason why it's important to get prompt, professional door repair in Colorado Springs.
If you feel like it's a struggle to get in and out of your home, or to move between rooms, you need a handyman service. Sticking knobs that won't turn and panels that always seem to swing open right after you close them indicate a problem with alignment. A few reasons why this could happen include:
Panels have warped from humidity or insect damage
Latches are too high or low
Latches are misaligned
Hinges are too loose or tight
Your home's structural foundation has shifted, which has resulted in a warped jamb
4. Damaged Beyond Repair
Whether a storm blew a tree branch straight into your door or an over zealous pet tore through the screen, sometimes damage can be so severe that repairs simply won't cut it. In this case, you need installation services. When disaster strikes, the experts at Mr. Handyman of Colorado Springs will make it right. Our team of dependable technicians and carpenters will efficiently replace your damaged entrance and carefully install a new slab that perfectly suits your home's appearance.
5. Loose, Tight, Rusty or Broken Hinges
Fixing hardware is a common part of door repair in Colorado Springs. Hinges wear down over time. This is a completely natural process, and it could be exacerbated on doors in Colorado Springs that are used frequently. Humidity, dust, constant use and fluctuating weather all take their toll on the bracket's performance. Even a small amount of rust could cause significant corrosion.
When a hinge corrodes, there is a chance that it could eventually break-off entirely. Since brackets are what hold the panel to its frame and support its weight, severe damage may cause the structure to fail. Prevent injury and keep your family safe by calling our experienced technicians to repair or replace damaged hinges immediately.
6. Damage from Wear-and-Tear
Like anything else you use on a daily basis, wear-and-tear is certain to take a toll on your entryways. For instance, the age of materials, pets scratching or chewing at the frame, and accidental slamming all impact functionality and aesthetic. Not to mention, for your exterior entrances, there are many environmental factors that wind up causing damage as well—such as wind, rain, sunshine, snow and hail.
Humidity and changing temperatures could also damage your entrances, both interior and exterior. If you often leave windows open, your HVAC system is not working properly or you have poor ventilation in your bathroom, the resulting high moisture could encourage mold, mildew and wood rot to grow.
7. Inoperable Knobs
This may be one of the most frustrating issues with entryways. If your knob won't lock, won't turn, doesn't line up with the latch or is sticking, it's time for a replacement. Otherwise, it can be challenging to safely open and close your door—which may lead to further problems down the road, particularly in an emergency. Our experienced repair experts will let you know why your handle isn't working properly, be transparent about your options to fix it and efficiently repair the problem.
8. Misaligned Wheels
Sliding doors have just as many issues as their hinged counterparts. It's common for homes in Colorado Springs to be built with sliding closets, patio entries, screens and even shower doors. Issues with the track, such as misaligned wheels, mean it will stick and have trouble opening and closing. This can be frustrating for homeowners. Instead of struggling with a door that won't slide properly, call our highly trained and hardworking technicians. Our experts will carefully replace or realign wheels and tracks, so they work smoothly time and time again.
9. Annoying Noises
Squeaking sounds are without a doubt irritating. But luckily, most annoying noises are a relatively easy fix with the help of one of our expert service professionals! Sometimes the hinges could need lubricating, are too tight or are too loose. No matter the cause of an annoying noise whenever you use your door, our carpenters have a solution. We can replace damaged hinges, re-align the frame or make any necessary adjustments to fix the problem.
10. Dependable Garage Door Repair Service
At Mr. Handyman of Colorado Springs, we're not just pros at taking care of your main interior and exterior entrances. We can also help with basic garage door repairs. If you need help with fixing the weather stripping, installing a keypad entry system or completing frame repairs, our team can get those door repairs done right. Our experienced carpentry and home repair experts are here to help!
How Do I Avoid Needing Door Repair in Colorado Springs?
While our team of experts can help with a wide variety of door repairs in Colorado Springs, it's always a good idea for homeowners to know how to maintain their entries and prevent the need for repair services as much as possible. Use the following tips to keep your doors in tip-top condition.
Clean Out Dust
Like anything else in your home, it's important to dust your entrance ways regularly. Doors collect a lot of debris. Without regular cleaning, this debris may cause damage. It's important to clean both the interior and exterior of your doors. Often, the outside-facing panel and frame get neglected, even though these areas are exposed to far more debris than their indoor counterparts. Besides, clean entrances are far more welcoming to your visitors—and boost curb appeal.
Pro Tip:
For your outdoor entrances, consider hiring a professional power washing service at least once a year to blast away serious buildup. Using a machine that emits water at an incredibly high pressure—as much as 2,400 psi—we can clean away stubborn grime from your exterior doors, windows and more!
Check for Cracks
It's common for cracks to develop across your door. While the frequency and severity of cracks depends on the structure's material, cracks can also be caused by an impact. For instance, if a dog jumps up on the door to be let in, or if you kicked the door open while your hands were full of groceries. Cracks are certain to get worse, so if you see damage forming it's important to call a Colorado Springs handyman to fix that damage immediately.
Regularly Tighten Hardware
You use your entrances at least once a day, probably more. That's a lot of pressure on the small parts that attach the panel to the frame and enable the structure to move smoothly. It's completely normal for the nuts and bolts holding everything together to get loose—this can also happen to chairs and other furniture. To fix loose nuts and bolts, simply take a wrench and/or a screwdriver and adjust the hardware every couple months.
Test for Balance
Poorly balanced entrances are more likely to get damaged or become inoperable. In an extreme situation, a slab might break away from its frame entirely. This would cause really costly repairs. When you open and close your entrance, pay attention to how it swings. Does it seem balanced, or is something off? If you notice the balance seems problematic, call one of our expert carpenters right away.
Check Weather Stripping
Weather stripping usually runs along the base of your front and porch doors to ensure they seal properly when shut. Because of its location, weather stripping is constantly getting rubbed against the floor and exposed to dirt, dust and the elements. This wear and exposure can make it brittle, causing it to crack and deteriorate. As soon as there are signs of damage, it's important to replace damaged weather stripping right away. It's a key part of sealing drafts and keeping the elements out of your home.
Hire Mr. Handyman of Colorado Springs for Door Repairs!
When you need door repairs in Colorado Springs, our team of experts has it covered. Whether a closet door has come off its rails, your hinges are squeaking, the bathroom won't lock correctly, or you require garage repair service, put your trust in our pro team.
Our hardworking service professionals have more than a decade of experience serving customers with quality service. We can tackle a wide variety of home improvement and repair projects in Colorado Springs and nearby areas. Not to mention, our company is widely recognized for our unparalleled customer service. We've helped numerous homeowners with their home improvement needs throughout Colorado Springs.
To book an appointment with one of our Colorado Springs handyman experts today, we invite you to call our friendly customer service representatives today. We look forward to hearing from you and helping with your next home improvement project!