Your expert handyman is skilled at quality Colorado Springs grout repair, with one area of their expertise being different types of grout joints. For example, a soft joint is made of colored silicone or caulk instead of hard cement while an expansion joint allows for the expansion and contraction of the tiles and serves as a stabilizer for the grid-locked pattern of the tile. Regardless, joints prevent hard flooring from readily cracking due to foot traffic or peeling away due to hot and humid climate which results in crumbling. Here are some of the steps we take for Colorado Springs grout repair service:
First, we'll mix the powder with water in a bucket based on the manufacturer's instructions.

A float is one of those thick rubber paddles you can find at any local home hardware store. Now we dip some of the mixtures onto the padded part of the float. We will align the edge of the paddle to the seam or gap that needs to be filled. Slowly but surely we begin filling in the vacant space with a mixture.

As we continue to fill in empty voids between tiles with the mixture, we will hold the float at a 45-degree angle so as not to cause a mess. We will drag the edge of the floating paddle over gaps and scrape away excess grout and press it down firmly so it remains adhered to the surface.

Now we'll let the grout fully dry and cure, which typically takes at least 24 hours.

We will take a wet sponge and clean off the tile's surface being careful not to cause damage.
Let Our Team Handle Grout Repair, Colorado Springs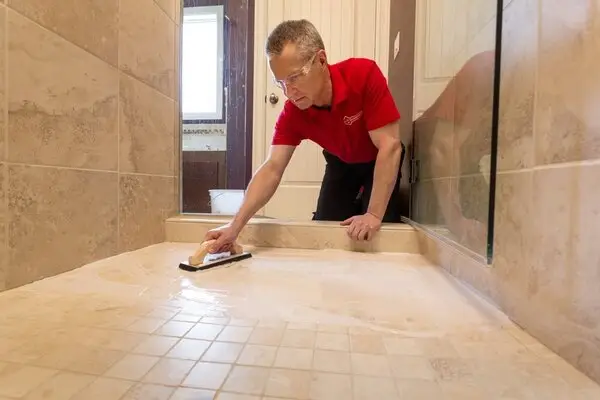 A well-done Colorado Springs grout repair can shed light on your home's interior design and highlight your fixtures from the floors to the walls by brightening up your space. If you require service from a skilled handyman look no further than Mr. Handyman of Colorado Springs. Our uniformed, prompt technicians will adjust to your convenient schedule for your service appointment and of course, clean up after themselves and discard any rubble at the proper facilities. We also provide many other home improvement and repair services, including professional tile installation, tile replacement, tile repair, gutter services, drywall repair, and window repair.
Frequently Asked Questions About Grout Repair
WHY DO I NEED COLORADO SPRINGS GROUT REPAIR?
Grout is a thick paste made of a mixture of water, cement, and sand and its sole purpose is to fill the voids between the spaces in floors, walls, and countertops by binding and bonding the tiles together. It also acts as a shield and helps to prevent the edges of your tile piece from chipping or cracking. Depending on your motivation and effort towards regular maintenance, including resealing every few years and also cleaning, your grout can last eight to 16 years. Its lifespan also depends of course on if you drag heavy furniture across your flooring surface or use chemical and acidic cleaners.
If you outright ignore grout repair, Colorado Springs homeowners can expect a few unfortunate scenarios, for example, misalignment of your tiles, dirt, and damage seeping beneath the tiles themselves, or tile becoming more susceptible to breakage. Even if you don't mind the hideousness of it all, damaged grout is also a safety hazard as you can likely slip and slide on the loosened flooring surface and trip over a tile piece.
WHAT ARE THE TYPES OF GROUT?
Sanded: This is literally made of aggregated or fine particles of sand making it a durable material less susceptible to shrinkage. It's more resistant to cracking under pressure and is best used for tile flooring installations or replacements as it can handle heavy foot traffic, and is best reserved for larger tile joints.
Unsanded: This is a smooth and textured grout that will not scratch easily so if you have any delicate surfaces made of marble or natural stone this would be a good choice. It doesn't bode well under heavy pressure so it's usually best reserved for your bathroom and showers rather than your floors.
Epoxy: This versatile material won't readily crack, shrink or discolor and it's more resistant to chemical cleaning products. It doesn't need to be sealed as it's no-porous and is the strong and most durable of all the grout materials being highly resistant to stains, cracks, or even harsh local weather conditions. It's best used for more moist areas such as your shower.
WHAT SHOULD I NOT DO WHEN GROUTING?
A couple of key reminders–don't spread too much grout all at once as once you've laid down the thick paste because it begins to harden rapidly and it won't give you enough time to clean off the tile and get the joints properly shaped. As the grout becomes rock hard you'll have to remove it and start all over again. It's best advised to instead grout small areas at a time. And secondly, don't scrub too hard as you're applying it and wiping off the excess.
HOW OFTEN DOES GROUT NEED TO BE REPLACED?
Your grout will begin to show signs of degradation after about a decade or so and you can tell as you'll notice loose tiles, mold growth, and crumbling around the borders of your tile. Plus if you practice preventative maintenance with frequent cleanings you are less likely to need grout repair.
WHAT CAUSES THE NEED FOR COLORADO SPRINGS GROUT REPAIR?
Multiple factors can lead to needing Colorado Springs grout repair, including but not limited to:
Harsh chemical cleaners including bleach or vinegar will corrode your grout and destroy your tile
Excessive water or floods
Too much humidity or moisture
Not enough routine cleaning
Dragging heavy furniture across flooring
Scrubbing too aggressively when cleaning
Avoiding using grout sealant depending on the grout material
Bad grout application by a DIY attempt or shoddy contractor
Highlight Your Humble Abode With Colorado Springs Grout Repair!
Our trustworthy team members are true artists of home remodeling projects with their handyman easel and smock raring to go for your grout repair. Colorado Springs homeowners will be impressed by how much a grout repair can illuminate their homes. Whether you're in Colorado Springs or parts of the surrounding area like Cascade, Elbert, or Littleton we are ready to deliver your tile masterpiece. Reach out to our courteous customer service representatives to book a consultation or service appointment for repairs, replacements, or maintenance services as they earnestly await your response.