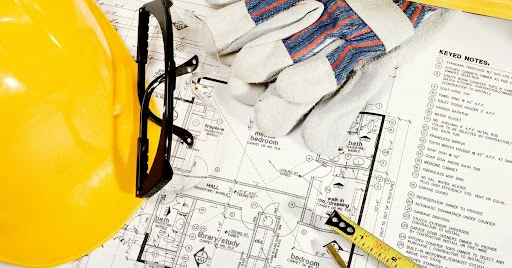 Are you thinking of starting a project for home remodeling in Colorado Springs, CO? Perhaps you're ready for a change, or you just moved into a fixer-upper that you can't wait to convert into your dream house. Either way, home remodeling is a big project. It requires diligent planning to be successful.
While the rewards of home remodeling in Colorado Springs almost go without saying—such as increasing your personal enjoyment of your space and boosting your house's resale value—any type of remodel is a lot of work. Some remodels can be quite stressful, but, when you hire the right handyman, it can be fun too.
To help you stay on track and keep organized with your home remodeling project, our Colorado Springs handyman experts at Mr. Handyman of Colorado Springs have put together this guide. In it we discuss what homeowners should know to ensure their remodel is a success.
Know Your End Goal
The first step for any successful home remodel in Colorado Springs is setting a clear goal. This isn't just what you want your home to look like—although that's obviously a big part of any renovation. You should also consider why you're renovating. Do you want to boost your home's resale value? Are you transforming old kids' rooms into new spaces as a recent empty nester? Considering both form and function is key to getting the house of your dreams.
Do a little (okay, a lot) of research to learn what changes provide a good return on investment, such as knocking down a wall to create a more open floor plan, or which remodels might not be necessary to reach your end goal (do you really need a quartz countertop?). Establish what changes are rooted in "needs" and which are "wants." As the project progresses, this distinction helps you stay on track—and on budget.
Granted, if you have a vision of your home and the sky's the limit in terms of budget and time, go for it! However, for the majority of homeowners in Colorado Springs, it pays to have a clear vision that doesn't leave space for fruitless projects or unnecessary expenses. This vision, supported by a well thought out plan, ensures you stay on budget and schedule.
Make a Realistic Budget for Home Remodeling in Colorado Springs, CO
Speaking of budget, it's hardly a secret that home remodeling expenses can get out of hand quickly. In fact, sticking to a realistic budget might just be the hardest part. While unforeseen expenses always pop up, it still helps to have a figure in mind. Ensuring this number is realistic helps keep your spending on track and force you to make reasonable decisions regarding the cost of labor and materials. Too often, we see homeowners that don't calculate high enough costs. Thus, you may wind up going way over budget. Whereas if you plan for your remodel to be a bit more costly, you might actually end up coming in under budget.
The Cost of Contractors and Labor in Colorado Springs, CO
The majority of costs you invest into your home remodeling project are for labor. Do your research and choose a handyman company that offers clear hourly rates and upfront pricing. Not only will this research give you a sense of scale and cost for your project, but it will also give you an idea of what company will be a good fit for your needs and personality.
Along with choosing a contractor you get along with, it's important to choose a handyman company that has lots of positive reviews and illustrates their professionalism through dedication to outstanding service. Mr. Handyman of Colorado Springs is one such professional, experienced and skilled company.
The Cost of Materials and Features in Colorado Springs
The type of materials you choose also impacts your overall budget for home remodeling in Colorado Springs—as some materials cost more than others. Be sure to research how much your dream granite kitchen countertop might cost, whether glass or ceramic tiles are a better fit for your budget and what kind of flooring you want (some materials, like slate, are much more expensive than vinyl tile).
Some features may cost more not only based on the materials but also because of installation costs. For instance, if you want a floating toilet or floating cabinets in the bathroom, these sorts of luxury features are generally more costly to install.
What Other Budgeting Costs Should I Consider?
While labor and material costs tend to be the biggest budget factors, there are a few other expenses that will influence the overall cost of home remodeling in Colorado Springs.
Do you want to sell your home in a few years?
Do you need to change the location of walls?
Do you want to install any luxury features?
What features in your home are absolutely essential?
What can you reasonably afford to invest?
How much can you afford to go over budget? (You should always have a cushion for emergency or unforeseen expenses.)
Make a Realistic Schedule
Having a realistic budget is not the only important factor in ensuring your Colorado Springs home remodel is a success. Your schedule should also be realistic. Not only will it inform your budget, but it will also give you a sense of how long you and your family's daily lives might be disrupted during the renovation. Long-haul renovations can be really taxing on families, especially if you have young children or pets.
Perhaps you have lots of experience completing renovations and already have an understanding of how long it will take. However, for the majority of Colorado Springs homeowners going through their first home remodeling project, estimating the schedule can feel overwhelming.
The best way to figure out your schedule is to consult with professionals. These could be contractors at your local home improvement store, or it could be part of the questions you ask when finding a handyman company to complete your renovation (more on that later).
It's key to separate the different stages of your project into a realistic time frame and estimate how much each stage will cost. Just like how you should give yourself a financial buffer, you should also give yourself a time buffer. For instance, if you want your home renovation completed by the holidays, work backwards from that date, allowing for unforeseen circumstances.
Build a Detailed Plan for Home Remodeling in Colorado Springs
Not only should your detailed home remodeling plan include your end goal, budget and schedule, but it can also be useful for showing your contractor your vision. Your remodeling plan is also a place for design inspiration, mood boards and checklists that help keep you on track.
What Should I Include in My Plan?
A master list of all your materials
Any permits you need to obtain
Weather updates as you go
Project steps outlined according to time, cost and who will complete the task (i.e., you or your contractor)
Blueprints or rough sketches of your final project
A list of needs for the project
A list of wants for the project
Ensure You Have the Necessary Permits
Permits are essential to the renovation process. Your neighborhood might not be zoned for certain changes depending on your Colorado Springs community. Usually, permits are required for any major structural changes to your home, or for adding large outbuildings like a guest house.
While obtaining permits can seem like a bit of a headache, not having the correct paperwork can be a huge mistake. Building permits are needed to ensure your home remodeling project meets the necessary structural and fire safety requirements. This is particularly important to keep you and your family safe and is required if you want to sell your home down the line. Without proper permits, you could wind-up in a lot of trouble.
Hire the Right Colorado Springs Handyman Company
Another quintessential step in ensuring your Colorado Springs home remodel is a success is choosing the right handyman near you to complete the project. There are many considerations to keep in mind while researching handyman companies. Namely, be sure to look for the following signs of professional, efficient and high-quality service:
High-quality references. Any expert contractor should be able to provide references. Additionally, online reviews are very helpful. Be sure to look for recent reviews, the total quantity of reviews and how many of those reviews are five stars.
Years of experience. There is a big difference between hiring a company that has just started and one with highly experienced contractors. Not only does more experience mean a greater depth of knowledge, but it also means the job will get done more efficiently. Not to mention, the job should get done right the first time. At Mr. Handyman of Colorado Springs, each of our technicians possesses many years of experience working in the trades. We only hire the best.
How pricing works: It's really important to look into pricing, as each handyman company is different. The last thing you want is to be hit with a series of hidden costs that you didn't budget for. At Mr. Handyman of Colorado Springs, we offer upfront pricing so you don't have to worry about unexpected charges.
Uniformed professionals. Don't settle for a "truck n' chuck" contractor. Professionalism is marked by the details, including company uniforms, company vehicles, cleaning up after a job, offering a guarantee and taking time to answer all your questions.
Prepare for Your Colorado Springs Home Remodeling Project
Depending on the scale of your renovation, you may not be able to stay in your home. Even if you're only changing a couple of rooms, you will need to pack up and clear out any of your possessions that might get in the way. If you're only renovating one room or area, you can temporarily move the items in that space to other areas of the house.
If the whole house is getting done, you have two options. Either everything goes into storage, or you cycle through the house. So, if the kitchen is getting done, your possessions in that room could be stored temporarily in the den. This is also where a renovation plan comes in handy to help you stay organized.
Time to Move Out
If you had to move out during the renovation, or you're selling your old home while updating the new house, be sure to plan for the possibility of extended time out of the house. In the event that your old house sells before the new one is ready, or your Colorado Springs home remodeling project takes longer than expected, you need to have a place to stay and a financial buffer to provide for that accommodation.
If there are ongoing renovations still underway in your home, we suggest waiting until the last coat of paint has gone up to move in. This way, you'll stay out-of-the-way while the last few renovations wrap up—keeping you, your pets and your family safe. It also feels more relaxing to move into a home that is ready for you.
Protect Children and Pets
Home remodeling projects can be very disruptive, stressful and unsafe—especially if you have pets or small children. Their safety is always your top priority. This might mean you ask a family member to pet-sit while the renovation is underway. Maybe one parent temporarily moves out with the kids to keep them safe from noise, debris and dust. Or, perhaps the entire family—pets included—stay at a hotel until it's safe to move back in. The goal is to make the process as stress-free as possible.
Hire a Handyman for Home Remodeling in Colorado Springs!
Now that you're equipped with the tools to plan your perfect Colorado Springs home remodeling project, it's time for the renovation to begin! Whether you're in Colorado Springs or another part of Colorado, such as Fountain or Monument, trust our expert team to get the project done right the first time.
Be sure to call our qualified, expert technicians to get started. We can't wait to bring your dream house to life with our Colorado Springs handyman services.