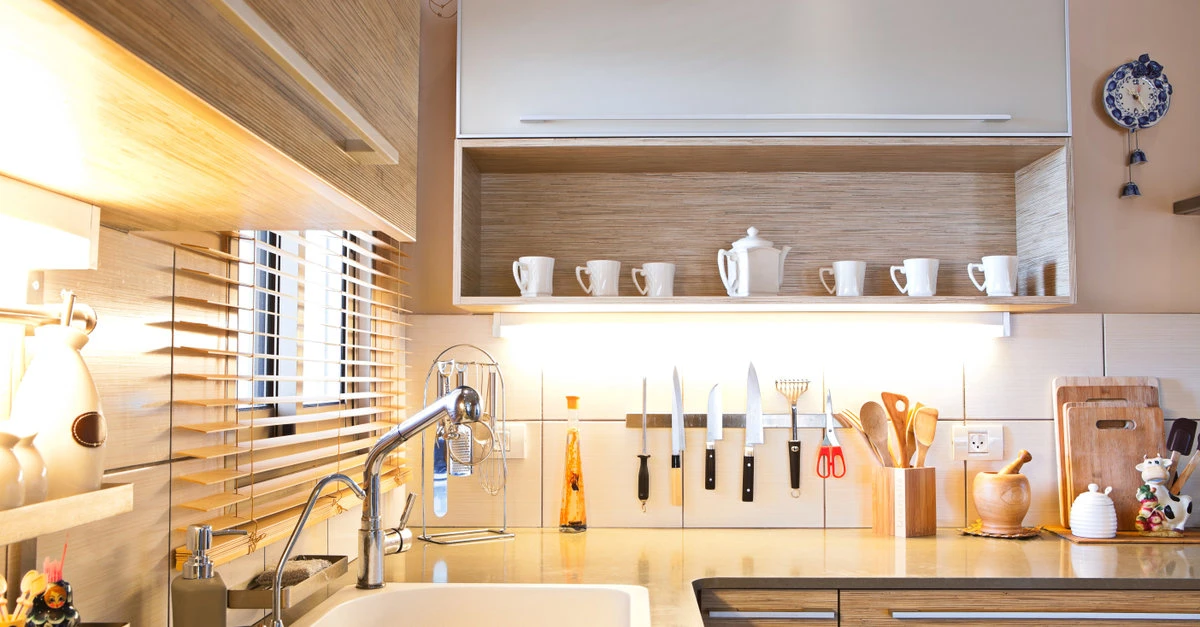 Thinking about a potential Colorado Springs kitchen remodel? Whether you're an avid cook who makes it look easy to whip up an eight-course gourmet meal for all your friends or you've still got lots to learn about the secrets of cooking, your kitchen can (and should) be one of your favorite parts of the house. But when your kitchen is bursting at the seams, or not functioning properly, or just plain ugly and outdated, it's not such a pleasant place for family time—or any time, for that matter.
When that happens, your first instinct might be to start searching for "Colorado Springs kitchen remodel near me" to find a qualified handyman who can deliver your dream kitchen. But there's actually some work that needs to be done first—the planning phase. Planning a kitchen remodel in Colorado Springs, CO can be a big challenge, but it'll go a lot more smoothly if you avoid the common mistakes we've listed below along with our expert advice.
Once you have a rough idea of how you want your new kitchen remodel to look, count on your local Colorado Springs handyman to make your vision come to life. The team of service professionals at Mr. Handyman of Colorado Springs, S. Littleton and Parker are highly experienced with both major and minor kitchen remodels. You can rely on us for expert advice and craftsmanship, whether you just need a few tweaks or you're going all the way with a major remodel.
Don't Get Your Priorities Mixed Up
When you first sit down and start looking for inspiration to plan a kitchen remodeling project, it's really easy to get caught up looking at glossy photos of flawlessly designed, trendy rooms—and forget that you need a functional kitchen design that will work perfectly for the needs of your unique household. That's actually the best part of getting a Colorado Springs kitchen remodel—you can tailor it specifically to what you need and want, instead of just getting cookie-cutter options that look great on a page but don't really match with the way you like to use your kitchen.
For example, you may love the look of a trendy single-basin farmhouse sink, but if you're used to using double sinks for your food prep and cleaning, you'll soon find yourself wishing you'd bucked the trend and gone with what's familiar to you. (Plus, you can get double-basin sinks that mimic the look of a farmhouse sink). Or, maybe you've got your heart set on marble countertops—but once you realize how costly they are while also being prone to staining and chipping, it may make more sense to choose durable, cost-effective and still attractive quartz countertops. The kitchen is a highly utilitarian room, and while it should look beautiful and inviting, it needs to be practical and functional above all else.
Don't Stretch Your Budget Too Thin
Kitchen renovation projects are somewhat notorious for going over budget due to costs that weren't anticipated during the planning. Sometimes that's because the homeowner changes their mind part way through or the contractor makes an error, but more often than not, it's because something is discovered during a kitchen remodel in Colorado Springs that needs to be dealt with. Your handyman could remove your current flooring, only to discover that the subfloor or joists are damaged by moisture and need to be repaired for safety reasons. Or, they might be working inside the walls and realize that there are problems with electrical wiring that need to be corrected before they proceed.
The best way to deal with unexpected expenses is to add a cushion to your budget of about 20 to 30% more than you think you'll need to spend. That way, if any nasty surprises do pop up, you're prepared and they can be handled stress-free. If you don't end up using it, even better—now you've got the beginning of a bathroom remodel fund!
Don't Choose the Wrong Tile
Whether for new flooring installation or for a backsplash, tile is really important for a kitchen—your choice for tile installation could make or break your kitchen remodel in Colorado Springs. You probably already have some tile in your current kitchen space, but a replacement or brand-new installation will make a big difference for both appearance and function. Even if you decide to go with a different material like vinyl or laminate for your floors, a glass tile backsplash on your wall will go a long way towards enhancing the look of the room with its translucent beauty, and it protects your walls from splashes of water or grease at the same time. Or, if you're more concerned about creating a beautiful kitchen makeover that will appeal to future buyers, you could opt for something simple like a subway tile backsplash.
Your kitchen is a high-traffic area that contains plumbing fixtures and water-related appliances like the dishwasher, so it needs to be very durable, long-lasting and resistant to moisture. That's why porcelain or ceramic tile is the most popular choice for a kitchen remodel in Colorado Springs. It's very strong and will hold up well for many years. It's also a great choice if you want to add in-floor heating because it's porous enough to let the heat rise evenly and won't be warped or damaged by the heat.
Don't Eliminate Storage Space
You may have a room full of empty kitchen cabinets and not enough stuff to fill them all up—but that's pretty unusual. Typically homeowners need all the storage space they can get in the kitchen so pots, pans, utensils, dishes and of course, all that food are stored within easy, convenient reach when you're cooking. It's usually best to add storage space if you can, but if you're working with a room that has limited space and you can't possibly add more storage, at least don't reduce your storage capacity.
If your current cabinet set-up is just not enough for all the items you want to keep in your kitchen, or the amount of storage space is fine, but the layout of the cabinets is irritating or inconvenient, a Colorado Springs kitchen remodel is the perfect opportunity to correct those problems with brand-new custom cabinetry that perfectly suits what you want and need. Have you ever wished the utensil drawers were right by the dishwasher, or the cabinets went all the way to the ceiling so you don't have to dust up there? We can make that happen. We can also add a custom kitchen island and find ways to help free up countertop space with additions such as hanging racks for pots and utensils.
Don't Forget About Lighting and Ventilation
Somehow, two of the most important components for enhancing the functionality of a room are often the two things that are forgotten about or just added in as an after-thought during a renovation project. Proper lighting is really critical for a kitchen remodel in Colorado Springs because it's so irritating to work in a dimly lit space where you can barely see what you're doing—and it could be pretty dangerous too, when you're using sharp tools or pouring hot liquids. You should have a nice, bright overhead lighting fixture, but it's also a really good idea to add task lighting to areas such as your stove and food prep areas. That could be as simple as installing some small light fixtures on the underside of your upper cabinets so the light shines directly on your countertop.
The other often-neglected factor is ventilation. When you're cooking up a storm, there's going to be steam, food odors and—depending on the overall cooking skill level in your household—possibly some smoke as well. You need to be able to safely vent all that outdoors, or your fire alarm will be going off every time you cook because it's being triggered by steam when you are boiling something on the stove or taking a hot dish out of the oven. It's also important because excess steam will condense on surfaces and seep in, which can cause some moisture damage issues like stained, softened drywall or wood rot.
Don't Hang On to Inefficient Appliances and Fixtures
If you're not planning to replace your kitchen appliances and plumbing fixtures during your Colorado Springs kitchen remodel, it may be worth considering. Even if your appliances and fixtures are working decently well, if they're getting on in years you may be able to save a significant amount of money on your monthly utility bills by installing new, energy-efficient appliances and water-saving fixtures.
Manufacturers are constantly trying to improve the efficiency of their products, and there has been some innovations in the last decade that mean a new appliance is almost certain to use less fuel and therefore cost you less on your energy bill. You may be reluctant to look at low-flow, water-saving fixtures because nobody wants a weak little trickle of water coming from their faucet, but modern low-flow fixtures are surprisingly good at delivering good water pressure and a user-friendly experience, while at the same time reducing costs on your water bill.
Don't Keep the Kitchen Isolated
Open or semi-open floor plans have become really popular and are showing no signs of slowing down, so most newer homes in Colorado Springs feature a kitchen that is connected to the dining room and/or family room, or the entire main floor may be more or less open in one large space, including the kitchen. Those types of layouts are popular for a number of reasons—it can make the home feel brighter and more spacious and it makes it much easier to keep an eye on the kids in the family room or socialize with guests in the dining room when you're cooking.
If you have an older house that has a few decades under its belt, you may still have a closed off kitchen that is in its own separate room and completely hidden from the rest of the house. Some people prefer that, but if it's not working for you, your Colorado Springs kitchen remodel is the right time to make a change. That may involve having your handyman remove a wall that's not load-bearing so the kitchen is open to your dining area, family room or both. But if that's not possible, you can still improve sight lines and make conversation a lot easier between rooms with a pass-through. That's essentially a hole in the wall that allows you to see into other rooms and pass dishes or other items from one side to the other—it definitely makes setting and clearing the dining table faster and easier. You may also choose to add a countertop and stools to one side of the pass-through for a seated dining area that's connected to the kitchen.
Don't Take the DIY Route
You may be tempted to save some money by handling your own kitchen remodel in Colorado Springs—how hard could it be? Well, unless you've got quite a bit of experience with remodeling and renovation projects, it can be a huge headache. There are projects around your house that most amateurs could handle competently, but kitchen remodeling just isn't one of them. You'll save yourself time, stress and probably a considerable amount of money by leaving it up to your local, qualified handyman.
When you call the remodeling crew at Mr. Handyman of Colorado Springs, S. Littleton and Parker, you can rest assured that we'll work hard to get your project done perfectly on time and to your exact specifications. Customer satisfaction is our top priority, and with years of experience in repair and improvement trades, we have the skill and expertise to get the job done right.
Ready to Dive Into a Kitchen Remodel in Colorado Springs? Call Your Local Handyman Experts!
Whether you're in Colorado Springs, CO or a nearby area such as Castle Rock, Parker or Woodland Park, you can count on the team of professionals at Mr. Handyman of Colorado Springs, S. Littleton and Parker to deliver the highest standards of workmanship and customer service that goes above and beyond. Whether you want a few updates for a minor remodel, or service to help with a major kitchen remodel, we'll create the beautiful space you've been dreaming of.
Contact us today by picking up the phone and calling to find out more about our wide range of reliable handyman services in Colorado Springs and the surrounding area, or to schedule an appointment for service at a time that's convenient to you.