Power Washing: What Virginia Property Owners Need to Know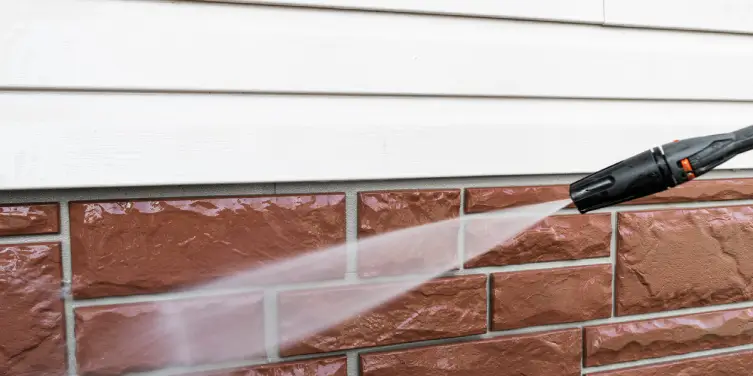 If you've heard of power washing but never seen it in action, you might be wondering what the big deal is. It's one of those things that really needs to be seen to appreciate how efficient and effective the cleaning power is, and how dramatically it could change the way something looks.
For example, if you have an old, moss-covered brick patio that has been coated in grime for years (or even decades), power cleaning will completely transform it to look brand new again—your friends and family won't even believe that it's the same old patio as before.
There are also benefits that go beyond surface appearances. This guide lists five reasons to get superior pressure washing services from the Fairfax handyman experts at Mr. Handyman of Fairfax and Eastern Loudoun Counties, but before we get to that, you might still need info about what power washing is and why you shouldn't do it yourself.
What is Power Washing?
Basically, power washing (sometimes called pressure washing) is the use of high-powered jets of water for comprehensive exterior cleaning that can remove built-up dirt, grime, moss, algae, mildew, oil stains, loose paint, and other unwelcome substances from outdoor surfaces.
The pressure factor is what really sets it apart from more traditional cleaning methods. Washers can produce pressures ranging between 1,500 and 4,000 psi (pound-force per square inch). For comparison, a typical faucet produces pressures around 40 to 60 psi.
Power washers can be used to clean a wide variety of outdoor surfaces:
Siding
Driveways
Walkways
Fences
Decks, porches and patios
Outdoor furniture
Large play equipment
Sidewalks
Parking lots
What's the Difference Between Power and Pressure Washing?
The terms "pressure washing" and "power washing" are often used interchangeably. However, they are not actually the same thing. Essentially, a pressure washer does not use hot water, whereas power washing does.
The heat in a power washer adds an extra edge when tackling tough-to-clean surfaces riddled with build-up like mold, salt and grease—just like how hot water is better for cleaning your dishes. When you use hot water, it cuts through grease and grime more effectively than cold water.
However, some materials could also be damaged by the hot water emitted during Fairfax power washing service. When you hire our team, we'll make sure your surfaces are cleaned without being damaged by excessive heat or pressure.
5 Benefits of Fairfax Power Washing
So why is pressure washing so great? Well, we'll tell you! If you've never seen the power (pun intended) of these machines for yourself, then you are in for a treat. In fact, there are entire YouTube videos dedicated to filming the satisfying difference these machines make for a range of outdoor surfaces. Here are five key benefits of residential and commercial Fairfax power washing services for your home or business.
1. Boost Curb Appeal
You may be thinking that a tiny boost in curb appeal doesn't really make this all worth it, but here's the thing: it's not tiny. It's a huge, dramatic difference that will be obvious to the whole neighborhood. Pressure washing could even make your property look like it's had expensive restoration work done instead of just quick, cost-effective cleaning.
If you've received a notice from your Homeowner's Association that you need to improve the appearance of your property by replacing dirty siding or having a stained driveway repaved, let the pros at Mr. Handyman give them a good blast with the power washer first—that may be all it takes to appease them and make your home's appearance the best on the block.
It's handy for large-scale commercial exterior cleaning projects too. Even the dirtiest parking garages can be restored to pristine condition with power cleaning, and the fresh appearance of your commercial property will boost your business credibility in the eyes of your customers.
2. Increase Property Value
If you're planning to sell your property in the near future, pressure cleaning is a must. A gleaming, sparkly clean home is far more attractive to potential buyers and will help you seal the deal much sooner. That's what makes this one of the basic outdoor home improvements that add value to your property.
3. Prime Surfaces for Renovation
Noticed that your deck needs a fresh coat of sealer? Fairfax power cleaning is the perfect way to prime surfaces for refinishing. It not only strips away build-up like dirt and algae, it can also remove peeling paint and wood stain far faster and easier than sanding ever could, leaving you with a clean, smooth surface to work on. Don't have the time, energy, or know-how to tackle painting and refinishing? No problem—Mr. Handyman will get the job done quickly and accurately.
4. Eliminate Harmful Grime and Bacteria
How can a little dirt on the outside of your house be a problem? When it builds up over time in hard-to-reach nooks and crannies, it becomes a breeding ground for bacteria that can be hazardous to children and pets. It also eats away at wood, vinyl, and other surface materials, causing them to erode and suffer accelerated wear and tear.
Power washing in Fairfax, VA, can get into places that would otherwise be left untouched and blast away grime before it has the chance to spawn harmful bacteria, leaving you with peace of mind in the assurance that your home is safe and sound.
5. Save Time and Money
Imagine going outside with a bucket and long-handled mop to spend your weekend scrubbing away at the exterior of your house. All your efforts wouldn't even get it a third as clean as power washing will, so the savings on time and energy are huge.
Pressure washing saves time on refinishing as well since you don't need to worry about time-consuming washing and sanding methods to prime. It also saves money by keeping surfaces in solid condition for longer, so they don't need to be replaced as soon and nets you a solid return on investment when it comes time to sell.
What Surfaces Can Be Power Washed in Fairfax, VA?
Most outdoor surfaces on your property are safe to wash. However, there are some common areas that need regular maintenance. A professional from Mr. Handyman of Fairfax and Eastern Loudoun Counties will know what surfaces can be safely cleaned, and at what setting, so your Fairfax, VA, home is not damaged.
Brick and Cement Stairs and Patios
Masonry is a beautiful addition to any home. However, bricks, stone, and cement will start to look worn over time. Any masonry in areas that experience heavy foot traffic is close to gardens and landscaping, and those that are exposed to pollutants from heavy rainfall will benefit greatly from Fairfax power washing service. Remove dirt, dust, grime, and other debris, without causing damage to your masonry, by hiring our Fairfax handyman experts.
Vinyl Siding and Garage Doors
The south-facing and west-facing sides of your Fairfax County house typically receive the least sunlight. While this may offer a bit of shade during the summer months, this lack of sunshine also means that these areas are more prone to mold, mildew, and moss growth. The good news is, all of this build-up can be quickly and easily removed from siding and garage doors by a professional technician from Mr. Handyman of Fairfax and Eastern Loudoun Counties. We've worked with a range of materials, and know the proper settings to clean your vinyl siding compared to siding that is made out of wood.
Window Washing
Many people think that a power washer will break the glass. This is true to an extent. Used at its higher settings, these machines are powerful enough to destroy windows and glass doors. However, in the right hands, Fairfax power washers can safely clean windows. This is an efficient way to brighten up your Fairfax house—both by removing caked-on grime and dirt and by enabling more sunshine to enter your home. However, it's important to note that this type of window cleaning should be completed by a professional. If you don't know what you're doing, you may break the glass instead of cleaning it. This would result in a serious mess, not to mention, fill your Fairfax home with water.
Why You Should Leave It to the Pros
While many Fairfax homeowners might be tempted to tackle this home improvement project on their own, after all, machines are available to rent, this is a huge mistake. In untrained hands, these machines can cause a range of serious problems that can be absolutely devastating to you, your family, and your Fairfax home. There are a few good reasons why you should hire quality services from a power washing company such as Mr. Handyman.
Pressure is good, but in the hands of an amateur, it can be very damaging. Pros know what settings should be used to avoid smashing windows, punching holes in siding, and even chipping pieces out of solid concrete. These machines can operate at a psi as high as 3,000. This means they even have the power to physically push you into the street.
Chances are, you don't have a pressure washer sitting around in your garage. Professionals have access to specialized equipment, and they're trained on how to use it. Even if you rent a machine, the extra cost and time you waste learning how to use it are simply not worth it.
Power cleaning can cause serious injuries if the jets of water hit people or animals, so your handyman's training in safety protocols for responsible power washing keeps everyone safe. Keep in mind these machines are powerful enough to cut skin. The risk to you and your loved ones is simply not worth it while the machine is being used by untrained hands.
Common Mistakes DIYers Make
Fairfax power washers can destroy windows and window screens if used incorrectly, causing leaking window sills, broken glass and damage to your home's interior.
Accidentally using these machines on lead paint will cause toxic dust to spread throughout your home. This could make your loved ones seriously ill.
If the power is too high, water can get into your walls and house. This can cause soggy carpets and wet attics.
These machines can damage siding when used incorrectly, possibly knocking it off your home entirely. They can also wash away the mortar lining brick siding.
Mr. Handyman is Your Local Fairfax Power Washing Expert!
Ready to see what color your outdoor surfaces are without years of accumulated grime? We're confident you'll be pleased and impressed with the results. Our team at Mr. Handyman of Fairfax and Eastern Loudoun Counties is proud of our commitment to quality workmanship and customer satisfaction.
Our team is recognized throughout Fairfax for our dedication to excellent customer service, outstanding workmanship, and the utmost professionalism. When you hire our expert team, you can expect our technicians to arrive on time for your scheduled appointment. We will show up wearing the Mr. Handyman uniform and driving a company vehicle, so you always know who has arrived at your property. Our technicians have years of experience working in the trades and can help you with far more home improvement projects aside from power washing in Fairfax, VA. In fact, we can also assist with deck repair, fence repair and maintenance, gutter cleaning, and much more.
We're honored to have brought our outstanding services to numerous homeowners throughout the Fairfax area. This includes many communities, such as Leesburg, Fair Lakes, and Centreville. We're proud to offer excellent craftsmanship no matter what project you need help with, from small maintenance tasks to large projects like kitchen remodel.
Give us a call today to find out why your neighbors consider us their number-one choice for handyman services. We look forward to meeting you and helping with your Fairfax power washing needs!