7 Issues in Fairfax, VA You Can Solve with Deck Repairs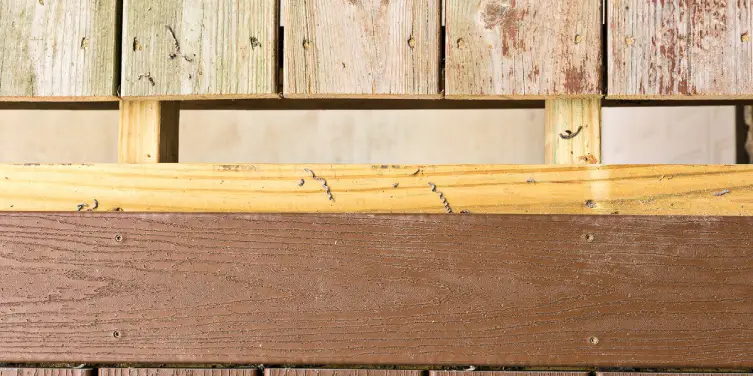 Are you excited about all the time you'll spend in your outdoor living space this year? The time you get for outdoor enjoyment in Fairfax doesn't last long enough — and it might be even shorter if you're being pestered with problems that require deck repair.
A wobbly, worrying outdoor space will send you back inside. Likewise, disgusting debris build-up, peeling surfaces, and a whole array of other problems related to deck damage are all reasons that people in Fairfax and nearby communities turn away from their own backyards. What if we told you that you could easily fix those issues, so that you can always enjoy the outdoors without abandoning the secure comfort of your home?
Your expert Fairfax handyman professionals at Mr. Handyman of Fairfax and Eastern Loudoun Counties can help! We know all the problems that people in our community have with their outdoor spaces, and we have an effective solution for every situation!
How Do You Know You Need Fairfax Deck Repairs?
There's one simple question you can ask yourself to figure out if you need outdoor repairs—for everything from small sections of your patio to your entire deck! Are there currently issues in your exterior areas that leave you unsatisfied, concerned, or reluctant to even go outside? If your answer is "yes," then you can benefit from contacting a professional for Fairfax deck repair services!
Which Specific Problems Should You Look For?
That's an excellent question. Not all issues need repairs—especially if you're just unsatisfied with the arrangement of outdoor furniture. Living with minor levels of annoyance is possible, but you don't have to suffer from constant inconvenience. Even if you don't think you need repairs, you can still benefit from getting professional service. Even unsatisfying paint is a problem you can fix with deck repairs!
In some cases, immediate solutions are absolutely necessary. Letting issues like wood rot and loose ledgers go unresolved will leave you with an increased risk of major damage, injury, and costly repairs! If you spot any serious issues while completing regular maintenance, quick solutions will save you from potential woe.
1. Unsteady Stairs
People pound up and down outdoor stairs constantly, so it's not surprising that many people in Fairfax suffer from unstable steps. Constant wear is the enemy of endurance for any structure, and stairs are often the most worn parts of any private outdoor area.
Stairs that rock around present a serious hazard to anyone with poor balance, and the threat of potential collapse will deter many people from using them altogether. Those worries will end up cutting off one of the primary gateways to your deck, limiting both access and enjoyment. Reversing all those negative effects is easy if you call an experienced, local handyman!
2. Rickety Rails
Railings are another area where many people in Fairfax experience issues. Even porches are subject to issues with loose handrails. If your rickety railing isn't fixed, it could send you—or someone else—soaring over the side of your porch or patio!
Handrails often become loose over time. As people push on them, connections are strained and joints are loosened. Eventually, those railings people push on become complete pushovers. Wimpy handrails decrease the safety and comfort of your outdoor spaces. Luckily, most home repair pros in Fairfax can fix that problem, so you can make your handrails happy and helpful again!
3. Wobbly Deck
Does your entire deck shake when you walk on it? We don't have to tell you that's a serious sign of major problems. Most people with shaky structures avoid them outright, and we can't blame them. The threat of collapse is enough to send even the bravest barbecue enthusiasts toward their local restaurants instead.
An entire outdoor structure that wobbles is a serious issue that should be investigated because it's often an indication of a damaged or loose ledger. Ledgers are the long boards that secure decks to exterior walls. Loose ledger connections, poor installation, and undetected ledger damage are all common causes of wobbly decks in Fairfax—and common problems that Fairfax repair professionals fix!
4. Broken Boards
Whether you have a composite deck or something made of wood, if your boards are broken, that's an obvious sign you need repairs. The effects of weather, animals, and people all play a role in weakening boards. Eventually, a large ball of hail, an aggressive animal, or an accidental impact will break a board—especially if they're already weakened.
We don't have to tell you that broken boards are a serious hazard for everyone using your outdoor spaces. Even if the damage is minor or you only have loose boards, you should still think about getting repairs. It's easy for an accident to cause major issues that develop from minor damage. Reliable, effective repairs will eliminate any chances of an unexpected accident from broken boards—and any worries about underlying issues.
5. Weathered Wood
If you've noticed broken boards and other damage around your wooden deck, take the time to check for wood rot. Rotten wood is weaker and more prone to damage, and repairing a broken board won't solve your problem if the true cause is an underlying issue like wood rot—especially if that rot has spread to other parts of the structure.
Wood decking is particularly vulnerable to rot, and if it spreads, you'll need more than basic repairs. If you can spot the signs of wood rot early and get prompt repairs, then you won't have to worry about a full restoration or replacement project. Watch out for any discoloration, shrinkage, fracturing, or spongy textures—and call a Fairfax home repair pro if you need advice about your odd-colored deck surfaces!
6. Gross Grime
Has the off-season left your outdoor area with a noticeable layer of grime and debris? Cleaning away that built-up coating of solidified slime is an essential step for any annual maintenance plan, and doing so will help you spot hidden repair warning signs.
You could scrub away all that solid sludge yourself—or you could find out more about power washing benefits with first-hand experience. Few things are more satisfying than watching months of grime disappear in an instant with a powerful blast of water. Plus, it's a great way to prime your existing deck for refinishing.
7. Peeling Paint
Is your deck stain slowly fading? Is the paint on your deck posts peeling away? Do your handrails leave little flakes of color on your skin every time you grab them? Water, wind, and other weather factors all gradually wear down the finish of outdoor surfaces, but you can keep them looking fresh and new every year!
Priming, painting or staining, and sealing outdoor surfaces are one of the most common deck repairs that people in Fairfax complete. Refinishing outdoor areas doesn't just keep them looking good. It also increases your protection against issues caused by gradual weathering and moisture accumulation.
How Can I Prevent the Need for Fairfax Deck Repairs?
Routine maintenance is the best way to avoid costly deck repairs in Fairfax, VA, and/or replacements. Like anything else in your home, the sooner you spot potential problems the sooner you can address those issues with repairs This prevents damage from worsening and costing you more time and money in the future.
Regular Sealing
One of the most important steps you need to take for deck upkeep is to refinish it every two to three years. This task can be tedious for Fairfax homeowners that don't like DIY jobs. However, the good news is that our Fairfax deck repair experts are happy to complete these tasks for you. Refinishing involves many steps that our Fairfax handyman experts can take care of, including:
Sanding down your existing structure to get rid of peeling paint, shipped stains, scratches, and more.
Applying a clear, UV-protecting sealant to keep water damage, bleaching, and wear to a minimum.
Applying a stain that matches the rest of your property and improves curb appeal.
Benefits of Regular Sealing
Prevent wood rot from growing
Avoid sun damage from bleaching wooden structures
Preserves your wood's natural beauty
Adds an attractive sheen
Protects the structure from moisture damage
Power Washing
It's important that you clean your deck, porch, siding, and other outdoor areas thoroughly twice a year to get rid of dirt, debris, lichen, moss, mildew, and even mold. Regular cleaning can also help to get rid of peeling paint and chipped stain, which can help prepare areas for resealing—which, as we established, is also an essential maintenance task to prevent Fairfax deck repairs.
Power washing is by far the most efficient and effective way to clean your deck. These machines are truly amazing—they can make your tired outdoor surfaces look as good as they did when you first moved in. Power washers are very powerful machines. They operate at an extremely high psi, anywhere between 1,300 and 2,800 psi to be exact. Thus, they can also prime the entire deck for painting or staining, which is helpful for other deck maintenance. This incredible power also means that power washing is significantly faster than manual scrubbing. No more struggling with sponges and buckets of soapy water to clean your outdoor surfaces!
Important Note!
Power washing should always be completed by the professionals. If the wrong settings are used, it's all too easy to damage your property. Not to mention, these machines are strong enough to cut skin and cause other injuries. By letting the pros at Mr. Handyman of Fairfax and Eastern Loudoun Counties power wash your outdoor areas for you, you can expect expertly cleaned deck boards, planks, panels, and posts, while we comply with the utmost safety standards.
Benefits of Power Washing:
Clean other areas, such as fences and siding
Prevent health issues from mold and mildew
Prime surfaces for painting or staining
Improve your property's curb appeal
Prevent repairs by getting rid of debris and buildup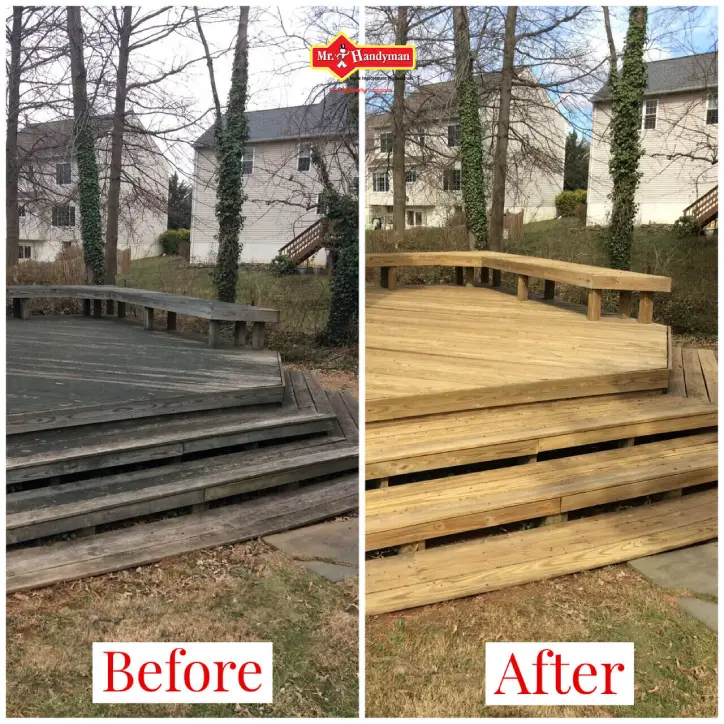 Routine Inspection and Maintenance
Prevent a disaster by spotting issues and potential damage as early as possible. While it's good practice to always be on the lookout for problems, you should set aside time in the spring and the fall to walk through your Fairfax property and check for issues. You'll likely spot problems that otherwise would have gone unnoticed.
This could also be a great time to get your seasonal maintenance done, such as power washing, gutter cleaning, fence maintenance, and other tasks your Fairfax handyman can assist with. Some routine Fairfax deck repairs that should be completed during this time include:
Moving furniture, umbrella stands, barbecues, and planters around to prevent bleaching and moisture damage from seeping into the structure.
Clean up stained areas promptly. These regions can leave unwanted residue and attract bugs.
Avoid using rugs on your outdoor structure. You might think this is a nice decorative touch, but rugs tend to soak up water like sponges. This can lead to issues such as wood rot and water damage.
Clean beneath barbecues and smokers regularly. If you love to barbecue, then you know the machine can get a little dirty from time to time. It's important to check that any oil, meat residue, or oil dripping is not pooling below the machine and staining your deck. This could result in the need for Fairfax deck repair service.
Do You Need Deck Repairs in Fairfax, VA?
Your friendly, helpful professionals at Mr. Handyman of Fairfax and Eastern Loudoun Counties can help! We're your locally-owned handyman service provider — and we can fix more than just decks! Our comprehensive list of local services covers everything from furniture assembly to siding repair to custom carpentry installation.
We proudly serve our community with guaranteed work, complete clean-ups, and safe, worry-free experiences for every job. Our service area extends far and wide, across Fairfax County and into parts of the surrounding area, from Centreville to Leesburg and beyond. We even help our fellow Fairfax business owners with maintenance and repairs for their commercial properties!
For more information about Fairfax deck repairs, porch services, or convenient appointments with your local, reliable handyman, contact us. We're here to help with every kind of home improvement and remodeling project, from deck board repair to door installation, fencing maintenance, and more.