House Siding Services Simplified for Virginia Homeowners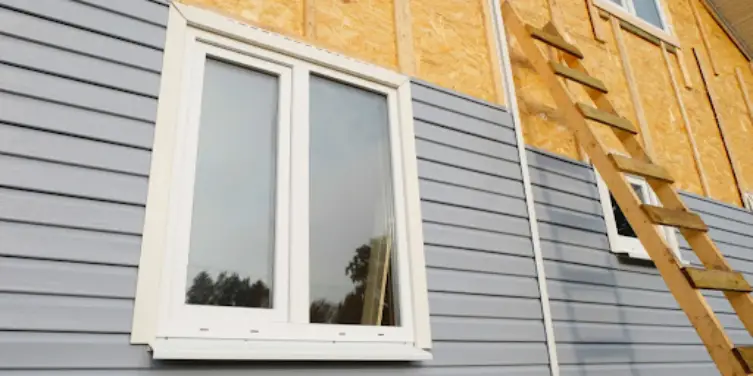 Are you wondering what to do about the sounds coming from your vinyl siding? Is your wood siding rotten? Are you thinking about making siding replacement your next home improvement project? Virginia homeowners across Fairfax County, Loudoun County, and nearby areas may have several questions about the exterior surfaces of their house. The best people to ask about house siding services are always experienced local service professionals.
Nobody knows more about the extensive damage that affects homes in Virginia — and how to fix those issues — than local Virginia home repair professionals. Your neighborhood handyman isn't just here to help with basic maintenance like gutter repairs and cleaning. They also provide a wide range of house siding services for your exterior — and offer comprehensive advice about all those services.
Most houses in Virginia eventually need exterior services. No matter what type of house siding service you need — installation, repairs, or replacement — it's important that you have a basic foundation of knowledge about your exteriors. The more information you have, the easier it is to hire a great company and ensure you get satisfying results. Mr. Handyman of Fairfax and Eastern Loudoun Counties is here to make sure you know your siding options, so you're always satisfied with the services you receive.
Siding Repair Services
If there's a small dent in your outer wall, then professional repair services are a great option. Keeping your current siding in perfect condition might seem impossible, but exterior home maintenance is important in Virginia; poor outer protection lets exposure damage hit your home's inner frame.
Why are Repairs Important?
That brick or vinyl isn't just there to look nice. It's responsible for stopping everything that creates damage outside your house from ever getting inside. Your home's outer walls are continuously harmed as they protect you from water damage, pests, weather, and everything else that causes problems outside. Exterior damage to that outer shield is inevitable. That being said, repairs are necessary to maintain the protection your siding provides.
How Do You Know If You Need Repair Service?
Different house siding materials are damaged in different ways, but there are common problems that affect most people in Virginia. Any visible flaws should be investigated and addressed before they cause further complications. Timely repairs could prevent a more costly siding repair project in the future.
Common Broken Siding Issues:
Wood rot
Cracks, gaps, & holes
Dents & scratches
Warping & bubbling
Moisture stains & water damage
Fading colors & peeling paint
Rust
Worn mortar & seals
Insect & pest infestations
Replacement Services
New siding is something that many homeowners in Virginia think about from time to time. As years go by, that small consideration becomes a major concern. Older types of house siding don't just negatively affect curb appeal. They also require more maintenance and expensive repairs.
Why Choose Replacement?
Modern alternatives require less frequent maintenance, and they could be far more energy efficient than what you currently have. That's right, installation services have a return on investment that extends beyond just property value! Some house siding styles decrease your monthly energy costs — and your insurance fees!
You should also consider a replacement if a recent storm or undetected rot has left you with severely compromised siding — extensive damage will greatly reduce your indoor protection. While repairing and replacing isolated sections is possible, replacement is a more cost-effective method for dealing with widespread damage.
Replacement Service Could be an Opportunity
Don't worry too much about extreme damage destroying your exteriors. That's definitely an upsetting situation, but it's not as unfortunate as it seems. When was the last time you thought about the full outer surface of your house?
Replacement is an opportunity to think about your exterior trim too. Do you wish you had more beautiful trim around your windows? Do you want better fascia and soffits? Your handyman could add that new trim during the installation process. You could also choose a new material or color that makes your existing white trim look even better!
Replacement is also a chance to fix underlying issues. Rot doesn't just appear randomly; it's drawn to moisture. Water that runs over the edge of your house creates more opportunities for wood rot. That's why regular gutter cleaning is so important.
Your handyman won't just replace the current siding on your house. They'll also find the source of your damage and fix that frustrating problem. Simply installing gutter guards could prevent the gutter clogs that lead to moisture damage and wood rot.
Is it possible to Replace a Single Section?
Sure, you could replace an individual section, but that's not something many home improvement experts recommend. The reason is simple; it's impossible to find material that completely matches your existing exterior.
Even if you manage to find an exact material match, it'll still stick out. Why? Every minute that your existing siding sits in place, it wears down slightly. A shiny new patch will never look seamless in the middle of a worn surface.
If repairs are relatively small and isolated, it's easy to hide them with professional techniques. Integrating a large patch isn't as simple. Those glaring surfaces definitely look odd, and they could decrease your home value. Replacement service is really the best solution for addressing anything more than minor damage.
What is the Best Siding Material For Northern Virginia?
If you live in Fairfax or Eastern Loudoun County, you have several options for beautiful siding. That wide variety of materials comes with an equally wide array of important considerations. Before you start your exterior home upgrades, think about what made them necessary in the first place. We recommend choosing something that's less likely to be affected by those issues.
Don't forget about the way that different materials change the architectural style of a house. Wood, brick, and aluminum all offer unique aesthetics, but they come with unique challenges too. Vinyl and fiber cement siding is more common, but those options still come in many styles and colors for Virginia homeowners that want their property to stand out.
There isn't a single superior choice. Different homes and homeowners have their own specific needs. Ensure that both you and your property will be happy. Consider all the pros and cons before you make a final decision.
Pros & Cons:
Wood is lightweight, energy efficient, and highly customizable, but it needs constant maintenance and it's more vulnerable to insects, rot, and fire.
Vinyl is durable, economical, and typically comes with a warranty, but it's not totally waterproof, it's vulnerable to extreme temperatures, and it cannot be repainted.
Metal doesn't rot, requires less maintenance, and has greater fire resistance, but the improper installation could result in rust; it could still be dented or scratched by outdoor elements like hail or tree branches, and it's more expensive.
Brick is the longest-lasting, most durable choice, it's resistant to rot, insects, and fire, and it could even lower your home insurance costs, but it's quite costly.
Fiber cement has the same appearance and texture as wood, it resists rot and pests, and there are many possible finishes, but it's not as cost-effective as vinyl and damage is more obvious.
Are You Looking for House Siding Service Professionals?
Mr. Handyman of Fairfax and Eastern Loudoun Counties has the expertise, tools, and experience to professionally finalize your siding projects. We're your local home improvement and repair team! We proudly serve communities in and around Leesburg, Reston, and Centreville.
If you need help from a local handyman, call us today! We'd love to add your house to our portfolio of amazing local work!