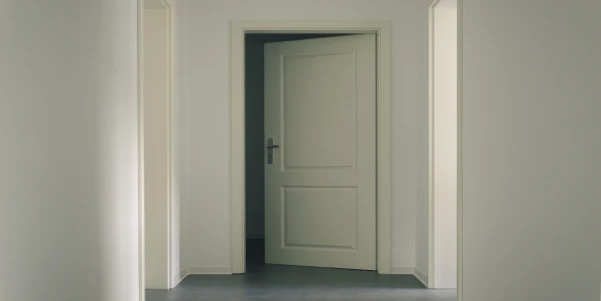 If you own a home, you have doors. They provide security, privacy and they convey a style. Today I will provide an overview of the doors of your home, and possibly share some information you had not considered.
Interior hinged doors are primarily about privacy. They are generally hollow-core, lightweight, and inexpensive as compared to an exterior door. While they can be shut, and locked, it does not take much effort to force one open. Interior doors come in many styles, including 5 panel, 6 panel and flush. You will likely want all of your doors to match if you are considering an upgrade, though I have seen home owners prioritize downstairs doors, which guests will see, but they held off on changing the upstairs doors due to other priorities.
Other interior doors include pocket doors, bi-fold door, bypass doors, and barn doors. All are space savers, in that there is no "outswing" or "inswing" space required. All are good in cramped quarters but note that pocket doors are hard to service because much of the hardware is hidden in the wall. Bi-fold and bypass doors are generally used on closets, or pantries. They do not secure when closed and simply create a visible barrier to whatever is behind them. Barn doors have a practical element (no "swing") and add a style element to the room, but do not offer the privacy of a hinged door given you can see between them and the wall.
Any home with an attached garage has a door between the two. This is a heavier door that many assume is an exterior door. In fact, this must be a fire rated door. A high percentage of home fires start in the garage. This is where automobiles, fuel, and other flammable materials are stored. Doors from the garage to the home are rated for their burn-thru time to allow occupants to escape fires.
Your exterior doors must be sturdy and secure, but also must be rated for storms. Any glass in them must be tempered. These doors are designed to take the force of tropical storm or hurricane strength winds pushing against them. They can be a variety of materials, including wood, fiberglass, or a metal skin over a wooden frame. Whatever it is made of it must be sturdy enough to stand up to the wind-zone you live in. When pulling permits in Florida, you – or your contractor – must supply the product number from the door to demonstrate that it is appropriately rated.
When replacing worn, damaged, or out of style doors, know that all doors are not created equal. Interior doors will not work between the home and garage, and exterior doors are an expensive option for your bedroom. Purchase the appropriate door for the location it will be used to get the most cost -effective solution for your needs.
If this is more than you want to know about doors, then please know that Mr. Handyman is your one-call solution for door repairs and replacement. Our staff are excellent carpenters who can replace the door itself, the trim around it, caulk and paint it as required, and install the hardware. We can do this for one door that is damaged, or every door if you are giving the home a facelift.
Our staff are seasoned professionals that can also support a wide range of additional needs while onsite. If you are giving your home a facelift, you may need help beyond your doors. Maybe you are considering a backsplash in the kitchen, flooring in the family room, staining the deck, or any number of other projects to create just the right look. If so, call Mr. Handyman, your home improvement professionals.