Selecting New Cabinets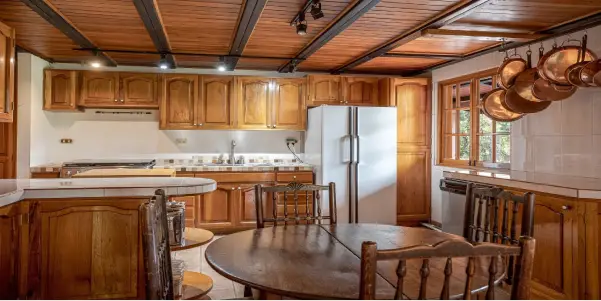 New cabinets in the kitchen, bathrooms or laundry room come down to three selection criteria: aesthetics, functionality, and durability. They have to look nice, meet your needs, and they need to last. If you are in the market for new cabinets, you will want to consider all three of these criteria.
Aesthetics is simply how they look. Do you like a natural wood finish? Cherry, maple, and oak cabinets each look unique. Stained, lightly or darkly, to match your colour palette selections, natural wood cabinets are beautiful. Others like colour in their kitchen and go with a painted-on finish. Manufacturers offer multiple popular colour choices.
Functionality, or meeting your needs, is your next consideration. Would a Lazy Susan corner cabinet be useful in your kitchen for ease of access to spices and small containers? How about pull-out shelving in your base cabinets for easier access to pots and pans? If not an option with your cabinets and you plan to add them later, you will want to be sure to purchase cabinets that will support them.
Bathroom vanities have more options than in the past. Pedestal feet that make your vanity look like a piece of furniture are popular. A variety of door and drawer configurations in bathroom cabinets help stash big stuff underneath, while smaller quick-access items (brush, floss, etc.) can be in a drawer.
Door and drawer pulls are likely an after-market add-on. Visualize them on your new cabinets in your mind's eye. Many homeowners feel that no pulls are a 'cleaner' look, but cabinets discolour more quickly when cabinets do not have a door and drawer pulls. Our skin has natural oils, and our hands can be wet or have food residue on them when working at the sink or cooking. Over time the places we touch the doors and drawers to open them become discoloured. Pulls will help avoid this.
Durability is the last point in cabinet selection. Inexpensive cabinets are manufactured from pressboard products. This is wood chips and sawdust with a binder, pressed into sheets. Covered with a wood-toned or coloured "foil" these cabinets may look nice out of the box but are not durable and will swell and eventually crumble if they get wet. There is no solution to fix this damage, they must be replaced.
Instead, look for plywood sides and back, with a real wood front. Similarly, door and drawer fronts should be wood, not particle board. This gives the hinge screws a solid anchor point, and these will last much longer.
Cabinets are not something you change often, as you may with the paint colour on walls. They will be part of your life for 20 or more years. Pick cabinets that are aesthetically pleasing, functional and durable and you will not be disappointed.
While Mr Handyman serving Greater Jacksonville does not have a showroom from which to display and sell cabinets, we have plenty of experience installing them. Once you have found cabinets with a combination of aesthetics, functionality, and durability to meet your needs, we would love to help you install them and do any other work required to update your kitchen, bathroom, or laundry room.
Remember, with Mr. Handyman our staff are employees, not sub-contractors. They average 20 years of professional industry experience, have been background checked and drug screened, and their work is backed by our Done Right Promise®. Best of all, they get great customer feedback as our hundreds of online reviews will confirm. Professional, safe, reliable, and convenient to use, Mr Handyman is redefining the home improvement experience.