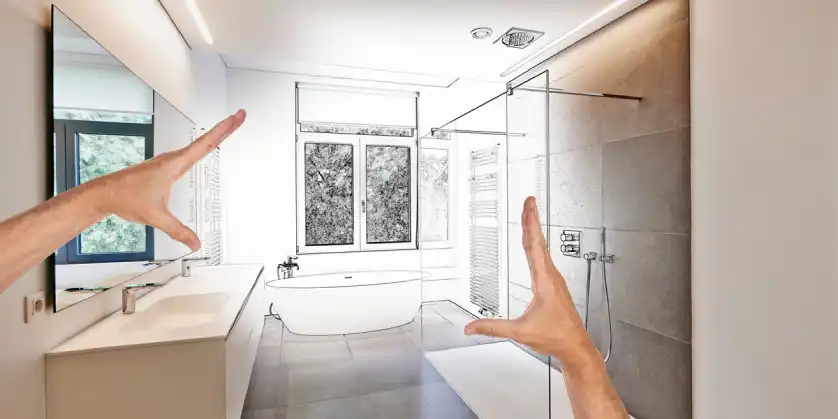 Are you thinking of starting a bathroom remodel in Plano, TX? Whether your space is outdated and ugly and you're looking for a change, or your needs have changed and you need to update the space to be more useable, a Plano bathroom remodeling project is a great way to boost the resale value of your home, increase your personal enjoyment of the space and more.
We spend a lot of time in the bathroom. From getting ready to go to work, carefully styling our hair, or applying makeup, to unwinding from the day in a hot shower or bubble bath, the bathroom should be a place that gives you peace of mind. Sometimes, you buy a house that already includes your dream bathroom. But, more often than not, creating the bathroom of your dreams means investing in a Plano bathroom remodel.
Completing a bathroom remodel in Plano, TX, can be costly, time-consuming, and stressful. After all, renovating is a big project and it can feel daunting for Plano homeowners to tackle such a big task on their own. The good news is, you don't have to! At Mr. Handyman of Plano, we hire the best Plano handyman experts and bathroom remodelers. We can help you turn an outdated bathroom into a spa-like oasis in no time. Our team has years of experience and possesses all the necessary skills to transform a space from drab to fab.
Additionally, to help you stay on track with your Plano bathroom remodeling goals, we've put together the following list of do's and don'ts you should know about while planning a Plano bathroom remodel. Ready to get started? Let's go!
Do Establish Your Remodel Budget
It's easy for the renovation to get out of hand and end up costing more than you anticipated If you don't have a solid budget for your Plano bathroom remodel. However, it's important not just to set a budget but a realistic budget. To figure out how much your budget should be, you should spend time researching:
The Cost of Contractors and Labor in Plano
The majority of expenses from your Plano bathroom remodel are labor costs. Do your research and get estimates from a few different contractor companies before settling on who will conduct your bathroom renovation project. This gives you a sense of scale and costs for your project, and it will also give you a chance to feel out a few different contracting options.
Pro Tip:
Be sure to ask the right handyman hiring questions while choosing a handyman company that offers upfront pricing, has numerous positive reviews, and offers a wide variety of services to bring your remodeling vision to life. For instance, a uniformed handyman company that uses company vehicles and tools is generally a safer bet than a "chuck n' truck" technician. Mr. Handyman of Plano is one such professional, experienced, and skillful company.
The Cost Of Features/Materials
The second biggest expense you should keep in mind while planning a Plano bathroom remodel is the cost of materials. It's worth taking the time to research how much your dream marble vanity costs, whether glass or ceramic tiles are a better fit for your budget, and if you plan on completing a shower conversion.
The features you choose for your remodel will not only cost more based on the materials but will also be more expensive depending on the level of installation required. For example, if you want a floating toilet or sink, then the installation will be costlier and more time-consuming than simply swapping out the toilet seat. Likewise, putting in a bathtub and shower combo where you did not have one before will cost more than swapping out your shower head.
Other Remodel Budget Factors
Although labor and material costs tend to be the greatest impact on your budget, there are a few other questions to ask yourself that will affect how much your Plano bathroom remodel costs:
What areas of the room are absolutely essential?
What can you reasonably afford to invest?
How much can you afford to go over budget? (Always have a cushion for emergencies or unforeseen expenses).
Do you want to sell your home in a few years?
Do you need to change the location of plumbed-in items?
Do you want to install any luxury features?
Don't Forget a Fresh Coat of Paint
It's amazing the wonders a fresh coat of paint can do for outdated spaces. Does your original bathroom have gray walls? Then you might want to choose a lighter and warmer tone to brighten up the space. Gray can look a little drab, particularly in cramped bathrooms with poor lighting. Neutral tones are also a good choice if you're planning on selling your home after remodeling, so perhaps consider a gentle cream or even classic white walls.
However, if selling your home isn't a concern, then why not add a new coat of paint that suits your personal taste? This is a chance to let your style shine. Pick colors that speak to you and communicate how you want your bathroom to feel. Color can be an opportunity to put your personal stamp on the space. However, many homeowners feel overwhelmed at the thought of putting together a color scheme that works. But don't worry, we have some expert tips for you to keep in mind outlined below:
The Rule of Threes
The rule of threes is a popular design concept that is very straightforward. Simply pick three colors and stick to those throughout the bathroom. But how do you decide which color to use the most? Employ the 70/20/10 rule. Organize the colors from lightest to darkest. Then, use the lightest color in 70% of the area, the second lightest in 20% of the space, and the darkest, boldest, or most distinct color in 10% of the room.
The Color Wheel
You likely remember using the color wheel in grade school or even high school art class. It simply outlines primary and secondary colors in an aesthetically pleasing way. The color wheel is used by designers and artists alike to know what shades work well together. There are many ways to create a palette using the color wheel, but the easiest tricks to remember are:
The analogous scheme uses colors that are beside each other, like orange, yellow, and green.
The complementary scheme, uses opposite colors, like blue and orange.
Do Choose Tiles for Your Remodel
Tiles are one of the most beautiful and practical materials you can have in your Plano bathroom. There are a wide array of tiles to choose from for flooring, shower backsplash, and even vanity. However, different types of tile have different price points and practical considerations you should think about before making an investment.
Quarried Tiles
Essentially, quarried tile refers to any kind of tile that is sourced from natural stone. This includes slate, limestone, granite, and marble. However, keep in mind that not all quarried stones are created equally. While they typically have a higher price point than other kinds of tile—particularly ceramic and porcelain tile—different stones have different qualities. For instance, slate is very heavy and is best used for flooring. Granite is highly durable, and marble is very soft—making it a better choice for wall tiling.
Porcelain and Ceramic Tiles
Highly durable, porcelain and ceramic tiles are built to last. They're also available in a wide range of styles and colors and are more affordable than quarried tiles. Since the design options for porcelain and ceramic tiles are nearly endless, they're a great opportunity to get creative. Perhaps consider including a mosaic or unique pattern as part of your bathroom design.
Glass Tiles
Although this quality product is costlier than other varieties of tile, glass is undoubtedly beautiful. It's also available in nearly infinite styles and colors, however, it's not the best material to use for floor tiles because glass is quite delicate.
Don't Pick the Wrong Materials for Your Remodel
Your bathroom is one of the areas in your Plano home that receives the most traffic and use. You will need to consider what materials you choose carefully so that you choose materials that are durable, functional, and beautiful. It's a part of your home where you will want to invest in using quality materials that wear well over the years. Take time to research what materials work best for you, and are in your budget. For instance, ceramic tile is cost-effective and durable. Likewise, plastic faucets and fixtures won't wear as well as metal ones. If you need help choosing the best materials for your Plano bathroom renovation, talk to our pro team of experts today. We're always more than happy to help!
Do Consider Ventilation
Proper ventilation is essential for avoiding excess humidity, moisture, and mold growth. Typically, there are two varieties of ventilation:
Exhaust Fans
Exhaust fans are the most efficient means of reducing humidity in your bathroom and should be a key part of your Plano bathroom remodel. There are a few different exhaust fans you can choose from:
Ceiling-mounted exhaust fans: Made for bathrooms that are located upstairs, since warm air rises, this fan helps reduce humidity and push out stale air via its location on the ceiling.
Exterior exhaust fans: These ventilators push stale air outside, which makes them quieter than other ventilation options.
Inline exhaust fans: These exhaust fans are a good option for bathrooms that are tricky to install a fan into because they are mounted in between the ducting. This means that they blow out stale air into your home's ducts.
Wall-mounted exhaust fans: Installed on the wall of the outside of your home, this ventilation fan is simple to install, making it a great option if you are pressed for time during your Plano bathroom remodel.
Exhaust fans with lights: Not only do these fixtures expel stale air, but they can also act as lighting fixtures.
Windows and Window Vents
In some bathrooms, the window can open to provide additional ventilation. Opening up your window while taking a shower can help mitigate the humidity in your space. Some windows also have window vents, which always remain open to release humidity outdoors.
Don't Neglect Proper Lighting
Your light fixtures are a key element of the room's overall comfort and aesthetic. For most bathrooms, there are two different kinds of lighting options: natural and artificial.
If you have the option for natural light from a window or skylight, try to make the most of this feature by placing a mirror opposite to the natural light source. This will bounce more light into your space.
When it comes to artificial light, it's important to layer a few different light sources to create a cozy, well-lit, and warm ambiance. Usually, designers implement ambient lighting, which is for general illumination, accent lights, which round out the space, and task lighting, which illuminates certain areas. There are many different types of artificial lighting that you can use in your bathroom, including:
Overhead lighting
Dimmer switch lighting
Lights on either side of your vanity
Chandeliers
Another consideration for your bathroom lighting is the warmth of light. Would you prefer a cool tone or a warm tone interior instead? Likewise, how bright do you need your lights? If you use the room to apply makeup or get ready in the morning, you may want brighter lighting. But if you use the space as a place to relax, you might want the option to include softer lighting.
Get Started on Your Plano Bathroom Remodel Today!
Are you ready to start your Plano bathroom remodel? If so, then get in touch with our pro team today. We are highly experienced at completing a wide range of home improvement tasks, from remodeling to door repair, and are known throughout Plano and the surrounding areas for our excellent customer service.
To get started, give our expert Plano handymen a call at. Our skillful and expert technicians will be able to help you with all your bathroom remodel needs!