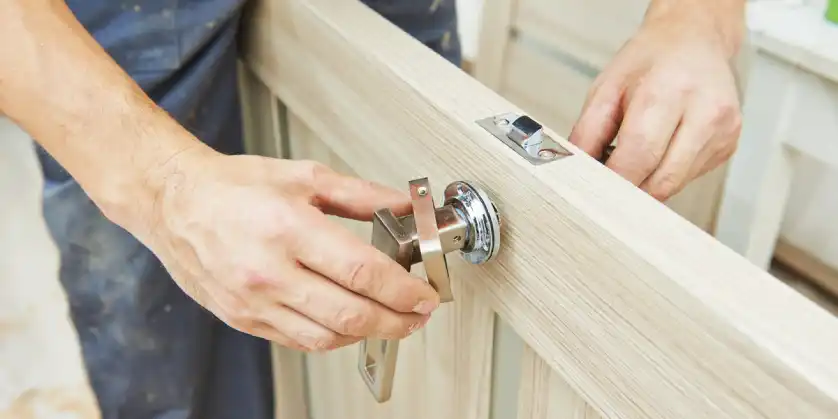 The doors in our homes are often overlooked, but they serve a greater purpose than simply permitting or prohibiting entry into various rooms. They welcome friends and family into our space, create a quiet moment when we need time alone and protect what we love.
In short, our doors require care and upkeep. Over time, wear and tear from daily use, fluctuations in temperature and humidity, settling, and even the occasional accidental slamming take a toll. Off-kilter latches, squeaking hinges, and warped frames call for door repair. Princeton, NJ, homeowners can rest assured that we have the right team to solve these problems.
Your local Princeton handyman is a highly skilled technician with superior customer service, which makes Mr. Handyman of Princeton and Robbinsville the ideal home repair, improvement, and maintenance provider in and around Princeton, NJ. As a locally-owned company, our team has spent its career helping our community. When you welcome one of our contractors into your home, we'll treat you with the same consideration and respect that we would with our closest friends and neighbors.
We offer a wide range of handyman services. Whether your latch sticks or its hinges have started to corrode, expect our uniformed technicians to arrive on time to your conveniently scheduled appointment and efficiently and professionally fix the problem. Continue reading to learn more about how your Princeton door repair services can enhance your living space.
1. Noisy Doors
In the middle of the night, a squeaking door might seem as loud as your alarm clock or a nightmare come true. Perhaps you're constantly woken up by a loud squeegee each time your other half gets up to use the bathroom in the middle of the night. Or maybe the whining of rusty hinges alerts you to your little one sneaking downstairs for a midnight snack.
Either way, squeaky hinges are annoying. But the good news is, this type of repair can be easily completed by your expert Princeton handyman. Whether your hinges need lubricating, are too tight, or are corroded, we can realign or replace damaged hinges. Sometimes, minor adjustments will have your door operating quietly in no time. You can say goodbye to irritating noises in the middle of the night and finally get a well-deserved good night's rest.
2. Opening and Closing Issues
This issue should be easy to fix. But if you find yourself throwing your shoulders against the door like a detective in Hawaii Five-O just to brush your teeth in the morning, you need to hire expert repair services. Opening and closing with minimal effort is not just convenient; it's mandatory to maintain a healthy door and frame. Sticking doorways, knobs that won't turn, and swinging open right after you close them indicate issues with alignment. A few reasons why you need Princeton door repair include:
The latch does not align with the hole in the strike plate.
The latch is too high or low.
Hinges are too loose or tight.
Warping from humidity or insect damage.
Your house's structural foundation has shifted, triggering a misalignment.
It's not always easy to get down to the root problem. But your local Princeton handyman will be able to diagnose the exact issue and provide you with any necessary repair needs, so you can open and close with ease.
3. Damage from Termites
If you live in Princeton, we're sure you are no stranger to the danger posed by termites. These tricky pests have been the bane of existence for New Jersey property owners since before the days of Captain Henry Greenland. Termites can stealthily infiltrate your home. Often, your wooden doors might look fine from the outside, but the hungry little insects will be eating their fill of the interior—and possibly spreading to the rest of your home. The best way to discover if your doors have been compromised is by giving them a knock. A simple tap or two will help you ascertain if it's been hollowed out or not. Yet, this trick only works on solid wood. Some are already hollowed out, which makes them less appealing to termites, to begin with.
If you notice termite damage in your home, call a pest control service. Once the pesky critters have been taken care of, our service professionals will be able to provide you with the necessary door repair. Princeton, NJ, property owners can also opt for a replacement and choose from vinyl, metal, or fiberglass models, which will be far less tempting to termites looking for their next meal.
4. Loose, Tight, Rusty, or Damaged Hinges
Hinges are fundamental to a properly functioning doorway. However, humidity, dust, constant use, and fluctuating weather can negatively impact the bracket's performance. When a hinge has corroded, it also runs the risk of breaking off entirely. Since your hinges are what hold the door to its frame and support its weight, severely damaged brackets could cause it to fall. If you notice damaged hinges, call your Princeton handyman professionals for a dependable repair service, and prevent the risk of injury. As a rule of thumb, we always recommend well-protected stainless steel parts; otherwise, repairs or replacements are inevitable.
5. Peeling Paint
Peeling paint has never been in fashion. Not only is peeling paint unattractive and can detract from your home's visual appeal, but it's also bad for your health and needs immediate repair. Although lead-free paint is not poisonous, it can still agitate your lungs when inhaled. If you or your family members have allergies or are asthmatic, this can be especially troubling. Paint that does contain lead, which is often found in historic houses, is highly toxic and must be disposed of by a trained professional. If left untreated, it would cause the material underneath to deteriorate.
When you notice peeling paint, call us for reliable Princeton door repair services. We'll carefully sand away lead-free paint and apply a new coat for a refreshed appearance. Even if your paint isn't peeling, a new coat can be a creative way to update your home's aesthetic.
6. Misaligned Wheels
Although hinge doors have their own set of problems, those that slide may require repairs from time to time as well. Many Princeton homes are built with sliding closets, patios, and shower doors. If there is an issue with the track or if the wheels are misaligned, the slider could stick and stop working. It is always frustrating trying to grab your coat when your closet only opens four inches before sticking—particularly in the morning when you're about to leave for work.
Don't let this nuisance put a dent in your day. Instead, get help from your local Princeton handyman. Our technicians are highly trained and very versatile. We'll carefully replace or realign the wheels and track, so a stubborn wheel never gets in the way of heading to work again.
7. Inoperable Knobs
Pulling at a doorknob only to have it come off seems like a scene straight out of Looney Tunes. But in real life, it's hardly a laughing matter. When your handle doesn't turn, doesn't line up with the latch, can't lock, or is sticking, it's time for a replacement. Your Princeton handyman will let you know why your handle is not working properly, be transparent about your repair options, and efficiently complete the required door repairs. Princeton, NJ, homeowners won't ever have to worry about being locked in. Alternatively, your knob may work perfectly fine, but you'd like a change for aesthetic reasons. We can swap out the handle and install a new one with ease.
8. Damage from Wear-and-Tear
Did you know it's not just your exterior doors that can be damaged by humidity and changing temperatures? Glitchy HVAC systems, poor bathroom ventilation, or frequent window opening can throw off your home's humidity and moisture levels and possibly warp the frames on your interior doors. Yet, environmental factors are not the only cause of wear-and-tear damage that calls for repair. The age of materials, pets scratching or chewing on the frame, the natural settling of your home, and slamming during heated moments with your teenager can impact the functionality and aesthetic of your door.
Your local handyman will offer a worry-free inspection that includes preventative maintenance, like finishing, painting, or minor repairs, which will erase years of damage with one visit. We'll also recommend more suitable models if you're looking for an upgrade that is more energy-efficient and durable.
9. Outdated Aesthetic
Sometimes, your door might work perfectly well, but you no longer like its style. Maybe you moved into a new place, and the doors are outdated, or you've recently renovated, and your doors don't match the rest of your home. Whatever the case might be, we are happy to stain, paint or replace them entirely. You'll be amazed at how your new-and-improved doors elevate your space.
To that end, take a moment to look around your home. Do your current doors match the style of your space? If you're not sure, take a couple of photos on your phone of the living room, kitchen, and bedrooms and look at them as you might a design inspiration board on Pinterest. If your doorways do not add to the look of your home, it's time for a change. But don't despair! We are the door installation pros.
10. Misaligned French Doors
French doors are often used to highlight master bedrooms or basement suites. Known for their elegant appearance, they add a touch of luxury to your home. However, if they are misaligned, they won't close or lock properly. Not to mention, they will look wonky as opposed to sophisticated.
As we've covered earlier in this article, there are many reasons why doors might not line up in their frames. This is also true of French doors. Maybe one side has warped, or its hinges are loose. Or maybe it was not installed correctly, to begin with. If you've noticed your French doors don't quite look right, it's likely a problem with the alignment. If so, call your Princeton handyman today. We'll skillfully line up each side so they're a perfect fit for one another—and a perfect fit for your style and home's aesthetic.
11. The Latch Does Not Work
Although most interior doors don't lock, for the areas of your home that require privacy, it can be frustrating when the lock fails. If each time you try to lock it, and it doesn't stay latched, you'll need an expert for door repair. Princeton, NJ, property owners may have noticed that their latches might not be aligned correctly in the frame. Perhaps the frame is twisted, and the latch bore (the small hole opposite the lock that enables it to latch) no longer lines up with the lock. As a result, the lock will be practically useless. Maintain your privacy by calling one of our skillful carpenters for door repair. Princeton, NJ, homes deserve to be secure and safe.
12. Repair, Not Replace
At Mr. Handyman of Princeton and Robbinsville, our technicians are highly skilled carpenters. Our unique skill set means we can save doors that other handyman services would replace. This is especially the case if you live in a historic neighborhood. We're adept at carefully repairing damage to your front door while maintaining its integrity. If you love the stunning entranceway on your older home and don't want to see it replaced because of a little wood rot or warping, our service professionals are the team to call.
Get Started Today with Your Princeton Handyman Professionals
When you need Princeton door repairs, we're the experts for the job. Whether you want to update the look of your home or a squeaking bathroom door is driving you crazy, the experienced technicians and carpenters at Mr. Handyman of Princeton and Robbinsville provide expert repairs, maintenance, and more. We always strive to provide exceptional customer service and a safe, hassle-free experience. Our team also serves Princeton's neighboring communities like West Windsor, Montgomery, and Hamilton Township.
If you need to improve your doorways functionality or need a home inspection to ensure everything is in working order, we invite you to give our friendly team a call today.