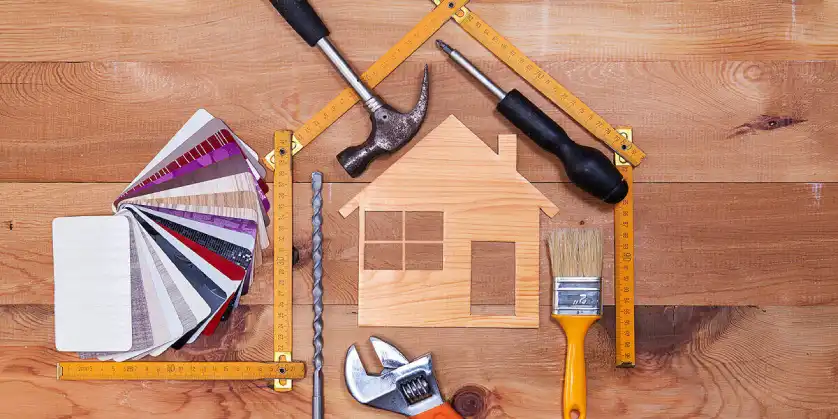 Are you thinking of embarking on a home renovation in Princeton, NJ? Whether you moved into a fixer-upper that you plan on converting into your dream home, or you've been in your house for a while and are in the mood for a change, it's important that you're prepared for your home renovation project as much as possible.
Any type of remodeling, from a bathroom renovation to redoing the entire house, is a lot of work. It requires significant planning to make sure the project stays on track, and on budget and that the final product matches your unique vision.
The rewards of a Princeton home renovation are absolutely worthwhile—including increasing your personal enjoyment of your space and boosting its resale value. But to ensure you have a positive experience from start to finish, you need to hire the right Princeton handyman.
To help you stay on track and keep organized with your home renovation, look no further than the experts at Mr. Handyman of Princeton and Robbinsville. We offer a wide range of remodeling services, from installing new kitchen cabinets to furniture assembly for a new entertainment center or other furniture in your living room. When it comes to residential renovations, you can trust that our team of experts has the experience, expertise, and skill to get the job done right the first time. Also, customer satisfaction is always at the forefront of what we do. Your happiness is our top priority.
Know Your Final Vision
The first step in a successful home renovation in Princeton is to set a clear goal. What do you envision your home looking like when all the dust has settled? Are you renovating to boost your home's resale value, or do you need to accommodate your growing family? When establishing the renovation's end goal, it's important to consider both form and function.
Start by completing research to establish what changes provide a good return on investment. For instance, knocking down a wall to create a more open floor plan or updating an old bathroom will boost your home's resale value. It's also important to consider which changes are "needs," and which are "wants." This distinction will help you stay on budget as the project progresses.
Granted, if the sky's the limit in terms of budget and time, and you're willing to do what it takes to achieve your unique vision, go for it! However, for most people living in Princeton, it's useful to have a clear idea in mind. This end goal will help you stay on budget and on time.
Make a Realistic Budget for Your Princeton Home Renovation
Your budget is one of the most important parts of your home renovation project. Any contractor will tell you how tricky it is to stay on budget, especially if you haven't done the research to see what remodeling your home will actually cost you. Some costs, such as the cost of materials, will change over time, so it's important to stay up-to-date on current prices. You should also consider other additional costs that may be specific to where you live. For example, in New Jersey, there's a tax on labor, which means you may have additional charges to consider to account for that tax. Ensuring you have an accurate budget helps keep your spending on track, and forces you to make reasonable decisions regarding the cost of labor and materials.
The Cost of Contractors and Labor in Princeton
The majority of costs spent on a home renovation are for labor. Do your research and choose a handyman company that offers clear hourly rates and upfront pricing—such as the team at Mr. Handyman of Princeton and Robbinsville. Transparent rates and upfront pricing make it easier to budget how much your labor costs will be.
The Cost of Materials and Features at Princeton
While labor takes up a big chunk of your budget, the materials you choose also impact your overall spending. Some materials cost more than others, so it's important to research beforehand how much your dream granite kitchen countertop might cost, whether you can splurge on a glass backsplash, and what kind of flooring is both practical and beautiful. Different features may also have different installation costs. For instance, if you want in-floor heating in certain parts of your home, the material will cost extra, take more time to install, and increase your labor costs. Don't forget to think about current trends for materials either. The cost of some materials may rise or fall based on factors that affect their availability.
It's also important to consider whether your contractor will allow you to source your own materials. Some contractors prefer to source materials for their customers themselves, while others, such as Mr. Handyman of Princeton and Robbinsville, are happy to work with the materials that you provide. Sourcing your own materials is a great way to reduce costs and ensure that you get the aesthetic look you're seeking.
Additional Budgeting Factors to Keep in Mind
While labor and material costs tend to take up the majority of your budget, there are a few other considerations to keep in mind that will impact your Princeton home renovation's cost:
What can you reasonably afford to spend?
Do you want to sell your home in a few years?
Do you need to change the location of walls?
Do you want to install any luxury features?
What features in your home are absolutely essential?
How much can you afford to go over budget? (Always have a cushion for emergencies or unforeseen expenses.)
Will you need permits?
Will an inspector need to visit during your project?
Make (and Stick to!) a Realistic Schedule
Time and money are always the biggest stresses during Princeton home renovations. Just like how you can mitigate financial stress by creating a realistic budget, you can mitigate the stress of an impending deadline by creating a realistic schedule.
Perhaps you have lots of experience completing renovations and already have a sense of how long the project will take. However, for the majority of Princeton homeowners going through their first home renovation, estimating the schedule can feel overwhelming.
The best way to figure out how long updating your home will take is to consult with professionals. These could be contractors at your local home improvement store, or it could be part of the questions you ask when hiring a handyman company (more on that later).
It's integral to separate the different stages of your renovation into a realistic time frame and estimate how much each stage will cost. Just like how you should give yourself a financial buffer, you should also give yourself a time buffer. For instance, if you want everything completed by the holidays, you should work backward from that date and give yourself plenty of time.
Outline a Detailed Princeton Home Renovation Plan
A detailed home renovation plan includes your end goal, budget, and time estimates. It should also be useful for communicating your design vision to your contractor via design inspiration, mood boards, and checklists.
What to Include in Your Plan:
A master list of all your materials
Any permits you need to obtain
Weather updates as you go
Project steps are outlined according to time, cost, and who will complete the task (i.e., you or your contractor)
Blueprints or rough sketches of your final project
A list of needs for the project
A list of wants for the project
Your desired completion date
Don't Forget About Permits
Did you know that your Princeton neighborhood might not be zoned for certain renovations? Usually, permits are required for any major structural changes to your house. Obtaining permits can seem like a bit of a headache. However, not having the correct paperwork in order is a big mistake. Building permits are needed to ensure your home renovation meets necessary structural and fire safety requirements. This is particularly important to keep you and your family safe and is required if you want to sell your home down the line.
Hire the Right Handyman in Princeton, NJ
When looking for the right remodeling contractors to complete your home renovation, there are many considerations to keep in mind. Look for the following signs of professional, efficient, and quality service while doing your research:
Years of experience: There is a big difference between a company that has just started and one with highly experienced contractors. Greater experience means a greater depth of knowledge. It also means the job will get done right the first time. At Mr. Handyman of Princeton and Robbinsville, each of our technicians possesses numerous years of experience working in the trades. We only hire the best.
High-quality references: Any reliable handyman should be able to provide you with references. Additionally, online customer reviews are very helpful. Be sure to look for recent reviews, the total quantity of reviews, and how many of those reviews are five stars.
Pricing: It's really important to understand how pricing works before hiring a handyman. The last thing you want is to be hit with a series of hidden costs that you didn't budget for. At Mr. Handyman of Princeton and Robbinsville, we offer upfront pricing so you never have to worry about unexpected fees.
Uniformed professionals: Don't settle for a "truck n' chuck" contractor. Professionalism is marked by the details, such as support from a reliable office team, strong communication, wearing company uniforms, driving company vehicles, cleaning up after a job, offering a guarantee, and using cutting-edge booking and dispatch technology.
Prepare for Your Princeton Home Renovation Project—And Get Ready to Move
While the renovation is underway, you will need to pack up and clear out any of your possessions that might get in the way. Depending on the work you're having done, you may have to clear out a specific room or area, or the entire house. If you're only renovating one space, such as during a kitchen remodel or a bathroom remodels, you can temporarily move the items in that room to other areas in your house.
However, if you plan to renovate your entire home, it's key you follow your renovation plan. You may have to migrate your possessions throughout your home while certain areas are being worked on. If that sounds like an extra step you'd rather do without, or you're worried about your possessions getting damaged from being moved so often, you could lease a storage unit temporarily.
Time to Move Out
Depending on your renovation's scale, it's also important to note that you may need to find alternate accommodations for part, or all, of the renovation. Before deciding if moving out temporarily is right for you, ask yourself: Is your house safe to sleep in? Will you have access to amenities like running water and electricity?
The more you can maintain daily routines during a home renovation in Princeton, the less your family will feel stressed and anxious. If you can, keep an area renovation-free so your family can do homework and share meals like usual. If this is not possible, stay with family, friends or temporarily move into a hotel.
If you had to move out during the renovation, or if you sold your old home while updating the new one, plan for the possibility that you may be out of the house for an extended period of time. This is especially important if your old house has sold before you've had a chance to move into your new home, or if the renovation takes longer than anticipated. Prepare a financial buffer just in case.
If you can't move into your home until all the renovations are completed, we suggest waiting right up until the last coat of paint has gone up. This way, you'll stay clear of the contractors while the last few details wrap up—keeping you, your pets, and your family safe. It also feels more relaxing to move into a home that is completely ready for you.
Protect Children and Pets
Home renovations can be very disruptive, stressful, and unsafe—especially if you have pets or small children. Their safety is always of the utmost importance. This might mean you ask a family member to pet sit while the renovation is underway. Maybe one parent temporarily moves out with the kids to keep them safe from noise, debris, and dust. Or perhaps the entire family stays at a hotel until it's safe to move back into your home.
Hire Our Princeton Home Renovation Experts!
Now that you're equipped with the tools to plan your perfect home renovation project, are you ready to get started? Whether you're in Montgomery, West Windsor, or another community near Princeton, such as Hopewell Township, we're here to help.
Give our qualified, expert technicians a call today at. Our team is ready to help with everything from furniture assembly and
smart home installation
projects to larger bathroom remodeling projects. We can't wait to make your renovation dreams come true!