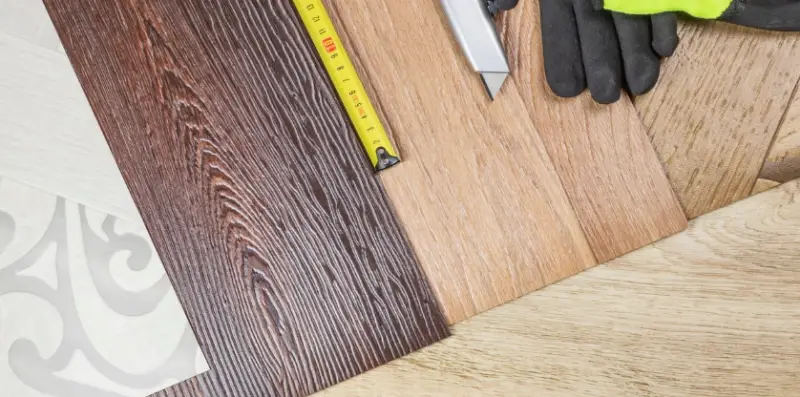 When it comes to home building, there are thousands—if not tens of thousands—of style and design options to choose from. But all of them feature the same basic parts: walls, windows, doors, a roof, and of course, floors. There's certainly no doing away with those since they're an integral part of the overall structure and give you somewhere to stand. Flooring is very practical and utilitarian, but that doesn't mean appearance doesn't matter at all. It takes up a huge amount of visual space in every room, so floors should be a critical part of your interior design vision—and they should get Glen Burnie flooring repair to keep them looking beautiful.
If the walking surfaces in your home have suffered damage such as cracks, chips, gouges, crumbling grout, missing pieces, or other potential issues, they obviously aren't looking their best and will really lower the tone of an entire room. But that damage could also cause a whole host of other issues that aren't related to appearance at all, such as letting water seep through and rot out the subfloor and joists or even creating tripping and cutting hazards that injure you or your family. That's why it's so important to get prompt, experienced flooring repair. Glen Burnie, MD residents, like to keep their homes looking great and functioning smoothly, and we will help.
When your floors are in rough shape, turn to your local Glen Burnie handyman. Regardless of the type of material you have installed, the team of service professionals at Mr. Handyman of Anne Arundel and North PG will get them back in excellent condition with expert flooring repair or replacement services. We pride ourselves on delivering the best quality of workmanship and customer care that goes above and beyond.
Do I Need Flooring Repair or a Complete Replacement?
Before you get a big project underway, it makes sense to pause and consider whether you need replacement services or if your needs would be better served by flooring repair. Glen Burnie homeowners often ask us the "repair versus replace" question, and in our professional experience, the answer depends on factors such as the type of flooring you have installed, what kind of damage we're dealing with, and how widespread or extensive the damage is.
If the damage is limited to smaller issues such as scuffs, scratches, hairline cracks, chips, or small gouges that are localized in one or two areas, it's likely that basic flooring repair is all that's needed to restore your surface to looking good as new. Glen Burnie homes may also have more severe damage like a smashed tile or a couple of planks of wood that have rotted that are nonetheless not widespread across an entire room.
If only one part of the surface is damaged, such as a single tile, the floor repair strategy may involve replacing just that one piece. However, it can be surprisingly difficult to find a tile that matches perfectly with whatever is installed. Tiles tend to be discontinued often, so the exact pattern may not be available anymore. This makes it important to save the extra pieces whenever your floors are initially installed, in case you need it down the road. But even if you did save a couple of extra pieces, they may not be a perfect match anymore because the ones that have been used have wear and tear damage like fading. In those situations, replacement is the better choice because one piece of material that doesn't match the rest will stick out like a sore thumb.
If your surface has suffered more severe problems or there are small issues that are widespread across the whole floor, replacement may actually be the most long-lasting, cost-effective, appealing option. Some problems, including sagging or heaving surfaces, are due to issues with your subfloor, joists, or foundation and need to be corrected before flooring repairs can be done.
Hardwood Flooring Repair
In Glen Burnie, hardwood floors are one of the most popular types of material found in residential homes for obvious reasons. Hardwood is an absolute classic that's just bursting with beauty and natural charm. It's also durable, widely available, and renewable, and it comes in a wide selection of wood species and stain colors. Hardwood fits perfectly into any design scheme, from modern and elegant to rustic and homey—so what's not to love? All materials do have their drawbacks, and solid hardwood is no exception. It's vulnerable to water damage such as wood rot and can be marked up with more than its fair share of scratches and gouges over the years.
Wood flooring repair problems our Glen Burnie handyman team will solve include:
Scratches
Scuffs
Gouges
Peeling or flaking wood stain
Warped or buckling boards
Patches of rotten wood that are softened or crumbling
Sun-bleached patches
If you've noticed a couple of minor scuffs that are no more than surface-deep but don't look so great, you may be able to hide them with a simple furniture marker. That's exactly what it sounds like—a marker that you use to color in scuffs, making them invisible under all but the closest scrutiny so you can avoid needing hardwood floor repair. Glen Burnie residents may find that locating a perfect match for color is tricky, so it's best to test it out in an inconspicuous area first to make sure it'll blend in.
Can Rotten Wood Be Fixed?
Yes and no. Wood rot is a type of decay that eats away at the fibers of wood, causing it to soften and eventually crumble apart. Because part of the structure of the material is gone (which part depends on the type of wood rot), there's no way to restore rotted timber to its former condition. That's why Glen Burnie wood rot repair is usually actually wood rot replacement—your handyman will remove the affected planks entirely and replace them with new planks.
Wood rot only affects timber with a moisture content higher than about 20%, so if your hardwood is rotting indoors, there must be a source of moisture. Whether it's a leaking roof, hidden plumbing leak, poorly ventilated bathroom, or some other problem, it needs to be stopped before flooring repair, or the problem will just happen all over again.
Is Solid Hardwood Better Than Engineered Wood?
One isn't necessarily better than the other—they are both good products with some different strengths and weaknesses for properties in Glen Burnie. A solid wood floor, as the name suggests, is made from planks of solid hardwood that interlock at the edges with a tongue and groove system. Engineered wood is a thin veneer of real hardwood that is bonded to a premium plywood or MDF backing. Once installed, they are completely indistinguishable from each other in appearance.
It can be more difficult to install solid hardwood due to it being nailed down to the subfloor. It is also susceptible to warping when it is soaked with water. On the other hand, solid wood can be sanded down and refinished many times so it can last for over a century. Engineered wood is easier to install. It is more moisture-resistant and a lot less likely to have warping. However, it can only be sanded and refinished once or maybe twice.
Vinyl Floor Repair
Luxury vinyl planks (LVP) and luxury vinyl tiles (LVT) are pretty much the same thing, except planks are long rectangles that are usually made to mimic the look of natural wood, while tiles are typically squares or rectangles that mimic the look of natural stone. Luxury vinyl is a relatively new flooring material that has seen a dramatic increase in popularity throughout both residential and commercial properties in Glen Burnie. It can be very convincing in its imitation of natural materials, so it's a way to get the look of exotic hardwood or luxury stone tiles at a much lower cost.
LVP and LVT are very durable and water-resistant, so they work well in high-traffic areas that are prone to moisture exposure in Glen Burnie homes, such as bathrooms, kitchens, mudrooms, laundry rooms, and playrooms. It's also a great choice for a basement remodel because it can be installed directly over a concrete subfloor. However, vinyl can be stubbornly difficult when it comes to flooring repair. Glen Burnie residents can count on us to fix issues such as:
Stains
Cracking
Peeling
Scratches or gouges
Crumbling edges (this typically only happens when it's very old)
How Do You Maintain Vinyl Planks or Vinyl Tiles?
In general, LVP and LVT are pretty easy to maintain. But, they can suffer from issues such as the ones mentioned above. Here are a few tips to keep your luxury vinyl in great shape so you can avoid flooring repair for longer:
Spills should be wiped or mopped up as soon as possible since liquids such as lemon juice, vinegar, and oil can stain the surface if it's left sitting there for too long
Use only a mop, soft brush, or rags for cleaning, and avoid anything abrasive such as steel wool or scrubbing sponges
Don't drag furniture or heavy items across a luxury vinyl surface
Dry mop or vacuum regularly to pick up particles of dust that can leave tiny scratches behind
Tile Flooring Repair
There's at least a little bit of tile in most Glen Burnie homes, and with good reason—it's attractive, durable, and comes in a huge variety of colors, shapes, sizes, textures, patterns, and materials. The wide range of possibilities makes tile the perfect way to infuse your home with your own personal sense of taste and style.
Some kinds of tile are very long-lasting, resistant to all sources of damage in Glen Burnie, and virtually maintenance-free, especially ceramic and porcelain, which are made with the same components but has different manufacturing processes. On the other hand, natural stone materials such as slate or marble can require more maintenance than some homeowners realize. Natural stone is very beautiful, but it needs to be regularly sealed to keep it looking good, and it's more prone to chipping or staining. That's why natural stone tiles are best used in decorative installations or low-traffic areas.
Our services for tile flooring repair in Glen Burnie, MD, include:
Crumbling or cracked grout lines
Dirty, dingy grout that never looks clean no matter how much you scrub
Minor cracks and chips
Heaving tiles
Replacement for one damaged piece
How Do You Repair Small Chips or Hairline Cracks in Ceramic Tile?
If you've noticed surface defects such as a small chip or a tiny hairline crack in a ceramic tile, it is usually possible to repair it without removing the damaged tile. Learn more with our guide to tile repair. The steps your handyman will follow for this type of flooring repair are:
Clean the area thoroughly and allow it dry completely.
Apply tile repair epoxy, overfilling the chip slightly.
Use a leveling tool to smooth out the epoxy and blend it into the surface of your tile.
Allow it to dry for a few hours, and then sand down hardened filler to remove any bumps or rough edges.
Apply the paint in the same color as the tile to conceal the epoxy, feathering the edges so they blend into the tile, and the repair is hidden.
Need Flooring Repair, Glen Burnie? Call Your Local Handyman for Expert Home Repair Services!
Regardless of whether you're in Glen Burnie, MD, or another part of this area such as Hanover, Severn, or Pasadena, you can get the same experienced service and exceptional customer care from the team of professionals at Mr. Handyman of Anne Arundel and North PG.
To book an appointment for services such as flooring repair, Glen Burnie residents can give us a call. Or speak with our knowledgeable customer service staff to find out more about our reliable handyman services.