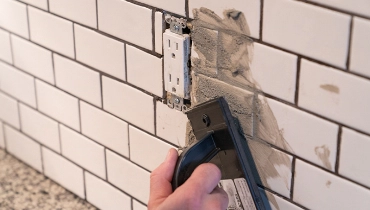 The kitchen is the heart of your home. It's where you gather with your family to enjoy meals and entertain friends. The kitchen allows you to try new recipes and old favorites.
With your kitchen seeing so much action, you should create a beautiful and comfortable place to spend your time. A well-designed kitchen makes cooking easier and is aesthetically pleasing.
That's where our local expert Arlington handyman come in. One of the best ways to add more design style is with backsplashes for your kitchen. Backsplash tiles can add a pop of color or pattern that spices up otherwise boring walls. Here are some ideas you can use in your kitchen.
Classic Subway
The classics are classic for a reason; it's because they're timeless. And that's the reason that subway tiles have prevailed through all the backsplashes for kitchen trends of the last few years. Subway tiles won't go out of style anytime soon.
With sleek lines in a classic shade of white, subway tiles look great in every kitchen. They add just enough dimension without being overpowering. Their understated style alone is a great reason why they're great in small spaces.
But their classic white color also helps to open up a space, making it appear larger. Think of subway tile as the foundation of your kitchen design. From there, you can add accessories to make your kitchen fit any aesthetic style you, please.
Modern Farmhouse Rustic
One design aesthetic that's always all over interior magazines, social media, and online inspiration boards is the modern farmhouse design. This cozy aesthetic perfectly marries a rustic design with comfortable and stylish amenities.
You can take this style into the kitchen with ease. With lots of neutrals mixed with wood, you need the perfect backsplash to bridge the gap between the two. In a modern farmhouse design, there are two ways you can do this.
You can choose a backsplash that resembles bricks. This is a great way to add texture to your kitchen design and leans more into the rustic side. Or you can go with a modern decorative pattern like a quatrefoil, which adds more visual interest.
Subway With a Twist
If you love the way subway tile looks but want to take it a step further, then you should try subway tiles with a twist. There are tons of ways to make subway tile look a little less classic and a little more trendy without losing the timeless quality.
One simple way is to change the grout color. Subway tile is most often done with black grout and sometimes white. Swap that out for a dark blue or a neutral tan for a subtle but impactful change.
You can also play around with the size of the tile. Traditionally, subway tiles are 3 x 6 inches, so going for a tile that's larger or smaller can make a huge difference. Larger tiles can make a space feel open, while smaller tiles add a unique texture.
Herringbone Statement
Herringbone is a twist on the classic design, so it's a great way to add a little bit of trend while staying timeless. This design adds a lot of visual interest, and it's great in both small and large kitchens.
The great thing about a herringbone pattern is that it's versatile. This design looks stunning with just about every style of tile. This means you can make herringbone work in your kitchen regardless of the style, size, or color of the tile.
Small mosaic herringbone can help add movement to your kitchen design. Using subway tiles in a herringbone pattern is an easy way to add a pop of style. Colorful tiles in a herringbone pattern will make your kitchen feel unique and customized.
Go Bold With Color
Are neutrals not your thing? Or are you just looking to make your kitchen design stand out from the rest? If you want to do that, you have to add color to your kitchen with your backsplash tiles.
Color has taken over kitchen designs and is one of the top kitchen backsplash ideas. In a sea of neutral designs, color is the number one way to make your home feel unique. With hundreds of thousands of choices, you're sure to find one you love.
The colors that are trending the most are shades of blues, greens, and pinks. But orange, yellow, and black are also on the rise. In terms of color schemes, pastels and earthy tones have taken over the design pages.
Metallic Madness
If you're a fan of sleek, futuristic, and modern styles, then you need to add the metal backsplash trend to your kitchen. Metal tile creates a chic design that's sure to stand out amongst the neutral porcelain.
Go industrial with a stainless steel sheet metal backsplash, creating a seamless and sleek backdrop for your kitchen. A metallic subway tile is a great twist on the classic design and will make your kitchen feel both updated and traditional.
You can go even more classic with decorative metal tiles in classic prints like fleur de lis or a damask pattern. These styles are often offered as kitchen backsplash peel and stick, so they're great for rented spaces or apartments as well as a quick fix for homes.
Stacked Style
Make an impact in a subtle way by changing the orientation of your tiles. This can have the same visual interest as switching up the color or changing the size of your tile without being too overwhelming.
You can change the orientation of any tile, but stacked styles look best with simple tiles like subway, glass, or square-shaped tiles. Because the pattern of the tile is doing the most design work, you don't want to overwhelm it with a busily decorated tile.
Try stacking the tile in a straight line either vertically or horizontally on your wall. A vertical design will draw the eyes up and make your ceilings seem higher. While horizontal stacked designs will make your kitchen seem larger and more open.
Add Texture to Backsplashes for Kitchen
Don't just see the difference in your kitchen; feel it too. A textured tile will add an extra touch you didn't know your kitchen needed. While textured tiles are on the rise in popularity, they aren't as used as other tile designs.
This means that adding a textured tile to your kitchen is a great way to ensure that your design is unique and feels customized. But the rise in popularity has created many options to choose from when it comes to textured and three-dimensional tiles.
There are options to stay more traditional with rectangular tiles that have a raised center, which adds subtle texture. Or you can go more modern and funky with unique octagonal and diamond designs.
Back to Black
Only a few years ago, an all-black kitchen seemed like a design don't. While the all-white kitchen thrived for a while, the time to add new colors to the mix is a growing trend for 2021. You don't have to be afraid to add black if you do it the right way.
All black on everything will most likely make your kitchen feel like a cave, especially if it's small and has little light. But adding a few touches of black here and there will create a trendy yet timeless space.
A black backsplash is an ideal way to add this color into the design mix because there's so much you can do with it. Simple black tiles will look just as great as black tiles in a unique pattern. One key to mastering black is to go either high gloss or totally matte.
New Geometric Shapes
Another design that's been bursting off the pages of interior design magazines and exploding on inspiration boards is geometric shapes. New, young homeowners are adopting this backsplash style to show off their personalities and unique design sense.
Geometric shapes are such a broad category that you can find one that matches your style. From simple hexagonal shapes to more intricate patterns inspired by art deco, your kitchen is bound to get an upgrade no matter which you choose.
These geometric shapes come in a variety of colors as well, so they will fit perfectly into any home. Neutrals like black, white, and grey remain the most popular, but blues and pinks are making their way into kitchens as well.
Accent Tiles
If you don't want a completely new all-over design, then you should consider accent tiles in your kitchen. Maybe color everywhere isn't for you or lots of pattern would be too busy.
You don't have to give up a design you love just because it won't look good on every wall. Instead, utilize your favorite design styles in minimal ways across your kitchen. You can do a stripe of color in an otherwise neutral kitchen.
Or try a ceiling-height accent wall of tiles behind a kitchen element like the stove or sink. You can even create recessed shelving into a wall and tile the inside of the alcove. These all provide a pop of color and pattern without overwhelming the kitchen.
Contemporary Concrete
Looking to step away from tile completely? Here's a crazy kitchen backsplash idea that just might work. A concrete backsplash is completely out of the box and a huge step away from the traditional norm.
But concrete is an edgy and contemporary idea that would be a great addition to a modern home. It adds texture to a minimalist design or can complete an industrial look. Plus, there are ways to accessorize concrete, so it feels warm and homey too.
It's durable and budget-friendly, so it's a great material for family kitchens. With concrete, you can go for a seamless poured concrete across or put up smaller pieces on concrete. You can even stamp a design into the concrete for a customized look.
Something Neutral
Many homeowners love a neutral design for their space. And when you see photos of their interiors, it's not hard to see why. A neutral space lends to a variety of design aesthetics and always looks on-trend.
Your kitchen design doesn't need to be any different. A neutral backsplash has so much versatility because it can adapt to any style. So whether you're a farmhouse or modern, you can find a neutral tile to complement your kitchen design.
The definition of neutrals has also expanded much more in recent years. Rather than the traditional black and white, shades of tan and beige have become increasingly popular neutrals. And tan looks great paired with both black and white.
Spots and Dots
Circular backsplash tiles are a clever way to break away from the norm of straight edges. This is definitely a unique tile trend that you won't see in many homes, so if you're looking for a unique backsplash, then a circular design is your go-to.
You can go mod inspired with a pop of color in an evenly-spaced stacked design. Or add a little interest with a design inspired by bubbles with circles of different sizes mixed together.
Try large interlocking circles or small ones the size of a penny, both adding a unique texture. Play with color, or try glass or metal for an extra layer of uniqueness.
Backsplashes for Kitchen add an Instant Facelift
If you want your space to look customized instantly, you'll need backsplashes for your kitchen. A backsplash is an easy way to make a huge impact in your space by adding color and pattern that can help round out your design.
And since your kitchen gets so much daily traffic and is a central place to entertain your friends and family, it should be a beautiful space that you want to spend time in.
Whether you're going for a full-blown renovation or a space refresh, a new tile backsplash should be on the list.
Ready to transform your Arlington home? Hire one of our
Arlington handymen
to get the job done right. Mr. Handyman provides kitchen, bath, and home services locally done in Arlington, Texas.