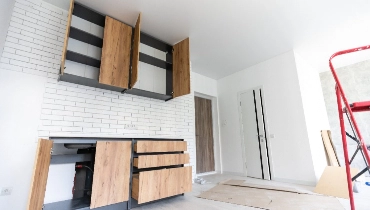 When homeowners in Arlington, TX, think about remodeling, their kitchen is often the first room that comes to mind. That actually makes perfect sense—the kitchen is the heart of a home, where people love to gather, socialize, cook and make memories, so it needs to be a warm, inviting, appealing space. It's also a highly utilitarian room that gets used daily for the important tasks of storing and preparing food, so it needs to function perfectly and be configured to support and complement your specific cooking style.
If your kitchen falls short of those lofty ideals, don't despair—your dream kitchen is actually right around the corner with a little Arlington kitchen remodel help from an experienced team of local handyman professionals. But first, you need to come up with a plan for how you want that space to look and function. This guide answers some commonly asked questions about planning an Arlington kitchen remodel.
Whether you are thinking about a minor kitchen remodel project or a complete overhaul, you can count on your local Arlington handyman for experienced workmanship and outstanding customer service. The team of service professionals at Mr. Handyman of Arlington, Mansfield, and Grapevine are proud of their high standard of work and always go the extra mile to ensure customer satisfaction.
Is an Arlington Kitchen Remodel Worth It?
If you're still pondering whether a kitchen remodel in Arlington, TX is the right move for your house at this time; you may be unsure if the cost vs. reward ratio is on point. Of course, only you and the other members of your household can decide if it's really worth it for your property. But, there are some big advantages to a kitchen remodel in Arlington, TX, that are well worth considering.
Increase Functionality
Whether you love making intricate, multi-course, gourmet meals for your friends and family, or you mainly use your kitchen to reheat leftovers, it needs to function properly and meet your specific needs. By altering elements of the space, such as the layout, storage space, and food prep area, our Arlington kitchen remodeling team can make a huge difference for ease of use and convenience while cooking, along with your personal enjoyment of the space. Have you ever wished your pots and pans were within easy reach, or your cabinets went all the way up to your ceiling, or your silverware drawer was closer to the dishwasher? An Arlington kitchen remodel a great opportunity to address those problems and create a room that functions flawlessly for your specific requirements.
Improve Home Appeal
You spend time in your kitchen every single day, and it's not enjoyable to work in or just hang out in a room that is ugly, outdated, and unattractive. It should be an appealing and inviting room that you actually want to spend time in and show off to visitors. If your current space just isn't living up to the standard set by the rest of the house, or you need a house-wide renovation and want to start in your favorite room, an Arlington kitchen remodel is the perfect way to love that space again and even turn it into your favorite part of your house.
Raise Property Value
Are you thinking of putting your Arlington, TX residential property on the real estate market in the near future? The right Arlington kitchen remodel an excellent way to raise property value prior to the sale so you can get a higher selling price and a solid return on your investment. A recently renovated kitchen is high on the priority list for most prospective buyers, so seeing that it has been taken care of and they won't need to renovate after buying is a huge purchase incentive. If your main goal is to raise property value, it makes sense to choose a classic, neutral look that will encourage potential buyers to envision themselves using the room.
How Do I Make a Budget for Kitchen Remodeling in Arlington, TX?
If you're not used to creating budgets for projects such as an Arlington kitchen remodel, it can feel like a daunting task. The budget will naturally be influenced by factors such as how extensive the changes you want to make will be and the types of materials you choose. It can help to make a list of absolutely everything that will go into your Arlington kitchen remodel, from large items like drywall or tile to finishing touches like cabinet hardware and even décor items, so you don't forget anything you wanted to include.
If you're looking for ways to cut costs, the type of materials you choose for components, such as the tile or countertops, may be a good place to turn. It makes sense to hunt around and see if you can score a deal because you never know what you might find on discount, clearance, or at an unusually good price, but it also doesn't hurt to consider less costly alternatives to luxury materials. For example, if you love the look of a marble countertop, but it's out of your budget, options such as granite or quartz can offer better functionality with an attractive appearance.
Cost Breakdown
Another step that can be really helpful is making a kitchen remodeling cost breakdown. When you split up your expenses by category and assign a percentage to them, it gives you a much clearer picture of your overall cost estimate and provides a road map for areas where you may need to make adjustments. For example, many homeowners are surprised to learn that cabinetry is often the single biggest expense in an Arlington kitchen remodel. Your cost breakdown will vary according to what you plan to include in your project, but here's a basic example:
| | | |
| --- | --- | --- |
| Task | Percent of Budget | Total |
| Cabinets | 30% | $________ |
| Labor | 25% | $________ |
| Appliances | 20% | $________ |
| Windows | 10% | $________ |
| Fixtures | 5% | $________ |
| Fittings | 3% | $________ |
| Other | 7% | $________ |
Expect the Unexpected
It's not all that uncommon for kitchen renovation projects to go over budget because of unanticipated costs. That can happen for a number of reasons, but more often than not, it's because something is discovered during an Arlington kitchen remodel that needs to be dealt with. For example, our handyman team could remove your current flooring and discover that the subfloor or joists are damaged by moisture and need to be repaired for safety reasons.
The best way to deal with unexpected expenses is to pad your budget with about 20 to 30% more than you think you'll need to spend. If any unpleasant surprises crop up, you'll be prepared, and they can be handled without too much stress. If you don't end up using it, you've got the start of a bathroom to remodel budget already set aside.
How Do I Figure Out the Floor Plan for My Arlington Kitchen Remodel?
Homeowners often choose to keep the layout pretty much the same while updating components such as tile and cabinets, but if you don't like your current floor plan or it's not really suited to the needs of your household, a layout alteration is well worth considering. You will, of course, be somewhat limited by the size and shape of the available space. A long, narrow rectangle is likely going to need to be a galley-style layout to maximize space, but if you have a broader rectangle or a square, there are a lot more potential configurations.
Keep in mind that relocating appliance hook-ups and plumbing fixtures will be considerably more costly and time-consuming than leaving them in place, so you can save some money by keeping the layout basically the same if budget is a concern. If you do decide to alter the floor plan, it's a good idea to grab a pencil and paper and sketch out a rough layout paper. Seeing in front of you on paper makes it much easier to identify potential trouble spots, and it also makes it easier for your kitchen remodelers to understand exactly what you want.
Create an Open or Semi-Open Living Space
Most newer homes in Arlington, TX, feature an open or partially open concept on the first floor that combines the kitchen, dining room, and living room or family room into one large, open space. That makes it a lot easier to keep an eye on children playing in the family room while you're cooking or chat with guests in the dining room while you're making drinks.
But if you have an older home with a more classic floor plan, your kitchen is probably closed off from the rest of the house. If that's not working very well for you, you don't have to keep it that way. An Arlington kitchen remodel the perfect time to have your handyman remove a non-load-bearing wall to combine your cooking space with another room or two. It'll make everything feel brighter and more open and give you extra space for the kitchen remodeling process. If it's not logistically possible to remove a wall, we may be able to compromise a bit by creating a pass-through window between the kitchen and dining or living rooms. It gives you sight lines into those rooms and makes conversation a lot more possible.
What's the Best Tile for an Arlington Kitchen Remodel?
Tile is a very common choice for both kitchen flooring and wall applications such as backsplashes because it's so durable, attractive, easy to clean, and resistant to moisture. Tile comes in a very wide variety of shapes, sizes, colors, patterns, and materials, so a new tile installation is an ideal opportunity to make your mark on your house by adding your own personal design aesthetic. However, it's worth noting that if you're thinking of selling your North Texas property in the next few years, you should consider choosing classic, neutral tile that will fade into the background and make it easier for prospective home buyers to imagine their own style of décor in the room.
When selecting the best tile material for your home, it's important to think about where the tile is going to go and what features it needs to have. For example, glass tile is much too delicate for the floor, but it's perfect for backsplash tile. A glass subway tile backsplash adds a noticeable, attractive point of interest with its translucent beauty. You should also consider how much maintenance you're willing to do. Some natural stone tiles like slate, while strikingly beautiful, do need to be sealed regularly and are prone to scuffs and chips. Porcelain or ceramic tile don't have the same style cachet, but they're extremely durable and virtually maintenance-free. Learn more with our homeowners' guide to tile installation services.
Can I Handle an Arlington Kitchen Remodel By Myself?
If you have to ask this question, the answer is probably not. There are many home repair and improvement projects that a homeowner can tackle with a basic toolbox and a little know-how, but kitchen remodeling just isn't one of them. It's a complex process that requires the expertise of an experienced handyman who can come up with inspired repair and improvement solutions on the fly. You'll likely save time and money in the long run by getting the help of our reliable team of Arlington handyman professionals.
Ready to Start Your Kitchen Remodel in Arlington, TX? Call Your Local Handyman!
Regardless of whether you're in Arlington, TX, or another nearby town such as Grapevine, Euless, or North Richland Hills, you can get the same trusted kitchen remodeling services from the team of experts at Mr. Handyman of Arlington, Mansfield, and Grapevine.
Pick up the phone and get in touch with us today by calling to schedule a convenient appointment for service or to find out more about what we can do to enhance the comfort and livability of your residential or commercial property.