Sump Pump with Battery Backup
Basements have come a long way over the past few decades. No longer simply damp, dark storage spaces, today's finished basements serve as family media rooms, home offices and man caves. With so much time and money put into your modern basement, it only makes sense to protect it from weather causing water damage. The sump pump with battery-powered backup serves as a key component in your basement's waterproofing system.
Components of a Waterproof Basement
The sump pump with battery-powered backup works with gutters and downspouts that empty rainwater a minimum of six feet from your home's foundation, and also with landscaping around your foundation graded toward a storm sewer or swale. You also must install drain tile that directs groundwater into a sump pit, where your sump pump will pump it away from your home. A waterproof barrier around the exterior of your foundation helps keep water out of your basement, as well. Mr. Handyman can help with the installation and maintenance of any of these components.
What a Sump Pump Does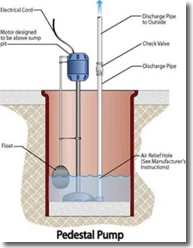 So, how does this integral part of your basement-waterproofing system work? A sump pump sits in your basement's sump pit, which serves as a reservoir for excess groundwater. It pumps this excess water into a storm sewer or down your graded landscaping. This keeps the water from seeping into your basement and causing major water damage.
Two types of sump pumps exist:
Pedestal - This sump pump, also called a column or upright sump pump, has an open motor that sits outside of the sump pit and above the basement floor. This type and location makes the sump pump easy to service.
Submersible - This type has a watertight motor that begins the pumping process when it senses water within the sump pit, where it sits. It proves less conspicuous, but is more difficult to access for service.
Both types of sump pumps can be powered by electricity or water. Water-powered sump pumps require significant water pressure to work, though, and city and well water pressure often proves insufficient. A pedestal or submersible sump pump with battery-powered backup provides the best option for the majority of homes.
Why a Battery-Powered Backup for Your Sump Pump Is Important
A loss of electricity will be an issue for your sump pump during a storm if it does not have a battery-powered backup. The possible result: major water damage. The backup must be completely redundant with the main sump pump; containing an additional sump pump, float switch and battery power source. With redundant systems in place, you ensure your basement remains dry during wet weather.
Sump pumps with battery-powered backups come in a variety of models. The most basic model should include an alarm that notifies you about certain conditions, such as when the battery requires recharging, replacement, and additional fluids. It will also sound an alarm when the pump activates, so you can check your main pump and your home's main power source. More advanced models will have weekly system checks, additional service alarm triggers and increased capacity to pump more gallons per hour.
Sump Pump and Battery-Powered Backup Installation
Whether you already have a sump pump/pit and simply need to install a backup, or you require a total retrofit of your basement, installation and maintenance of basement-waterproofing system components requires the assistance of a professional plumber and/or electrician. Please contact Mr. Handyman for help in any of these areas to get the job on time, done right.