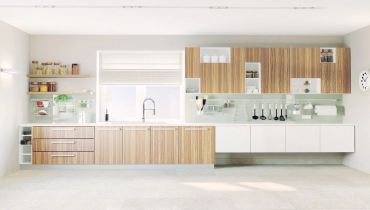 Kitchen floors
take a lot of abuse. The foot traffic. The spills. The sliding back and forth of chairs and stools. The heavy dropped items. It's a wonder they last as long as they do. If you have a kitchen floor in desperate need of replacement, this guide will help you make the right choice for your home.
Wood Kitchen Floors
If you already have wood flooring in the kitchen and like the look, consider having your professional handyman refinish the surface instead of replacing it. You can also lighten or darken the stain during the process to match or complement cabinetry if part of an overall kitchen remodeling project. If you find wood too difficult to maintain in a kitchen setting - crumbs love to hide in cracks between slats - other options exist.
Tile Kitchen Floors
Just like in bathrooms, tile flooring works well in kitchens because it resists water and clean easily. That being said, opt for darker earth tones to hide dirt and debris from frequent use of the room between cleanings.
Tile kitchen floors do have a few cons. Plan to strategically place supportive area rugs if you cook for extended periods of time, as tile floor can be hard on your back and legs. Also know that anything breakable you drop directly onto the tile will do exactly that: break. It could also crack the tile , too. Other flooring options, such as vinyl or linoleum, offer more comfort and protection to home chefs. Your professional handyman can brief you on all of your options.
Vinyl or Linoleum Kitchen Floors
In addition to being a softer surface, vinyl and linoleum floors offer other advantages. They come in a wide variety of colors, styles and patterns, allowing you to pick the perfect flooring for your kitchen design. And as noted, vinyl or linoleum floors are easier on your back, legs and breakable items.
They also prove low maintenance. It's quite difficult to stain a vinyl or linoleum floor, and regular dry and wet mopping, along with spot cleaning , will keep it looking good for years to come. Choosing vinyl or linoleum flooring with a protective coating extends the life of the product.
Finally, their cost and ease of install make them one of the most affordable choices for the replacement of a kitchen floor. Your professional handyman can install either sheet or tile vinyl or linoleum flooring.
Sheet flooring typically comes in rolls 6 or 12 feet in width. This allows the installer to limit the seams in a kitchen to one or none at all depending on the size of the room. It can even go over existing vinyl or linoleum flooring in certain instances to save you on labor costs associate with removal. For best results, you must use a professional installer.
Tile flooring typically comes as 12 inches by 12 inches, and it can resemble stone, ceramic and even wood flooring. The tiles allow DIYers to tackle this project, but only if the existing floor lies flat. Otherwise, a professional handyman should take on this task.
Concrete Kitchen Floors
Thanks to new decorative treatments for concrete, this material typically reserved for outdoor use has come indoors to rooms like kitchens. You may already have a concrete surface under your existing floor, or you might need to lay a thin slab on top of the subfloor.
Home chefs appreciate concrete kitchen floors for a number of reasons. They help to keep the room cool and are easily to clean. They also offer endless design possibilities.
Your professional handyman can use an acid-staining process that permanently changes the color of the concrete, resisting fading and chipping. You also can choose patterns for a concrete kitchen floor and/or stains that resemble tiles, marble, slate and wood. A protective layer of wax and sealant follows to give the floor a protective sheen.
When choosing the material for a new kitchen floor, be sure to involve your professional handyman early in the process. He or she can help you decide which floors will best suit your home and work with you from start to finish.
This article is part of the Kitchen Remodeling series. Read more for more kitchen makeover tips from Mr. Handyman.
Mr. Handyman can maintain your home to save you money. One call really does take care of everything on your to-do list. Make sure to stay on top of all your household repairs, improvements and maintenance needs and request service now online.
Repair. Improve. Maintain. One call does it all!