Spring cleaning gets all of the attention this time of year, but spring maintenance proves just as important, even more so in certain situations. Get your home in shape with our free Spring Home Maintenance Checklist. Read more about the to-do items included, then click on the image to the right and download it for free.
1. Inspect Gutters and Downspouts Gutters and downspouts must be free of debris and damage to correctly direct water away from your home's foundation. Even if you live in an area of the country that doesn't see much rainfall, check both to prevent a surprise if a storm hits. You do not want to learn about a clog by seeing water seepage into your home, whether in the basement or through the roof or fascia. All can result in costly repairs.
2. Remove Trees and Shrubs from Around the House Speaking of gutters, trees, and shrubs too close to your home can brush up against them and cause damage during a windstorm. Foliage also can damage siding and creates access for an insect infestation. Trim foliage that brushes up your home to help prevent all of this.
3. Inspect Caulking Around Doors and Windows Experts recommend replacing the caulk around windows and doors each spring, as cold temperatures can cause cracks, which lets air leak in and out of your home. Water also can get in where it shouldn't through cracked caulk. Help increase the energy efficiency of your home with this task.
4. Inspect Wood Decks, Railings, Windowsills, and Steps Check the wood around your home for rot that took hold during the winter months. If boards become soft or splinter, they create an unsafe situation for you and your family. Replace whenever necessary.
5. Remove Mildew and Moss From Decks and Patios With a Pressure Washer Pressure washing sprays away unwanted mildew or moss from just about any surface. Use it to clean your tile patio, wooden deck, or concrete driveway and/or walkway. If you do pressure wash a wooden surface, give it a fresh coat of stain or sealant to keep it protected and looking its best.
6. Clean and Inspect Window Screens Give your window screens a once-over to ensure no critters or pests can work their way through bent frames, holes, or tears. A little work now will keep you from having to remove unwanted guests from your home.
7. Look for Moisture in the Basement and Crawl Space When you do get a good rain, look for leaks in your crawl space or basement that could turn into costly repairs. Also check regularly under bathrooms, the kitchen, and the laundry room to ensure pipes are intact.
8. Inspect Laundry Room Hoses for Cracking Your laundry room also can be a source of flooding. Check the water-supply hoses each spring for cracks. When replacing these hoses, install a new washer at the end instead of reusing an old one that might have clogs or wear.
9. Inspect Grout in Bathroom Tiles Check your bathroom grout for discoloration and crumbling. Grout protects flooring, shower enclosures, and countertops from water damage, and it costs much less to replace than any of those items.
10. Replace Batteries in Smoke and Carbon Monoxide Detectors If you did not replace the batteries in these important appliances when the clocks changed, a great reminder, by the way, do so as part of your spring maintenance. They should get fresh batteries twice a year, instead of when the chirping detector wakes you at 3 a.m.
Read more about, seasonal home maintenance checklists and schedules.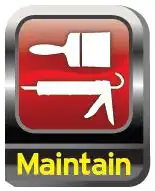 Mr. Handyman can take any of these tasks off your to-do list. That way, you have more time to enjoy the lovely spring weather. One call really does take care of everything on your to-do list. Make sure to stay on top of all your household repairs, improvements, and maintenance needs, and request service now online.
Repair. Improve. Maintain. One call does it all!