Basement Renovation and Remodel Ideas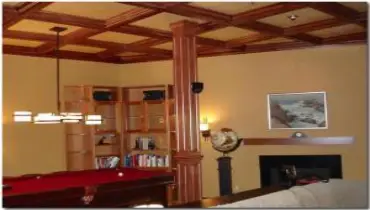 Basement Remodel by Mr. Handyman of North & West Central MD
A finished basement -or even a partially done one-increases usable square footage. Turn your bottom floor into a retreat for the man, woman, or teen of the house, or the entire family for that matter, with help from your professional handyman. Here are some options.
Eliminating Leaks
A basement remodeling or renovation project should start with ensuring that the space is waterproof. A leak can cause costly damage and create unhealthy conditions in an unfinished basement, let alone one you have turned into a regularly used room.
You have two options if leaks exist: a French drain or a sump pump. We install the first outside of your home by digging a ditch and filling it with gravel, rock or perforated pipe to redirect surface and ground water away from the foundation. The latter goes into the lowest part of your basement and involves creating a pit for a pump that will move water out and away from the house. There are different kinds of pump systems: submersible and pedestal. We can advise you as to which will work best for your particular house.
Basement Facelift
If you have previously finished part or all of your basement and simply need a remodel, we can do whatever work is required. Installing sheetrock , painting , upgrading lighting , and adding moulding are just a few of the options.
In this basement remodel, we added custom wood trim to the columns and ceiling to create a game room that could just as easily be above ground as below. In fact, the trim work matched that found in other rooms, creating consistency between the rooms and adding to the overall design aesthetic of the house. We also swapped out less attractive can lights with ceiling fans that served a dual purpose.
Full Basement Refinishing
In another remodel, only a concrete subfloor, exterior walls and an unfinished ceiling existed. We started by adding framing to the walls and building out separate rooms. Insulation went in next, followed by sheetrock for the walls and ceiling. The
floors
of the laundry room and bathroom were covered in
tile
, with the bathroom getting a fully tiled shower with bench and detail work. A finished fireplace and carpeting in the main area and on the stairs completed the work.
Other flooring options exist in addition to tile and carpeting. We have installed wood floors in a number of finished basements, which once the space is made waterproof is possible. And we can always dress up any support columns with finish work.
Getting Started
Whether you have a basement that has been partially refinished or remains untouched, we can help with the remodeling or renovation from day one. Our designers can brainstorm ideas with you and come up with a layout that not only serves many purposes but also is comfortable and aesthetically pleasing. Tools such as our project budget estimator and 3-D modeling help you see exactly what the basement will look like and how much it will cost.
More and more of our clients have kids returning home or parents moving in, requiring extra livable space. Let us help you make the additions to your household as stress free as possible as well as make their new home comfortable.