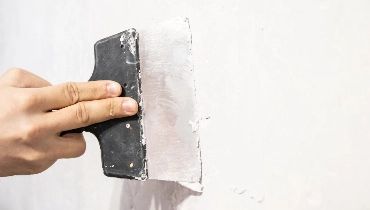 We rely heavily on our four walls to hold the inside of our home together. While it may be easy to maintain and protect them, they are not accident-proof. Whether you got mad one day and punched in a hole or it has suffered from water damage, drywall repair or replacement is inevitable.
Drywall repair helps prevent many problems that would otherwise affect your home's insulation and sound separation and even create access points for insects and rodents. The least popular of all is water damage which tends to greet us with discoloration or peeling paint. That said, drywall does have a lifespan and will weaken over time, especially when minor holes or other cosmetic issues have never been attended to. If you're worried about your existing wall's condition because you notice cracks, gaps, or broken baseboards, you can count Mr. Handyman of Brighton and Surrounding Area. We bring many years of experience in drywall repair. Brighton CO homes will benefit from our professional service, inspection tools, and a variety of solutions.
What Is Drywall?
It was invented by a Connecticut-born technician named Augustine Sackett, who came up with the idea in the late 1800s to facilitate construction processes. Often referred to as its brand name, Sheetrock, it's made of a sulfate mineral called gypsum. You would create wallboard panels that consist of gypsum plaster layers sandwiched between two layers of durable paper. The core is made out of foaming agents, fibers, and ground gypsum crystals, along with other additives. It's praised for its durability and cost-effectiveness, outsmarting plaster and other labor-intensive wall constructions. It has many benefits. It's lightweight, quick to install, has a smooth finish, and is fire-resistant. Its average thickness is 1/2 inch, with 5/8 inch being the thickest. Unfortunately, all that doesn't make drywall indestructible. While resistant to moisture (especially cement or green boards with waxed surfaces), it's still vulnerable to moisture and heavy impacts.
Signs I Need Brighton Drywall Repair
Settling homes, water damage, and regular wear and tear eventually lead to cracks, stains, and holes, all of which need a thorough inspection to determine what type of repair will resolve the issue. No one knows your Brighton home better than you, which is why any telltale sign should rouse you into action, especially if you experience a plumbing problem or hear squeaky rodents behind your walls. Let's expand on the signs we have touched upon:
Hole In Drywall
What causes holes in our walls? Besides accidents, we know that it doesn't last forever and will eventually start to wear. But there are other factors that might affect the piece of drywall. Left untreated, it can make the hole larger and require more than basic tools to solve.
Termites: You might think that wood only attracts termites, but unfortunately, that's not the case. Any type of cellulose is a target for termites, if not mice. Pests and infestations are serious problems where no patching job will keep these things at bay. They will continue eating their way into your home, causing more damage that won't call for repair but replacement.
Rodents: You will need pest control services to get rid of all these creatures before hiring your handyman for Brighton drywall repair. Your safest option is likely a replacement.
Popped nails: Nail holes are certainly an eyesore to some people, and it's safest to repair them by removing any popped nails using a utility knife and pliers; unless that nail is actually a part of your drywall stud, then you should tap the nail back down and even add additional drywall screws to ensure the panel is attached to the wall stud. A nail hole can give off a bad aesthetic for your home.
Drywall Cracks
Cracks primarily relate to home settling when the soil begins to shift. Anything from a hairline crack to jagged or 45-degree angle cracks are often harmless but require a foundation specialist's opinion for repair suggestions. If harmless, they will tell you that you merely need drywall repair. Brighton, CO property owners who experience interior cracks, can also count on us to inspect their siding because exterior cracks are most susceptible to water damage that could potentially flood the basement.
Water Damage
We have alluded to this. Many issues can lead to water damage and eventually drywall damage, whether heavy rains or plumbing issues. Water lines are primarily built behind walls or beneath the floors. If you ever hear running water or experience a sudden change in pressure, you should turn off your shut-off valve and check the meter. If it's still running, you'll have to call your plumber immediately.
If the damage is caused by bad weather and you experience wet spots and musty smells, you likely have a leak in your roof that could be caused by clogged gutters or damaged soffit and fascia. You can rely on your local handyman for efficient Brighton drywall and Sheetrock repair services and a thorough inspection of all your other materials that have suffered damage.
What Do I Need For Drywall Repair?
Brighton CO homeowners who are skilled DIY professionals may want to take matters into their own hands. But if the problem is not small holes, then taping is not the solution, and the use of mud or compound will come into place. When patching an existing wall, be sure to match the thickness. The standard thickness is 1/2 inches because windows and door jambs are primarily sized to match with 1/2 inch drywall. Some essentials that you will need for your Brighton drywall repair include:
Tools:
Pencil and chalk
Dust mask
Safety glasses
Putty knife/drywall knife
Taping knife
Staple gun and staples
Joint knife
Materials:
Drywall compound (joint compound), also known as drywall mud
Mesh tape or paper tape (it's more durable than fiberglass tape), or reinforced paper tape. Self-adhesive tape works as well
Drywall panels, scrap pieces
Nails or other fasteners (depending on wall thickness)
Wood strips (plywood)
Corner beads (different materials: metal, vinyl, etc.) to connect corners and intersections
Sanding pads
If you're no fan of cutting, mudding, sanding, and taping (it's messy business!), your local Brighton handyman knows exactly how to fix a hole in the wall—from standard patching to fixing holes larger than six inches using panels. Drywall repair kits can also be useful as they contain most materials and tools needed.
Are Hairline Cracks or Holes in The Wall Making You Cringe? Call Mr. Handyman for Brighton Drywall Repair!
Whether you're in Brighton or a nearby area such as Thornton or North Glen, you can trust the team of drywall repair experts at Mr. Handyman to deliver the highest standards of quality workmanship and excellent customer service. Whether you need commercial repairs or general home maintenance services, we will get the job done!
Pick up the phone and give us a call today to find out more about our reliable Brighton handyman services or to schedule a convenient appointment time, so we can take care of all the home improvement repair and maintenance tasks on your list.