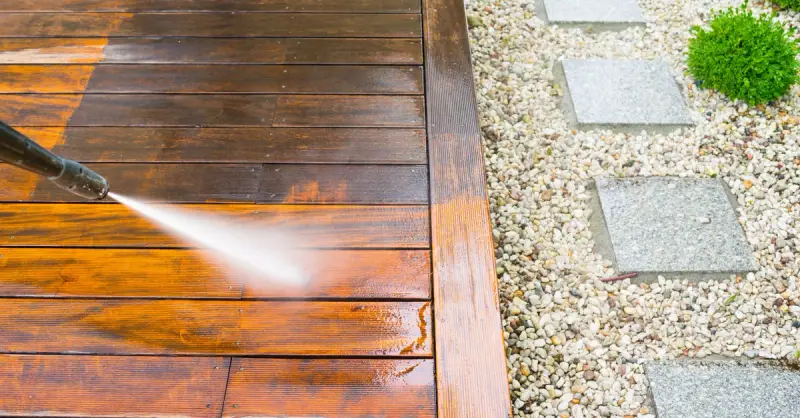 Homeowners in Colorado Springs take their weekly cleaning chores very seriously. Of course, your interior living space is of high priority and it's likely where you will start first. But if you find yourself planning barbecues on your deck or are arranging to sell your home, there's a lot you have to consider when it comes to maintaining your home's exterior. Luckily, there are powerful solutions for exterior maintenance. You don't have to imagine yourself scrubbing your home's siding or the decorative rocks in your frontyard like you do when you clean interior floors or walls. There's an easier and faster way to get around this in Colorado Springs. Pressure washing service makes those jobs easy.
Have you looked at the outside of your property after a long, snowy winter in Colorado Springs? Although the pretty sight of snowmelt refreshes your senses, you may notice the rough shape of your wooden fences or suddenly notice all that grime buildup on your stoop too. The pressure washing season typically begins around March, which is the perfect time to get your home's exterior ready for the summer. While it's important to inspect all your exterior furniture, maintaining it through proper cleaning will make a huge difference too.
When you're ready to tackle outside maintenance and free your home from grime, you can count on your Colorado Springs handyman to provide you with reliable pressure washing services that will make your home shine like never before. This way, you will be able to plan a worry-free barbecue or host your best friend's party, using your outdoor space without any trouble.
What Is Pressure Washing?
Colorado Springs, CO homes that receive pressure washing services instantly look fresher and cleaner, like winter has never happened. All that is thanks to a high-pressure jet with levels that range between 750 and 3000 psi (pound-force per square inch). It reaches a strength that doesn't just blast away stubborn moss but could potentially cut through material. To get a better idea of how powerful that is, consider your kitchen faucet. It's capable of producing up to 60 psi. Even your garden hose will probably only produce about 200 psi.
There are different types of pressure washers. Colorado Springs, CO residents may have seen them in the hardware store and wondered which ones the pros would use. This highly depends on what materials you want us to clean and which psi level is suitable. While all types provide a high level of efficiency, you can choose from lightweight or heavy duty and gas- or electric-powered washers to meet your specific needs.
There are also different cleaning solutions used with pressure washers, depending on your needs. Commercial cleaners contain sodium hypochlorite—a stain removing agent that you also find in bleach, whereas other multi-purpose cleaners are less harsh and have fewer chemicals—or none at all. You can also find cleaning solutions that are biodegradable.
What Can You Clean With Colorado Springs Pressure Washing Service?
There are many parts of your exterior that can be cleaned. We recommend you walk around your residential or commercial property to examine any grimey exterior surfaces that catch your eyes. Whether you see pigeon droppings, graffiti or partly clogged gutters, it's essential that you take notes and prioritize the most urgent situations. Often, a power washer is a great maintenance tool to help preserve parts of your property that may be deteriorating, rather than just a tool for boosting curb appeal in Colorado Springs. The most common areas to clean include:
Front Yard And Backyard Landscaping
If your home has beautiful landscaping in the front or back yard, you likely work very hard to keep it that way, starting with spring cleaning. Whether you have a garden bed border that separates your beautiful flowers from stained concrete or have several rock features that have collected grime, slime and other substances, professional Colorado Springs pressure washing services will help you bring back the original colors of those surfaces without damaging any delicate plants nearby.
If you have specifically chosen a hardscape front or backyard to keep maintenance at a bare minimum or keep allergies at bay, you likely have drainage rocks, gravel, beach pebbles or a rock garden of some sort. They sure collect a lot of dirt and grime! If you check online on how to clean them, you will find DIY tips that include using dish soap or vinegar, and investing hours of your free time on scrubbing rocks! Colorado Springs pressure washing service from your skilled handyman can get those hardscapes and rock gardens clean within a few hours.
Decks
If you have a fully furnished deck, you want it to shine in the summertime, so you can share that comfortable space with friends and family in Colorado Springs. However, that space requires routine maintenance to stay in shape. If you have used pressure-treated wood with quality sealant, you can rest easy knowing that your deck boards will last you a long time—as long as you take good care of them that is!
Although this type of treated wood contains preservatives that deters bugs, that doesn't mean it doesn't collect dirt and grime. If you are planning a gathering soon, we recommend that you schedule an appointment for pressure washing! Colorado Springs, CO homeowners that take advantage of our professional service will see their decks shine again, especially when we re-paint or stain them too!
Fences
Fences serve as safety barriers for your children and pets. Whether your fence is wood, vinyl, PVC, wrought iron or aluminum, it's important to keep up with routine maintenance. Whether your dog pees on it daily or it has built up moss and grime, you will see stunning results after an appointment for pressure washing; Colorado Springs, CO property owners can look forward to a cleaner, spotless look for their fences when they choose our services. Further fence maintenance services that we offer include repainting or restaining, termite checks and repairing broken boards and hinges.
Siding
It's not easy maintaining your home's ultimate shield as it protects you from weather damage, but it's important to do so. Some siding types can last up to 50 years if they receive all the required maintenance services and repairs in time. Luckily, the days of scrubbing home siding are over. If you spot dirty siding on the outside of your home, you can clean it quickly and easily with pressure washing service. When it comes to cleaning siding, professional service makes all the difference, as using the wrong pressure setting could lead to accidental damage.
Soffit, Fascia And Gutters
Every homeowner dreads gutter cleaning—some people just aren't keen on climbing tall ladders to clean out gunk. The good news is that Colorado Springs pressure washing makes that job easy, and it doesn't necessarily even require ladders to access rain gutters. There are special kits that enable professionals to hook the tip of the device into the gutter. That said, your certified and licensed Colorado Springs handyman may still climb up a ladder to inspect your soffit and gutter's health before determining if it's safe to go ahead with pressure washing. Colorado Springs, CO homeowners that have weak and frail soffits and gutters may require repairs and more careful services. If that's the case, we're still equipped with a gutter scoop, gloves and safety glasses!
It's important to keep up with soffit, fascia and gutter repair or replacement to prevent potential leaks that could damage your siding, trim or other parts of your home in Colorado Springs. We highly recommend taking measures before the rainy season arrives, and definitely before getting pressure washing. Otherwise, these mishaps can lead to structural damage and costly repairs. Hiring a professional service for repairs can save you from lots of problems in the future.
Garage
Are there oil stains, dirt or grime built up inside your garage? Luckily, we can help if it needs a wash! Whether your garage is a workshop or workout space, it's important to keep it clean, and pressure washing makes that easy. Your concrete garage floor should be able to handle up to 3000 psi and a flow rate of 3 GPM to clear all the crusty dirt and oil stains that have accumulated over the years.
What Are The Warning Signs I Need Professional Pressure Washing Service?
Colorado Springs, CO homes that haven't had exterior cleaning in a while will always benefit from it in one way or another. Aside from the benefits to aesthetics, we always recommend regularly cleaning your exterior cladding, trim and gutters to ensure they don't cause major problems for the rest of your home. If you see any of the following signs, then you know it's time for cleaning—and maybe even routine repairs.
Clogged Gutters: Gutter clogs can lead to water damage around your roofing system, starting at the soffit and fascia—but that's not all! When your gutters break, all that accumulated water will flow down your siding and continue to compromise your home's safety. Moisture could even start spreading into your attic, ceiling and drywall. Clearing them out before that happens is essential for avoiding future complications.
Dirty, Grimy Siding - We recommend inspecting your siding for cracks first before going ahead with Colorado Springs pressure washing, because many homes are built with wood sheathing underneath the siding. If you have cracks in your siding, that wood will be susceptible to damage.
Tough Stains - Some tough grime stains can seep deep into concrete, whether your garage floor, driveway or pavement. They'll only get worse over time, but you can remove them with a deep clean from a professional handyman.
Bugs, Nests and Cobwebs - Bugs and other crawly things like to nest underneath your deck boards and vinyl siding. If you see a buildup of pests or nests, that may mean it's time for a deep clean.
Benefits of Colorado Springs Pressure Washing
This is more than just an exterior cleaning service. Pressure washing provides a wide range of benefits for any property in Colorado Springs that extends beyond just making everything more clean again.
Pressure washers:
Make surfaces more sanitary
Eliminate unsightly stains (diesel, oil, etc.)
Promote long-term health of exterior surfaces
Can prepare areas for refinishing, painting or staining
Boost home value
The best part about choosing Mr. Handyman as your pressure washing company is that we can take care of multiple jobs at the same time. Our experienced team at Mr. Handyman of Colorado Springs, S. Littleton and Parker brings many years of experience in helping out our community with a wide range of home maintenance, improvement and repair services, from pressure washing to fence repair to deck repair—and more. Colorado Springs CO homeowners can rest assured that we will save you tons of time when you choose our team, so you won't have to worry about any maintenance chores adding up on your to-do list.
Frequently Asked Questions—Colorado Springs Pressure Washing
Pressure washing may sound easy when you read about it, but when it comes to actually doing it right, you may scratch your head and start to think of additional questions. Fortunately, we have already answered some of Colorado Springs' frequently asked questions. If you don't see yours listed, feel free to give our friendly customer service reps a call!
PSI vs. GPM: What Matters Most?
They are both equally important. The amount of pressure produced and amount of water flow work in conjunction with each other. That said, the higher the GPM, the more surface area the washer can clean per minute. Generally, 3000 psi and 2.5 GPM are considered standard.
Can I Use My Garden Hose For Pressure Washing?
Colorado Springs, CO homeowners sometimes try to convert their garden hose into a high-pressure water hose. That's possible with certain hose extensions that will enable you to reach a psi of up to 250, but no more than that. It may not be ideal for your existing supply line either because it's not designed to supply you with that high amount of pressure.
Can I Pressure Wash By Myself?
Hardware stores do rent equipment to customers for as long as they need, but require it to be cleaned and refueled, which is often quite bothersome for customers. Furthermore, we don't recommend pressure washing anything without a close inspection from a knowledgeable expert. For example, if it's a dirty wooden fence, you might not be aware it's going through rot and decay. Or your gutters and soffits might be in bad shape and need replacement rather than pressure washing. You also might not want to use it on a painted wall as it could severely damage the paint. All those potential complications are why it's often best to leave pressure washing to the pros.
When Is Pressure Washing Out Of The Question?
There are many materials that are not suited for pressure washing, such as electrical panels and power metres that are mounted on your home's exterior. It really comes down to your pressure washer type and settings. For something like residential window cleaning or cleaning your car, you may want to consider using a less powerful option that won't cause damage—unless you rely on a pro who can correctly adjust their technique and their equipment to safely clean those surfaces.
A lot of the items mentioned previously may not always be suited for pressure washing either, which is why a thorough inspection of any surface is essential. The most common situation when it's out of the question is when we detect wood rot or decay. Crumbling mortar on an old brick patio, lead paint, old brick walls and aging vinyl siding are also all a serious concern when it comes to pressure washing.
Want the Exterior of Your Home to Shine Again? Call Mr. Handyman for Colorado Springs Pressure Washing!
Whether you're in Colorado Springs or a nearby area such as Monument, Palmer Lake or Fountain, you can trust the team of pressure washing professionals at Mr. Handyman of Colorado Springs, S. Littleton and Parker to deliver the highest standards of quality workmanship and excellent customer service. Whether you need commercial pressure washing or general home maintenance services, we will get the job done!
Pick up the phone and give us a call today to find out more about our reliable Colorado Springs handyman services or to schedule a convenient appointment time so we can take care of all the home remodeling, repair and maintenance tasks on your list.