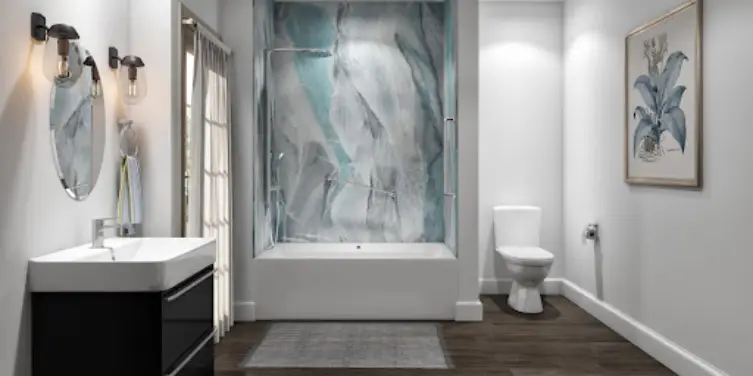 The bathroom is often simultaneously the most used and most overlooked room in Lehigh Valley homes. Many local homeowners simply don't realize that a well-executed plan for Lehigh Valley bathroom remodeling can take it from the room you always use and never think about, to your favorite place in the house.
With the help of an experienced and skilled handyman, your perfect bathroom remodeling results are a lot closer than you think. Planning a remodel is a big challenge, but it's also lots of fun. This is an opportunity to really put your personality and sense of style into your home—or choose a classic Lehigh Valley bathroom remodeling design that will add value when it comes time to sell.
Wondering where to start? If you're just beginning to put a plan together, you probably have lots of questions. Well, we have answers! This guide will give you the information and inspiration you need to take the first steps towards transforming your outdated bathroom into your own personal spa. Our Lehigh Valley handyman team is highly experienced with bathroom remodeling services in the area, from Allentown, PA to Philipsburg, NJ. You can rely on us for quality craftsmanship and customer service that goes above and beyond.
What Type of Bathrooms Are There?
It's a good idea to think about what type of bathroom will suit your Lehigh Valley home best. Of course, you're somewhat limited by the size and shape of the space you have available, but clever designs can fit a lot into even small areas.
Standard
Also called a full bath, this layout requires a toilet, at least one sink, and a shower, bathtub, or combination of the two. As you can probably guess from its name, this is by far the most common type and what most people think of. This style also includes ensuites (also known as a master bathroom, master bath, or a master suite). The difference is they can only be accessed from an adjoining room, like the master bedroom, and are often larger and more luxurious than a typical standard bath.
Half Bath
A Half bath, which is sometimes called a powder room, contains just a toilet and sink with no actual bathing fixtures. They're usually located on the main floor for guest use, especially in homes that don't have a full bath near the living room.
Wet
A wet room is a little more unusual, but growing in popularity with some Lehigh Valley homeowners. With this layout, there's no separation between the shower and the rest of the room: the entire room is waterproof. This can be a great option for saving space when the room is too tight for a shower curtain or door, and it's perfect when you're looking for a sleek, minimalistic look.
How Should I Budget for Bathroom Remodeling Costs?
Labor costs will be a big part of your overall bathroom remodel cost, but what other elements and features do you need to consider when planning out how much to spend? Make a list of every aspect of the room so you have a clear idea of what you'll need to purchase—you'll be glad you paid attention to the details.
Your list may include elements such as:
Drywall
Toilet
Bidet
Vanity
Vanity top/sink
Vanity fixture
Bathtub
Step-in shower
ADA shower
Bench seat
Grab bars
Fiberglass tub/shower walls
Shower wall tile
Other alternative tub/shower walls
Soap dish/niche
Bathroom floor, tile/waterproof vinyl plank flooring
Flooring transition from bath to next room
Shower door
Shower curtain
Tub/shower fixture
Showerhead
Storage space/closet
Medicine cabinets
Mirror
Towel racks
Toilet paper holder
Accessories
Exhaust fan with or without light
New electrical, GFCI, etc.
Light fixtures
Windows and doors
Paint and finishes
Base and door trim
Heated flooring
HVAC
Sonic Tub/Skylight
Plumbing access
Decor
How Do I Determine the Layout of My New Bathroom Design?
Before you start planning a whole new layout, keep in mind that moving bathroom fixtures around can be quite costly. Most designs for a bathroom renovation in Lehigh Valley homes follow one of a handful of tried-and-true layouts that are designed to optimize space in what is usually a pretty small room. If you're fine with your layout as it currently is, you can save money, time, and hassle by keeping fixtures in the same place.
But, if you want or need a new layout for your custom bathroom remodeling plan, always consider functionality over form. The toilet might look great next to your window—until you realize you're putting on a show for the entire Lehigh Valley. Make sure there's plenty of room to move and access each fixture. And don't forget to do what you can to make it easy to keep your new bathroom clean, since there's already enough hard-to-reach places in the space as it is.
Sketch Out Your Floor Plan
If you're changing your layout, the first thing you should do is get a pencil and paper and sketch out a bird's eye view of a rough floor plan. If you aren't artistically inclined, don't worry—this definitely doesn't have to be a masterpiece. Simply seeing the room laid out on paper can go a long way towards helping you visualize it, identify possible areas of concern, and remember to add that feature you really wanted. It's also helpful to give your Lehigh Valley bathroom remodeling team a clear idea of what you want for your home, so everyone is on the same page.
Tub to Shower Conversion
Do you use your bathtub as a place to stand while you take a shower? If you don't like baths and never use the tub, get rid of it! That space can be used for an extra-large, luxurious shower with all the bells and whistles, like a tiled-in bench seat and cubby shelves for shampoo bottles.
Where Should Lighting Be Placed for My Bathroom Makeover?
Your bathroom is, above all, a very utilitarian space, so it's particularly important that you are able to see what you're doing. If you only have a single light in the room currently, or there is more than one but they aren't situated to shine light into all the areas that need illuminating, bathroom remodeling is the perfect time to add a few lighting fixtures. Along with overhead ambient lighting, you should have task lighting focused on the vanity area and a light that reaches all the way into the shower. You may not be able to get a light fixture right in or above the shower, but it should be near enough to brighten up all the corners in the shower stall.
It's also really important to make sure you have adequate ventilation such as a bathroom fan. The room becomes steamy when you have a hot shower. That steam can condense on surfaces and cause serious moisture problems, such as mold, mildew, and wood rot, that will affect the structural stability and air quality of the house.
What Materials Should I Choose for the Remodel?
So. Many. Materials. The huge array of options available for your Lehigh Valley bathroom remodeling project can quickly get overwhelming. Even just one element such as tile has a vast choice of colors, textures, sizes, styles and shapes.
When you're trying to decide on visible surface materials, here are a few questions to ask yourself:
Am I willing to spend more on luxury materials?
Is appearance or function more important to me?
How much maintenance am I willing to do?
What style am I going for? (For example contemporary, classic, minimal, rustic, bohemian, vintage etc.)
Remember, you don't have to make all these decisions on your own. An experienced Lehigh Valley bathroom remodeling team will be able to provide advice and input based on your unique needs. Mr. Handyman of Easton, Bethlehem, Nazareth, Allentown, and the Lehigh Valley also has a showroom in Easton, PA, located right off the Lehigh Valley Thruway, where you can see and touch a variety of materials in person, so it's a lot easier to make an informed choice.
What Type of Tile is Best for Lehigh Valley Bathroom Remodeling?
Most bathrooms feature tile on walls and/or floors, for good reason—it's durable, long-lasting, attractive, and protects against moisture. If you've begun to look at the many options available for Lehigh Valley homeowners, you may need a few tips to help narrow it down. Check out our list of questions you should ask before tile installation and replacement.
Glass tile is too delicate for the floor, but it adds depth and visual interest when used on the wall. Glass can be on the more costly side, but even just a small strip of glass tile as a wall accent can go a long way towards enhancing the room's appearance. Ceramic or porcelain are the most popular choices for floors and walls in Lehigh Valley homes, including inside a tiled shower. They are highly durable and virtually maintenance-free and come in many different colors and styles that give you the chance to express your design taste.
If you're tired of standing on ice-cold tile with your bare feet, first thing in the morning, in-floor heating may be the perfect solution. Radiant heating will keep the floor toasty warm and help to heat up the entire room.
What Else Should I Consider for My Lehigh Valley Bathroom Remodel?
One consideration that often gets overlooked while planning a Lehigh Valley bathroom remodeling project is thinking about how you will use the bathroom in the future.
Planning on having children? You'll want to install a bathtub—toddlers are slippery! Approaching your golden years and want to age in place? Safety and mobility amenities can allow you to do just that. Accessible bathroom remodeling options include a walk-in tub, a raised toilet, barrier-free shower bases, a shower seat, and grab bars in convenient locations.
Thinking of selling your Lehigh Valley home? Go with a tasteful, classic look, so prospective buyers can imagine themselves using the room. If you aren't sure how to accomplish that, white floors and walls are a good place to start. In fact, all-white bathrooms are one of the longer-lived bathroom remodeling design trends because an all-white scheme creates a crisp, uncomplicated, modern appearance. If all-white is too bland for your personal tastes, remember you can spice it up with textiles, artwork, and bathroom accessories that will offer a splash of color.
Add a Little Luxury for the Finishing Touches
Finally, don't forget to add in at least one luxury item that you've always wanted in your home to take your Lehigh Valley bathroom remodeling plan to the next level. If you're concerned about budget, remember it doesn't necessarily need to be a huge, expensive item to still give you a feeling of being pampered. Making room for something that falls into the "want" category rather than the "need" category will increase your satisfaction and transform your bathroom into the ideal place to relax.
Need some inspiration for the perfect luxury addition? Here are a few ideas to get you thinking:
Wall-mounted fixtures such as a toilet or sink
A TV mounted on the wall so you can watch television in the bathtub
A "hot tub" style bath with massaging jets, or a standalone soaking tub
A gas-powered fireplace set in the wall to keep the room warm and cozy
Warming towel racks
A double vanity table with a seat and lighted mirror for applying cosmetics
We Are Your Local Bathroom Remodeling Experts in the Lehigh Valley!
When you've got a decent idea of how you want your dream bathroom remodeling process to go, the renovation experts at Mr. Handyman of Easton, Bethlehem, Nazareth, Allentown, and the Lehigh Valley can turn that dream into a reality. Our Lehigh Valley handyman team takes great pride in providing quality workmanship and has the skill to remodel your bathroom from scratch, floor to ceiling. We can even help with kitchen remodeling too! We happily serve Bethlehem, Allentown, and many nearby areas.
Pick up the phone and contact us. Hercules the dog is standing by to take your call. (Just kidding! His phone manners are awful, so we'll get our friendly customer service staff to let you know all the ways we can help with your bathroom remodel project.)