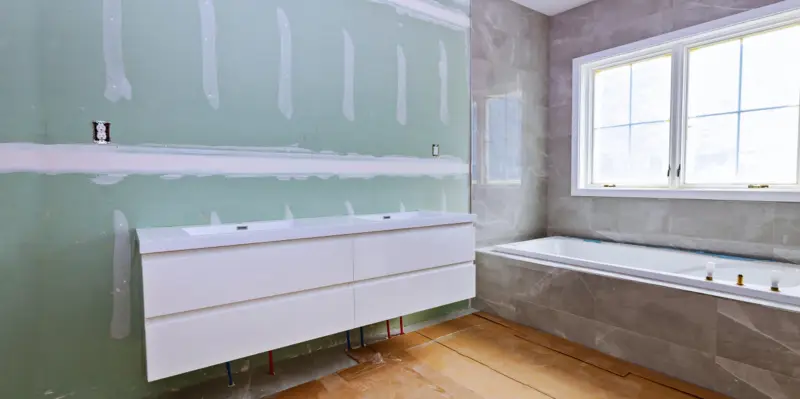 The bathroom is the place where you get ready to face the world and put your best foot forward, and also the place where you come to wash away the stresses and worries of the day. It should be like your own personal spa, a haven of relaxation and rejuvenation that is perfectly functioning, beautifully appointed and tailored to suit the unique needs of you and your family. But if your bathroom falls short of that ideal, it may feel more like a dingy little room that you don't enjoy using and can't wait to leave. A bathroom remodeling project could remedy that situation.
If your situation is closer to dingy than delightful, don't despair—your dream bathroom is actually a lot closer than you think with Cincinnati bathroom remodeling services from a qualified handyman. When your bathroom isn't meeting the needs of your household, doesn't work properly or is just plain ugly and outdated, it's time to get started on planning a bathroom remodel in Cincinnati, OH. The planning process can be a big challenge, but it's also lots of fun and an opportunity to infuse your home with your own personal style.
This guide features answers to some commonly asked questions about planning a bathroom remodel, complete with expert advice from your local Cincinnati handyman team. When you've got a pretty good idea of how you want your bathroom to look and you're ready to start swinging the sledgehammer, count on the team of experienced service professionals at Mr. Handyman of Greater Cincinnati to take care of the entire project efficiently and effectively.
How Do I Plan a Layout for a Bathroom Remodel in Cincinnati, OH?
When you're paging through remodeling magazines or online galleries looking for design inspiration, it's pretty easy to get caught up looking at all those glossy, airbrushed photos of incredible bathrooms—and completely forget to consider what your household in Cincinnati actually needs and wants out of your renovation. During the preliminary planning, the biggest favor you can do yourself is taking your time and giving some careful consideration to how exactly you want the end result to look and function.
Remember that you don't necessarily have to change your layout during your remodel. Most bathrooms follow one of a handful of standard bathroom layouts that are designed to maximize space in what is usually a small or downright tiny room. For example, if you have a long, narrow rectangle with a door at one end, you've probably got your sink closest to the door, then your toilet, and your shower and/or bathtub at the back—and there are not a lot of ways to deviate from that. It's also a lot more costly to relocate bathroom fixtures than it is to simply put a new fixture where the old one used to be, so if you don't mind your existing bathroom floorplan and are looking for ways to stay on budget, it makes sense to leave it as-is.
Sketch Your Floor Plan
If your current layout is simply not working for you, your Cincinnati bathroom remodeling project is the right time to come up with a better floor plan that will make the room easier to use and more pleasant to be in. It's a really good idea to sit down with a pencil and paper and just sketch out a simple top-down view of what you're thinking. It doesn't have to be a flawless artistic masterpiece or anything like that, but seeing your plan laid out in front of you can be extremely helpful for noticing potential trouble areas. Remember that you need as much space as possible to move around, and privacy is also a concern if you've got a window that people could potentially see into from the outside. Sketching your floor plan will also help your bathroom remodelers understand exactly what you're looking for so there's no miscommunication.
How Do I Make a Cincinnati Bathroom Remodeling Budget?
The budget is, of course, a pretty important part of the process. Many people want to know the average cost of a bathroom remodel in Cincinnati (or in the U.S.)—and for the record, the average is around $10,000. But that's probably not very helpful for your specific plans because there's such a wide range of potential price points, from just a couple thousand dollars to breezing right past $30,000. If you're working with a tight budget, keep in mind that you don't necessarily need to tear your entire room down to the wall studs and subfloor and then rebuild the entire thing. Sometimes just focusing on one or two areas, such as converting a tub-shower combo into a large, luxurious walk-in shower, can give you the appearance or function change you've been looking for.
List Everything
When you're working on your remodeling budget, it's a good idea to make a long list of absolutely everything you'll need for your new room. You may think you already know exactly what you'll need, but it's easy to overlook something small—or not-so-small. Your list will naturally vary depending on your unique Cincinnati bathroom remodeling plan, but it may include items and materials such as:
Drywall
Paint
Wall tile and floor tile
Lighting fixtures
Ventilation
Toilet
Bathroom vanity
Mirror
Sink(s)
Shower head
Shower doors
Bathtub
Bathroom cabinets and other types of storage space
Medicine cabinet
Under-sink cabinets
Towel bars
Toilet paper holder
Waste basket
Towels, bath mat and other textiles
Plants, artwork and décor
Expect the Unexpected
You may have the best intentions for sticking to your budget and have every last thing planned out to the dollar—but despite those efforts, unexpected expenses have a way of popping up during the renovation process. Sometimes that's because a homeowner changes their mind part way through or a contractor makes an error, but quite often it's because surprise damage is uncovered that needs to be dealt with. For example, your Cincinnati handyman may remove your tub and discover that the walls and subfloor underneath have suffered serious water damage that is compromising the floor joists. That's unsafe and can't just be covered back up again without correction. The best practice to avoid a nasty hit to your budget is to plan for the unexpected by adding a cushion of about 20 to 30% more than you think you'll need for the project. That way, you can deal with any surprise costs or setbacks without stressing.
What Materials Should I Pick for a Cincinnati Bathroom Remodeling Project?
The materials and finishings you choose for Cincinnati bathroom remodeling can absolutely make or break your project. Start by imagining how you want the room to look when it's all finished, and then work backward from there. If you're trying to keep your choices budget-friendly, finishing materials are a good place to cut costs. Not that you should choose poor-quality, inferior products—of course you want durable, appealing, high-quality materials. But if you're thinking about luxury materials, you can save quite a bit of money by going with less costly options that mimic that style or look. For example, if you love the idea of marble countertops but they're out of your price range and you don't want something that is susceptible to chipping and staining, quartz is a great alternative. It may not have the same luxury style, but it's still attractive, durable and low-maintenance with a much lower price point.
Ask Yourself the Right Questions
If you've begun looking around at some of the available options, you may be feeling a little overwhelmed by the sheer volume of choices. If you ask yourself a few questions and give the answers some careful thought, you can narrow it down to the right choices for your home and household. Here are some questions to ponder:
What style am I going for? (For example, rustic, old-fashioned, elegant, modern, minimalist, bohemian, etc.)
What is my color scheme? (The 60-30-10 trick is a good rule of thumb to get you started, meaning about 60% of the room will be your primary color, 30% will be a complementary secondary color and 10% will be a contrasting accent color)
What's most important to me, appearance or durability and performance? (It's not always one or the other, but identifying your main priorities can make the selection process a lot simpler)
What Else Do I Need to Think About When Planning a Bathroom Remodel in Cincinnati, OH?
We've covered the big topics of floor plan, budget and materials—what else is there? There's a lot that can go into your Cincinnati bathroom remodeling plan, especially if you're thinking about a major overhaul. Here are a few other considerations that are worthy of your time and attention.
Lighting and Ventilation
Both lighting and proper ventilation are really critical for a bathroom remodel in Cincinnati, OH, but they're often forgotten during the planning process. This is a utilitarian space above all else, so it's important that you can actually see what you're doing in there. You probably already have an overhead light, but you can make a big difference with some strategically placed task lighting around the mirror or brightening up the shower. You may not be able to have a fixture directly over the shower, but it should be close enough to cast adequate light into the shower stall.
Ventilation is really important because the room gets steamed up whenever you take a hot shower, and that steam needs to be vented outside. If it's not, it will condense on surfaces and seep in, causing major water damage issues like wood rot. A window that opens is probably sufficient—provided you're willing to open it in winter—but if you don't have one, you'll need a ventilation fan installed.
Tub to Shower Conversion
Thinking about ditching your bathtub? If you really don't enjoy taking baths and you just use it as a place to stand while taking a shower, then it's worth considering getting rid of the tub altogether and replacing it with an extra large shower that features all the bells and whistles. You could get a glass shower partition, a rainfall shower head that makes you feel like you're in a jungle grotto, extra jets, grab bars, a tiled shower bench . . . the possibilities are endless. But if you don't have another bathtub elsewhere in the house, there are two situations where you might just want to hang on to your tub after all:
If you are planning to have small children living in your house in the near future, it's probably best to keep the bathtub. It can be very difficult to bathe toddlers in a shower as they are far away from the shower head, unsteady on their feet and frankly, they're slippery.
If you are likely going to put your house up for sale within the next few years, hold on to the tub. The majority of prospective home buyers want at least one tub in the house, so if you don't have one, it could lower property value and make it more difficult to seal the deal.
Add a Little Luxury
Finally, don't forget to treat yourself to a little luxury in the form of a feature or amenity you've always wanted to have. It could be something big like a jetted tub, or it could be something smaller such as a heated towel rack. Adding in a touch of luxury will increase your satisfaction with the finished project and make it all feel worthwhile in the end.
Got Your Cincinnati Bathroom Remodeling Plan Ready? Call Your Local Handyman to Get It Done!
Whether you're in Cincinnati, OH or a nearby area such as Mason, West Chester or Blue Ash, you can rely on Mr. Handyman of Greater Cincinnati to provide the services and information you need for remodeling projects. We are proud to deliver the highest standards of workmanship and customer satisfaction on every job.
Pick up the phone and give us a call today to find out more about our residential services and commercial services in Cincinnati, or to schedule an appointment for service at a time that's convenient for you.