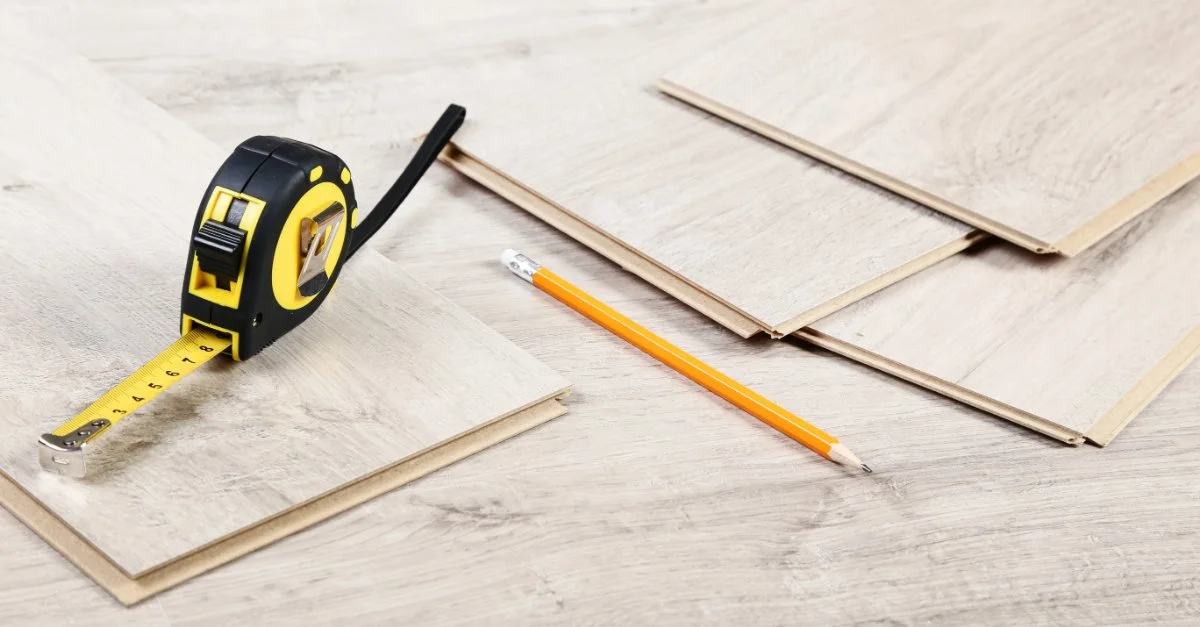 Flooring damage is common, but that doesn't mean you have to live with it. If your flooring is scratched, chipped or warped, contact our Cincinnati handyman team about our expert Cincinnati floor repair service. Our service professionals have years of experience in the handyman and carpentry industries and have repaired countless Cincinnati floors. Thanks to our free on-site estimates and quality workmanship guarantee, many Cincinnati property owners have trusted us with their flooring repair needs since we first opened our doors in 2003.
To discuss your flooring repair needs or arrange an appointment for an on-site estimate, we encourage you to get in touch with us directly. For more information about all that our expert Cincinnati floor repair service entails, we've provided more details below.
What To Expect From Our Cincinnati Floor Repair Service
At Mr. Handyman of Greater Cincinnati, we typically perform repairs and installations for homeowners with tile, laminate and vinyl plank flooring. Our repair methods depend on two factors: the type of floor and the type of damage.
Types Of Floor Repair In Cincinnati, OH
Surface damage and structural damage are the two types of damage we typically see. To repair surface damage, such as scratches on laminate boards or chips on tile, we may use one of the following repair techniques:
Tile surface damage: For a tile repair, we'll try to repair chips and cracks with a filler. For ceramic tile, a ceramic filler is an ideal choice, but for other types of tile, epoxy or caulking may be better options. Our handymen have the experience to determine the right product for your floor repairs.
Laminate and vinyl surface damage: Laminate and vinyl planks can't undergo surface refinishing as wooden boards would, due to them not being real wood. Sanding the surface would remove the wood image, as both of these products are manufactured with finishes printed on them. Instead, you have a couple of options: laminate flooring compound filler or stain pens. We'll apply laminate filler to the scratch or gouge in a color that matches your flooring using a putty knife. For vinyl, stain pens do a good job of disguising the scratch. However, these pens tend to look better on scratches that go along the grain and on darker wood.
Want the damage fixed completely rather than disguising it with fillers and stains? We can also replace individual boards and tiles. This is also the recommended option if your Cincinnati floor repair involves major structural damage, such as water damage, an uneven floor, a sagging or buckling floor and deeply cracked tile.
To be able to do this more comprehensive type of Cincinnati floor repair, we'll need you to supply us with matching pieces of laminate flooring, vinyl flooring or tile. When purchasing flooring, you're generally advised to purchase more than you need in the case of an accident during installation. Many homeowners therefore have extra boards or tiles in their garage or basement that come in handy for repairs.
To replace individual tiles, we'll take the following steps:
Using a scoring tool, we'll remove the grout between the damaged tile and the surrounding tiles.
With a power drill, we'll drill holes in the tiles to help loosen them from the underlayment.
Using a chisel, we'll gently tap the tile to dislodge it in small pieces. Using the right amount of pressure is crucial to avoid damaging surrounding tiles.
With the old tile out of the way, we'll apply thinset to the new tile and grout just as we would during a full tile installation.
To replace individual laminate or vinyl tongue-and-groove boards, we'll use one of the following repair techniques:
Damaged board near wall: The easiest way to replace a board near your wall is to remove your baseboards, remove the surrounding planks and then replace the damaged board with a new one. We'll then replace the other boards so they're back where they were before, and we'll reattach your baseboards.
Damaged board near center of room: Instead of removing all of your flooring between the damaged board and your wall, we'll carefully cut the damaged board out. To replace it with a new one, we'll need to remove the tongue on two sides of the board. To ensure it stays where it belongs, we'll also apply an adhesive.
The Flooring Repair Process From Beginning To End
Trusting your home's flooring to a stranger can be daunting, but we aim to make the experience as seamless as possible to give you the greatest peace of mind. From beginning to end, we'll make sure that you're kept in the loop and we won't take action until you give us the go-ahead.
We tailor our Cincinnati floor repair to each customer's unique needs, so every service looks a little different. That being said, we still follow a similar set of steps with every customer to ensure every appointment goes off without a hitch:
Flooring repair consultation: Our customers usually get in touch with us by phone, but we provide you the option to request service online. On this form, you'll fill out your contact information and your project details. You'll also have the option to upload images of your damaged flooring so that we can see the extent of the issue. You can also submit your preferred time for service. Following submission, our team will give you a call as soon as possible.
On-site estimate: In some circumstances, we may be able to provide a project estimate over the phone, but most of the time we prefer to check out your Cincinnati floor repair needs in person. This allows us to get all the information we need to provide you with an accurate estimate. These on-site estimates are always free and come with no-obligation.
Service appointment: Once you've decided you'd like to go ahead with our Cincinnati floor repair service, we'll schedule your service appointment. On the day, we will show up in a big Mr. Handyman truck or van filled with all the tools and equipment we'll need to complete your flooring repair. Your service professional will greet you, explain what they're there to do, and slip on some disposable booties to protect your home. If you don't have any remaining questions, they'll get straight to work.
Appointment conclusion: After the repair is complete, your handyman will show you the result to make sure you're satisfied. Assuming you are, they'll pack up their tools and clean up any mess made so that they leave your home looking just as great as it did when they arrived.
Post-service: We take customer satisfaction very seriously. Although our handyman team takes great pride in their work, if you're unsatisfied with the quality of workmanship for any reason, we encourage you to get in touch with us and we'll send someone out right away to fix the problem.
You Can't Go Wrong Choosing Mr. Handyman For Cincinnati Floor Repair
In the nearly 20 years we've been serving the Cincinnati community, we've developed a reputation for quality, reliability and unparalleled customer service. Not only do we serve residents within the city limits, but we also proudly serve homeowners and commercial property owners within several of the surrounding areas, including Mason, Blue Ash and Landen.
Unlike flooring contractors, we can do so much more than just floor installation and floor repair in Cincinnati, OH. Instead of hiring multiple contractors, you can hire us to find effective solutions for all your home repair needs at once!
Our technicians are fully insured and have an average of 10 years' experience under their belts. During the hiring process, we also look for handyman professionals who are personable and enjoy working with customers. It's important that you feel comfortable having our service professionals in your home, and based on the positive feedback we've received through customer reviews, we believe we've achieved that.
Join other homeowners like you to find out for yourself why we're a leading choice for floor repair in Cincinnati, OH!
Cincinnati Floor Repair FAQs
Will My Homeowner's Insurance Cover Floor Repair In Cincinnati, OH?
Your homeowner's insurance policy probably doesn't cover the cost of a Cincinnati floor repair, but it depends on the cause of your floor damage. If the damage occurred due to an unexpected burst pipe or an appliance malfunction, leading to sudden water damage, you may be able to make a claim. Damage caused by flooding, outdoor plumbing issues or a lack of maintenance is generally not covered unless you've arranged to pay a higher premium for some of these extra add-ons.
Contact your insurance company directly to find out what you are and aren't covered for.
When Is It Better To Replace The Entire Floor Rather Than Individual Boards?
This often comes down to a judgment call. Some questions to ask yourself when deciding between a Cincinnati floor repair or replacement include:
How much damage is there? Are your floors completely scratched up or chipped? If you need more than a third of your flooring repaired, it may be in your best interest to go ahead and get it replaced.
What type of damage is it? If your plank flooring is buckling in several places, there's an issue with the subfloor or underlayment. All flooring will need to be removed to correct this issue, otherwise you could find yourself with major moisture damage on your hands.
Do I still like my flooring? If you find your flooring outdated and are tired of working around it, it's worth considering putting the money you'd spend on repairs towards a new installation.
Still not sure which option is right for you? Our handyman professionals can use their knowledge and experience to give you some recommendations.
How Do I Know If My Subfloor Needs To Be Replaced?
It's hard to know exactly what's going on with your subfloor without ripping out your flooring, but some warning signs include:
Uneven floors
Squeaking
Shifting
Buckling
Cracking tile
Bubbling vinyl
If you have any of these issues, it may be best to skip your Cincinnati floor repair service and get straight to the bottom of the problem.
Can I Do Flooring Repair On My Own?
Technically speaking, there are many types of home improvement projects that homeowners can do. As long as you're not changing your home's plumbing or electrical infrastructure, or modifying your house in some way that requires you to apply for a building permit, you can technically do whatever you'd like.
However, whether you can do a given project on your own well is another matter entirely. If you've never done flooring repair before and you want to ensure that the end result meets your standards, we encourage you to get in touch with our team. Our Cincinnati floor repair service comes with a quality workmanship warranty, so we can guarantee that it'll meet your expectations.
Will Floor Repair In Cincinnati, OH Increase My Property Value?
We can't say for sure without seeing your home or being trained by realtors, but homes without obvious signs of disrepair tend to appeal more to homebuyers. The more updated and cared-for your home looks, the more buyers you'll have and the more your home may sell for.
Keep in mind that the type of flooring you have also makes a difference. Well-maintained orange shag carpet won't likely do as well as slightly scratched-up luxury vinyl plank. For detailed estimates on your ROI (return on investment), contact a real estate agent in your local area.
Get Your Flooring Looking New Again By Booking Your Cincinnati Floor Repair Today!
As soon as you notice your tile, laminate or vinyl is damaged, contact our expert team at Mr. Handyman of Greater Cincinnati about our Cincinnati floor repair service. The longer you wait, the more likely subfloor damage is, resulting in more costly repairs.
If you have any additional questions about our Cincinnati floor repair service, don't hesitate to get in touch with our knowledgeable office team and they'll be happy to discuss your concerns and your project in more detail. We look forward to welcoming you to the Mr. Handyman community!