Does Your Lehi Home Need Deck Repair? Here are the Signs to Look For: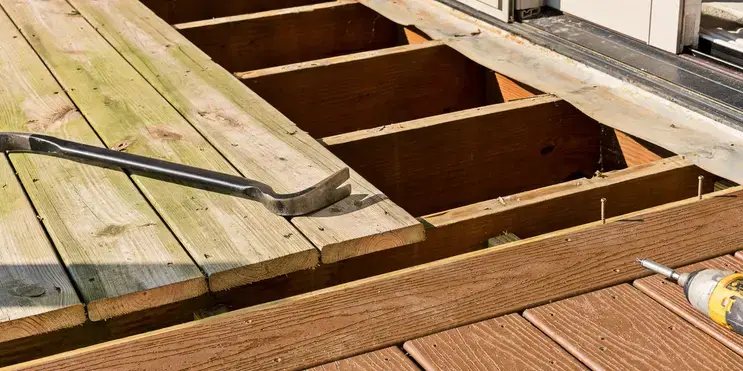 The residents of Lehi, UT, enjoy a warm season that starts in spring and lasts all the way through fall most years. That makes the backyard deck a very important part of most Lehi houses. From grilling dinner and watching the kids and dogs chase each other around the yard to socializing with friends and family or kicking back to soak up some sunshine, it's an absolutely indispensable part of summer fun—as long as your structure is in good condition and not desperate for deck repair services from a local handyman.
When your deck is riddled with wood rot and covered in problems such as popping nails, peeling paint, loose railings, and sagging steps, it's not just an unsightly cosmetic issue—although it's certainly not doing your curb appeal any favors. That damage is also creating unsafe situations that could lead to injury for your family or guests. Some kinds of damage can also worsen and spread, which means it's important to get deck repair services as soon as possible before it spirals into a much bigger problem.
If you've noticed some of the signs that you need deck repair in Lehi, UT, or nearby communities, turn to your local Lehi handyman for experienced, efficient service. The experts at Mr. Handyman of Lehi, Provo, and Spanish Fork take great pride in delivering the highest standards of quality workmanship and dependable customer service. You can rely on us to take care of the entire deck repair process from start to finish, leaving your outdoor space in excellent condition and ready for summer.
What Caused the Damage that Requires Deck Repair Services?
Sometimes you know precisely how the damage occurred—maybe a car jumped the curb and plowed into the structure, maybe there was a severe hailstorm or some other type of sudden damage—but more often than not, the source of damage that requires deck repair is not so obvious. That's because deterioration starts small and worsens as the years go by, so homeowners often don't realize how bad it has gotten until it's too late to avoid replacement or a serious situation like injury or collapse.
Timber is a very popular material for deck building, and it makes perfect sense that it continues to be chosen by builders and homeowners alike. It's beautiful, durable, readily available, renewable, and easy to work with. However, a wood deck does have a major weakness: it's highly susceptible to wood rot if it doesn't get adequate maintenance and refinishing over time.
The reason timber used for outdoor surfaces and items is so prone to rot because wood rot is a type of decay that only affects timber with an elevated moisture content of 20% or higher. Outdoor living spaces such as your deck are exposed to the elements, so they are vulnerable to water damage such as wood rot. At the same time, timber that remains completely dry indoors can stay virtually unchanged for more than a century.
Our handyman professionals won't know what caused the issue with your particular structure until we've had a chance to assess it and come up with a deck repair strategy that will get it back in excellent condition. However, if you have a wooden deck, there's a good chance that the damage relates back to wood rot in some way. Decayed timber softens and crumbles apart, which can cause severe structural damage when it afflicts support beams and posts. It is also capable of spreading (some varieties can even travel across non-timber surfaces such as masonry to find new patches of wood to infest), so it's well worth finding it and having your handyman put a stop to it as soon as possible.
What are the Signs You Need Deck Repair in Lehi, UT?
If you've got damage to your structure, it's probably no secret to you—but you may be wondering if you really need deck repair right now or if you can just put it off for a year or two, or maybe three. The sooner you get those issues dealt with, the easier and less time-consuming the whole process will be, and the sooner you can get out there and enjoy your deck again. Here are the top symptoms that your property is crying out for deck repair in Lehi, UT.
1. Peeling Paint or Flaking Wood Stain
Is the paint or solid stain peeling off your deck boards in strips or flaking away in big chunks? That's one of the earliest signs that your timber has a high moisture content, and when moisture content goes up, wood rot is usually not far behind. Damp timber swells, pushing on paint or stain from underneath and causing it to blister, then crack and peel away or flake off. Paint or stain and a top coat of sealant help to lock moisture out, so once they're gone, the wood is even more vulnerable to further water incursion.
Sanding away all that peeling paint would take ages, even with a power sander. Pressure washing is a more efficient and effective way to prime surfaces for refinishing. A power wash machine produces pressures that range from about 750 to 3,000 psi (pound-force per square inch) which is strong enough to blast away peeling paint, stains, algae and moss growth and built-up grime that other cleaning methods just can't budge. Our handyman team will take care of deck repair by stripping away the old finishing and applying a fresh coat of paint or solid stain, then following it up with sealant to keep it protected.
2. Splintery Gray Wood
Once timber loses the protection it had from paint and sealant—or if it never had that protection in the first place—it begins to look gray and weathered. Next, it starts to splinter apart into jagged little spikes. If you're afraid to step outside on your deck in bare feet, your structure is probably at this stage. Next up is softening and crumbling, so it's ideal to halt the decay process while you still can.
There are two possible deck repair strategies here: if the splintering isn't too severe yet, the wood can be sanded down to expose the fresh, un-weathered timber underneath. Your handyman can then apply paint or stain and sealant to block moisture. If the damage is more severe and can't be restored just by sanding, it may be necessary to replace the planks that are in bad shape. You may also notice that gaps between boards on your deck surface seem a lot wider than they originally did. Shrinkage can happen because boards are taking on water and then drying out repeatedly, so it's a symptom of water damage that needs to be halted.
3. Surface Covered in Grime and Algae
If your deck is not looking its best because it's covered in a thick layer of dirt and grime build-up or a slick, slippery coating of algae growth, that is a clear sign you need professional deck repair services. The grime and algae make your outdoor space a lot less appealing and inviting—it's not really the kind of place you want to let family and friends hang out. But all that grime and algae can also have some negative effects on your structure. It traps moisture and harbors harmful bacteria that eat away at the paint and other finishes, leaving the material underneath prone to water damage such as, of course, wood rot. It can also disguise other warning signs of trouble. Pressure washing will take care of this particular deck repair problem, and we'll also take care of refinishing as well to make sure your boards are protected. We can get your deck looking as good as the day it was installed, along with a lot of other outdoor surfaces and items such as driveways, sheds, large sports and play equipment, pathways, siding, and more.
4. Loose, Weakened Railings
It makes sense for a deck that rises one or more stories above the ground to feature a solid, secure railing that will prevent someone from accidentally falling off the edge of the structure. But even if your deck is nearly level with the ground, a loose, wobbly railing could cause injury if someone leans on it expecting it to hold their weight and it collapses, taking them along with it. Sometimes this issue can be due to stripped screw holes or popping nails where the railing is connected to the wall or another section of railing. If that is the cause, we may be able to re-secure by drilling new holes. However, if the wood rot has weakened the timber of the railing, it makes more sense to replace the railing with a new, solid handrail.
5. Creaky or Sagging Steps
Do your steps creak and groan or sag when they're stepped on? Stairs take a lot of wear and tear damage because people tend to stomp up and down without even realizing they're doing it. It's easy enough to take a tumble down the steps; you don't need the added hazard of deterioration to trip you up. Minor damage like loose boards can be dealt with quickly by a deck repair handyman, but if the damage is more serious, replacement is likely the best way to restore function and appeal to that part of your outdoor living space.
6. Excessive Water Around Footings
It's easy enough to stroll out on your deck and have a look around, but when you're looking for signs that you may need deck repair, it's important to check the places that are more difficult to reach as well. The overall structure is probably supported by deck posts reinforced by concrete footings that are buried underground. Over time, soil can shift around due to landscaping changes or harsh weather patterns, and water can begin to pool around posts and footings. That causes the concrete to weaken and crack, exposes the posts to moisture and wood rot, and washes soil away from the posts, so they aren't as supported. Since the posts are holding the entire structure up, these are dangerous problems that need to be addressed by a repair professional.
7. Deck Leaning Away from House
Whether your deck rises multiple stories from the ground or just a few feet, it should be right up next to your house without any significant gaps. If there is a widening gap between the structure and the exterior wall of your house, that's definitely a cause for concern, and it needs to be handled by a deck repair professional. It could be happening because wood rot has caused supporting posts to weaken, thus causing them to lean away from the house. It could also be the result of faulty installation where the posts aren't buried deep enough, or the structure wasn't adequately fastened to the house. This issue is serious and could lead to a collapse, so it's best to get it checked out before you continue to use the structure.
Trust Your Local Handyman for Expert Deck Repair Services!
Whether you are in Lehi, UT, or another part of this area such as Eagle Mountain, Provo, or Spanish Fork, you can rely on the team of professionals at Mr. Handyman of Lehi, Provo, and Spanish Fork for excellent workmanship and customer service that goes the extra mile.
If you'd like to schedule an appointment at a convenient time or find out more about our reliable handyman services in Lehi, UT, give us a call today to speak with our friendly customer service staff and get all your questions about our home repair, maintenance, and improvement services answered.