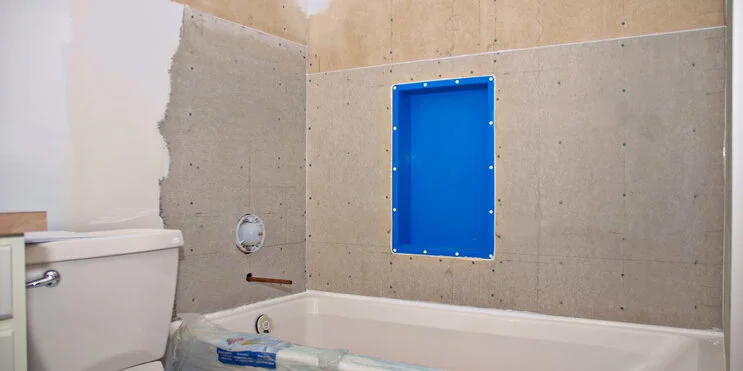 Though many of us spend a significant amount of time in our bathrooms each day, they're often at the bottom of the priority list when it comes to home design. If your bathroom is drab and outdated, it's time to consider undertaking a bathroom remodel.
Whether you plan to be in your home long-term or put it on the market, an upgrade is in your best interest. Bathrooms can serve as a place of refuge and relaxation in the small moments between tasks on a neverending list of responsibilities, so why not make it into a space you enjoy? Plus, when you decide to sell, an updated bathroom will increase the resale value of your home.
Bathroom remodels have a reputation for being a costly, challenging, and time-consuming project—but they don't have to be. A Lehi handyman from Mr. Handyman of Lehi, Provo, and Spanish Fork can help make your dream bathroom a reality. In this guide, you'll learn:
How to prepare for a bathroom remodeling project
Important considerations to make when planning the design
Stages of the remodeling process
When to call in the help of professional Lehi bathroom remodeling contractors
And lots of budget-friendly tips along the way!
Preparing for a Bathroom Remodel
The key to a successful bathroom remodel in Lehi, UT, is all in the planning. Without establishing a detailed plan before you get started, you could find yourself with a bathroom that doesn't really meet your needs or end up spending more than you can afford.
Establish a Budget
Very few of us have the resources for an unlimited budget. If you do, great! If you're like the rest of us and need to set a limit on how much you can spend, you'll need to take the time to add up the expected costs in advance.
Your budget will determine the scale of the changes you can make. If you just want to change the tile, slap on a new paint color, and switch out the fixtures, you can get by with a pretty limited budget. More major demolition projects that involve changing the vanity, toilet, and tub or shower will cost much more.
The size of the bathroom, or the square footage, will also influence your budget. The average cost of a total bathroom remodel is about $120 to $275 per square foot. So, if your bathroom is very small, you can easily spend under $5000 in total. For master bathrooms, you're looking at somewhere between $10,000 and $35,000. Of course, the cost will always vary based on the specific improvements you get done and the state of your current bathroom.
These cost estimates are based on comprehensive bathroom remodels, so by only changing some of the features, you can bring that number lower. You may not be able to have it all, so prioritize what's important to you. And don't forget to set aside a little extra cash in case you do go over budget.
Pick a Design Style
To get a cohesive end result, you'll need to establish a clear idea about the kind of style you want your bathroom to convey. It's common to see two products you like on their own, but when you put them next to each other, you find out that they don't really go together at all.
When deciding on a bathroom design, think about how you want it to feel. For example, do you want it to feel traditional and cozy or fresh and modern? Then, look online for inspiration photos that fit this feeling.
Once you've found a design style you like, create a mood board. It's very difficult to visualize exactly how products and features will look together without doing so. You can use software programs to create a mood board or do it the old-fashioned way by printing off images and arranging them together.
Look Into Permits
You may think that bathroom renovations are no one's business but your own. If you're just making a few cosmetic upgrades, this may be true. However, most municipalities in Utah County require a building permit for any electrical and plumbing changes, as well as anything else beyond painting your walls or changing the flooring.
If in doubt, fill out a building permit anyway (and factor the building permit fees into your budget!). If you hire a professional contractor, they can also advise you on whether you will need a permit for the work being done.
Important Design Considerations for a Bathroom Remodel
It's easy to get caught up in the aesthetics of bathroom design, but there are some practical considerations you'll have to make too. Without taking these into account, you'll end up with a bathroom that doesn't meet your needs.
Functionality
Making sure your bathroom is functional may seem like a given, but you'd be surprised by how many people forget to give this greater thought when remodeling a bathroom. When considering the functionality of your design, ask yourself the following questions:
Do I want to stay in this home when I am retired? Will I need to make space and accessibility provisions for aging in place? (walk-in showers and walk-in tubs may be something to consider!)
If I'm sharing this bathroom with a partner or young kids, is there enough space for us to move around each other? Can we accomplish what we need to here at the same time? (i.e., do I need a double vanity?)
Will it be easy to get around vanities, tubs, and toilets to clean the room?
When planning the bathroom layout, do I need to create privacy between the toilet and bath and the vanity?
Resale Value
If part of your motivation for remodeling your bathroom is to improve the resale value of your home, you'll want to make sure you do some market research before jumping into the design. Talking to realtors in your area is a great way to get a better understanding of the features that make a bathroom remodel in Lehi, UT, competitive.
A general rule of thumb for bathroom remodels for improved resale value is to keep the design fairly neutral. Try to add color using accessories rather than picking bold vanity counters, tile, and wall colors. This will make the space versatile for all buyers.
Additionally, you'll want to try to spend as little as you can. For example, maybe the existing cabinets don't need to be pulled out but could simply be spruced up with a fresh coat of paint and some new knobs.
Storage Space
Something a lot of people complain about is not having enough storage space in their bathrooms. It's always a bit of a surprise to find out just how much space all those cleaning products, toilet paper, hair appliances, makeup, and accessories take up.
Add bathroom cabinets and storage, such as medicine cabinets, wherever you can. If your budget allows, getting built-in wall storage is a great way to add extra space. As a general rule, the more vertical storage you add, the better.
Common Stages of a Bathroom Remodel
Demolition
Arguably the most fun stage of a bathroom remodel, demolition involves removing all the parts of your existing bathroom that you will be replacing. During this stage, it's important to take care not to damage any existing wires, pipes, or features that you will be keeping.
It should go without saying, but if you decide to tackle this part of the project yourself, ensure that you turn off the electricity and water supply before starting. Protect yourself with protective glasses, gloves, and a mask as well.
Painting
If any walls were opened to modify the plumbing and electrical systems, the walls would first have to be closed with drywall installation and repair. Once your walls are dried and sanded, you can pick out your paint colors to spruce up your new walls. Though they might need touch-ups at the end of the project, painting the room prior to installing tile, a new toilet, and the vanity will make the process go much more quickly.
Tiling
At this stage, tile on the shower walls, around your tub, on the floor, and anywhere else you've decided to put it can now be installed. This is the stage where the new bathroom really starts to come to life!
HVAC and Lighting
Most bathrooms have ventilation systems to help reduce the amount of humidity in the room after baths and showers. Along with any other lighting fixtures you've picked out, ventilation systems can now be installed.
Sink and Vanity Replacement
The final pieces to be installed in your bathroom are the new vanity and sink. This will be followed by toilet replacement, leaving you with a fully functional bathroom. From here, all you need to do is add a mirror, some towel hooks, and any other final touches.
Tackling a Bathroom Remodel Yourself
A great way to save some money on your bathroom remodel is to do at least some of the project yourself. If you have absolutely no experience in home DIY, construction, or carpentry, or simply have no interest, then you can certainly leave the whole thing to the pros. But if you have a little bit of handyman know-how, then doing some components of your bathroom remodel on your own will leave more money in your pocket and help you appreciate the finished product even more.
Some of the more manageable tasks you may be able to handle yourself include:
Adding a coat of paint. Mildew-resistant paint is a great option for humid spaces like a bathroom.
Replacing fixtures. Most light fixtures, towel bars, towel hooks, and faucets can be replaced with the help of a quick YouTube video. Just make sure you follow safety guidelines to prevent damage or injury.
Minor demolition. Be careful with this one—you don't want to create damage that you'll need to pay to be repaired! If you have at least some experience, removing baseboards and tiles can be done without too much risk.
When should I hire a professional?
Unless you have significant handyman and carpentry experience, you'll likely need to hire a handyman for a bathroom remodel in Lehi, UT. Bathroom remodeling contractors have the experience and expertise to safely demolish a space, remove existing features and install all your new improvements.
If you require a building permit for your bathroom remodel, you'll also need to have the space inspected. Professional contractors have experience with inspectors and know what is needed to pass an inspection. If you take on these tasks yourself, you may find yourself failing an inspection and needing to spend more money to fix the mistake.
Bathroom Remodel Lehi, UT: Mr. Handyman is Here to Help!
If you need to hire the services of a professional bathroom remodeler, look no further than Mr. Handyman of Lehi, Provo, and Spanish Fork. Our service technicians have years of handyman and carpentry experience, so they'll be able to tackle any part of your bathroom remodel you throw at them.
Thanks to our customer focus and service guarantee, Mr. Handyman has expanded to nearly 200 franchises across the United States and Canada. Customer satisfaction, integrity, and respect come first and foremost in all aspects of our business. When you work with us, you'll receive a quality workmanship guarantee.
Ready to get started on your Lehi bathroom remodel? Give us a call to discuss your project. We can't wait to hear from you!