10 Simple Driveway Entrance Ideas for Added Curb Appeal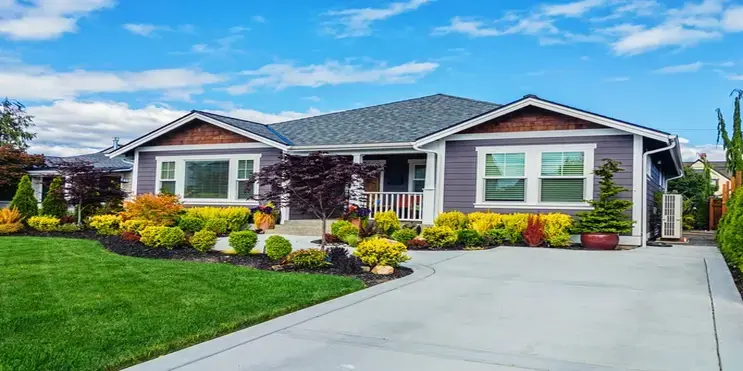 Your home's exterior is one of the first things visitors will see when they head up your driveway. That very first impression they get can be good or bad and long-lasting. In fact, new research shows that it only takes around 27 seconds to make a positive first impression. For this reason, you'll want to impress your loved ones right off the bat with a driveway that enhances your home's aesthetic and makes everyone feel welcomed.
If you're like our team at Mr. Handyman of Memphis, you love simplicity but aren't minimalist either. Our 10 driveway entrance ideas will help make your home be a shining beacon of style and flair and the place everyone wants to stay awhile.
1. Let There Be Light
Have you ever driven up to someone's home and wondered if they gave you directions to an abandoned property or an open field? The drive was probably anxiety-inducing because you couldn't see the property due to poor lighting. You shouldn't have to suspect your family or friends signed you up to be an extra in a horror movie because it's pitch black. Add LED pathway lights for stunning illumination so that everyone can see your home and marvel at its beauty.
2. Brighten It Up with Seasonal Color
Landscaping can be a foreign concept in terms of choosing the right plant life and incorporating it into your home's exterior. However, seasonal color can be a simple driveway entrance idea that makes your landscape pop.
According to Love Your Landscape, you can choose the right seasonal color by:
Determining your plant hardiness zone
Timing your plantings so that you have beautiful bursts of color
Locating the best area for your plantings based on how much sunlight they need
Considering how your flowers will look with other bushes and shrubs
Not limiting yourself and consulting an expert for assistance
Remember, you can't make your seasonal color selection solely based on their beauty. If you're choosing flowers for their appearance alone, you can end up making a costly mistake that keeps your garden from thriving and your driveway looking drab.
3. Use Mixed Materials
Who says you can't mix and match at your leisure? It's your home! You can create an entirely one-of-a-kind look by mixing materials. Stone pavers with concrete or large concrete tiles with gravel make a great addition to any driveway. Don't be afraid to add some visual interest with mixed materials of various shapes, sizes, and colors.
4. Add or Remove a Driveway Gate
Driveway gates can make your home look statelier if you're interested in adding one. On the other hand, removing a driveway gate can clean up your landscape and help make your property look more expansive and inviting. We're not here to tell you which way to go (after all, your home should reflect your uniqueness). Still, it's a good idea to think about what you want your property to say about you as a homeowner.
5. Include Stunning Edging/Border
Edging is a driveway entrance idea that can be anything from rose bushes to river stones and almost every material in between. The best part about this simple driveway idea is that it isn't exclusive to just your driveway. It can also work well for a backyard garden that includes the benefits below.
The advantages of edging include:
Reduces erosion
Uses recycled material
Adds property value
Provides root barriers
Gives a clean appearance
6. Pave the Way
Most people know how gorgeous and nostalgic traditional brick pavers look in a driveway and are flocking to their local home improvement stores to get the look for less. Depending on the pavers' style, color, and orientation, your home can get an appearance upgrade without a lengthy renovation project. You can add everything from circular pavers in offset colors or even combine various types of pavers to make your driveway really stand out in the neighborhood.
7. Pressure Wash Away the Grime
Sometimes, timely and costly enhancements are unnecessary when you can simply wash away the dirt to elevate your home's façade. Power washers use a specific high-pressure heated water spray (typical 2,000 to 3,000 PSI for a driveway) to clean hard exterior surfaces. You can also stain your driveway using a pressure washer and stencils made exclusively for driveway staining.
Safety tip: Never pressure wash any fixtures or electrical elements. Just because specific components are located outside doesn't mean they shouldn't be handled with care.
8. Keep Things Private
Privacy is a valuable commodity that all homeowners require. Adding privacy trees to your driveway or entrance tells your guests that you care about the environment, want to define your driveway, value privacy, and want to create wind resistance and drown out noise.
Consider these things before planting your privacy trees:
The height/width of your trees
The type of trees
Low maintenance options
The size of your driveway/yard
Planting proximity
A mixture of trees and bushes
9. The Deal with Outdoor Décor
Customizing your driveway is as simple as adding outdoor décor to make guests feel welcomed and give your home a lovely focal point. We recommend using large planters on your porch, incorporating a bright or neutral-colored bistro set, or a modern sculpture or fountain on your lawn. Almost anything will bring vibrancy and curb appeal to your driveway and home's exterior. Our advice when it comes to outdoor décor is to not limit yourself and think outside the box.
10. Keep Up the Upkeep
Whether you have a long straight driveway or a short, curved driveway, maintaining the landscape around it is vital to sprucing up the appearance. Crisp edging, thriving plant life, fully illuminated pathway lights can go a long way in enhancing your driveway for years to come.
We Love Helping You Spruce Up Your Space
These simple driveway entrance ideas can get you started, but there are always things you can do to improve your home and truly make it your own. Our Memphis team loves supporting homeowners like you with painting fences, installing decking, and assembling patio furniture. We hope that you'll allow our experienced handymen and women to help you with your outdoor projects, whatever they may be.