A Five-Step Guide to Deck Staining for Memphis Homeowners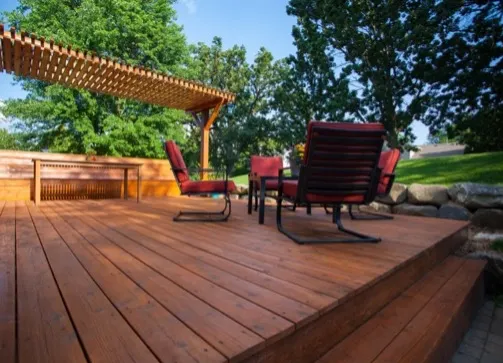 Give Your Deck New Life Just in Time for Summer
As any Memphis homeowner knows, decks can take a real beating over time. The harsh sun and frequent rain can cause the wood to fade, warp, or crack. Even if you use pressure-treated lumber that's designed to resist rot and insect damage, your deck still needs regular maintenance in order to stay looking great for years to come.
One of the best ways to keep your deck looking its best is by staining it regularly with a quality sealer or stain. Not only does this protect the wood from moisture and UV rays, but it also gives your outdoor living space an attractive finish that will last for years.
With the guidance of the home improvement experts at Mr. Handyman of Memphis, you can give your deck new life just in time for summer. Host your warm weather barbecues and evening parties in style with these deck staining tips.
Here are the steps you need to follow in order to properly stain your deck and give it a fresh new layer of style and protection:
Clean the Deck
Start by thoroughly cleaning the deck with a pressure washer or a stiff-bristled brush and some cleaning detergent. This will remove any dirt, grime, and other debris that could prevent the stain from adhering properly. Allow the surface to dry completely before staining.
Strip Old Stain or Paint
If you're working with an older deck, it's important to strip away any existing paint or sealer before beginning your project. This can be done using a chemical stripper or sandpaper, depending on what type of material is currently on the wood.
Make sure to use protective gear such as gloves, goggles, and a respirator when handling chemicals, as they can be harmful. If you're unsure about using a chemical paint stripper, you can always count on the professionals from Mr. Handyman of Memphis to handle the job safely.
Prepare the Area
Before applying stain, it's important to make sure you have all of your supplies ready and adequately protect nearby surfaces from splatter marks that may occur during application. Cover surrounding areas that you would like to protect with plastic sheeting and mask any details such as railings or joints with painter's tape to ensure even edges.
Apply Stain
For even coverage across your deck, begin at one corner of the area and move slowly towards the other side using either a roller or sprayer (depending on what kind of product you're using). Always apply in long strokes parallel to the direction of your boards, which will help ensure even coverage across each board while minimizing potential overlap marks between them. Generally, one coat of stain is enough, but a second can be applied after the first has completely dried if necessary.
Be sure to stain in the direction of your intended exit from the deck, whether it's a door or set of stairs. You don't want to accidentally trap yourself in a corner surrounded by wet stain, so plan accordingly before you begin.
Enjoy Your Revitalized Deck
Once the stain has dried completely, your newly stained deck is ready for use! To keep it looking its best for longer, be sure to clean up spills quickly and reapply a fresh coat of stain every two years or so depending on how often you use it. This will help keep moisture out and maintain its attractive finish for years to come!
With this helpful guide, you'll be able to enjoy summer in Memphis on a beautiful deck that looks like new! Staining your deck is a simple but effective home improvement that can instantly boost the attractiveness of your home.
Trust Mr. Handyman of Memphis for Your Next Deck Improvement Project
If you want to stain your deck yourself, but you simply don't have the time or equipment, Mr. Handyman of Memphis can help! Whether you need help with the prep work before staining or need a section of your deck repaired, our experienced professionals are here to make sure your home project gets done right.
We provide quality craftsmanship at an affordable price so that you can enjoy a beautiful outdoor space without breaking the bank. Our team takes pride in their work and will ensure that every detail is taken care of quickly and efficiently to leave you with a lasting result that looks great.
Request service online or call today to learn more about our Memphis handyman services. We look forward to assisting you with your next home improvement project!