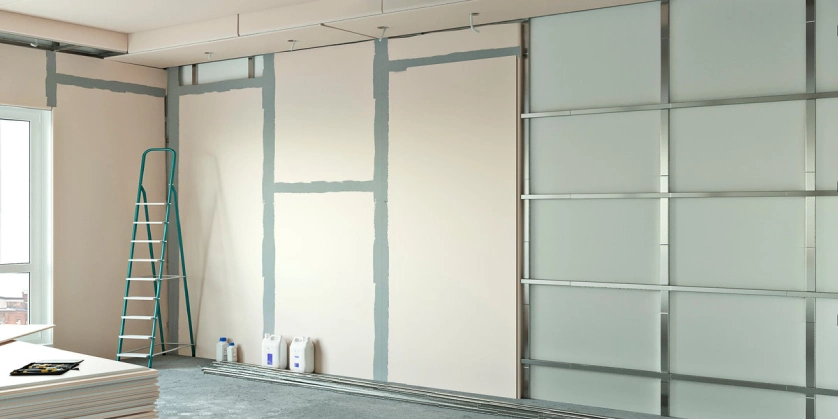 We spend the majority of our time completely surrounded by drywall, but most people rarely notice or think about it. That's understandable. It's designed to fade right into the background, so most of the time, we only notice it when something's not right. Whether your walls or ceilings have suffered damage and aren't looking their best, or you want new drywall put up at your residential or commercial property, you need expert Newtown drywall installation service from a qualified handyman.
Installing walls, ceilings, or both is a major improvement project, so you probably have some questions about the process—like, what is involved in Newtown drywall installation services? Do I need replacement services or just drywall repairs? And what is drywall, exactly?
This guide covers the answers to some commonly asked questions with expert advice from your local Newtown handyman. The team of service professionals at Mr. Handyman of Newtown and Yardley has the skills and experience to deliver the best quality workmanship, and we are proud to go the extra mile when it comes to customer service.
What is Drywall?
Also called sheetrock, wallboard, gypsum board, and probably dozens of other nicknames, it is basically a panel of gypsum (a soft, sulfate mineral) encased in thick layers of backer and facer paper. It typically contains chemical additives that inhibit moisture damage such as mold and mildew growth and reduce flammability. There's also a type called green board that has an additional water-resistant layer of heavy paper on the outside surfaces of panels for use in areas that may be exposed to splashes of liquid, like a kitchen. Drywall is used in most homes and commercial buildings throughout the United States and many other parts of the world.
What Do Newtown Drywall Installation Services Include?
If you've never attempted drywall installation yourself and have never seen it done, you may not know much about the process of transforming a pile of drywall panels into a smooth, even wall or ceiling surface. When calling our team for drywall installation, Newtown, PA, residents can rely on us to take care of every step of the process. Here's what to expect from our trustworthy handyman team.
Preparation
Before we get started, we'll assess the project thoroughly and advise you of any potential complications we may encounter or recommendations for making the process go smoothly. We'll gather the necessary quality materials and prepare the room where the installation is taking place by putting down plastic sheeting or drop cloths to help contain the mess.
Installation
Newtown drywall installation is more complex than many people suspect because it's not just a matter of attaching a sheet of drywall to the wall studs and calling it a day. Once panels have been hung up and screwed into studs, sheetrock needs to be finished to the necessary finishing level. This involves covering joints between panels with joint tape, then plastering over the tape, screw heads, and other imperfections with joint compound. Once the compound is dry, we will sand it down to a smooth, even surface, so it's ready for painting.
Painting
You may be painting or installing wallpaper yourself, in which case we'll leave your new wallboard ready for you to take over. But if you're not up to the task of wall painting or you simply don't have the free time, you can count on your experienced Newtown handyman to take care of painting for you, so all you have to do is sit back and enjoy your new living space.
Cleaning Up
Newtown drywall installation is a messy business with a lot of gypsum dust flying around and getting on everything and everyone. Someone needs to clean all that mess up once the work is finished—and ideally, that person will not be you. Our courteous handyman professionals always clean up after themselves to ensure that we're leaving your property in as good of a condition as we found it—or even better.
What Are the Newtown Drywall Installation Finishing Levels?
We mentioned above that after the sheetrock is hung, it needs to be brought up to the appropriate finishing level. What does that even mean? It is essentially a set of industry standards your service professional will follow to give your wallboard a smooth finish after it has been hung and fastened onto wall studs. These standards were developed in part because some drywall surfaces don't need every step, depending on the type of room and how the walls or ceiling will be treated following Newtown drywall installation.
The drywall finishing levels are:
Level 0: At this stage, the sheetrock panels are fastened in place on your walls or ceiling, but the finishing process has not begun. Walls are pretty much never left like this unless they're being used as temporary dividers during construction.
Level 1: The first level of finishing is when all joints and angles are covered in joint tape, which is embedded in the joint compound. It is not common for walls to be left at this stage, but you may occasionally find a level one finish in a non-habitable area of a building, such as an attic or crawl space.
Level 2: Next, level two has been achieved once the joint tape is covered with a skim coat of joint compound, and metal corner beads and screw holes have been covered or filled with compound. If you are planning to install tile, for example, on a kitchen backsplash, there's no point in continuing any further with finishing since any surface won't be visible.
Level 3: At this point, an additional coat of drywall mud has been applied to taping on joints and angles, and the corner bead and screws have received another layer of the compound as well. If there will be texture applications on the surface, such as popcorn ceiling texture spray, you can stop the finishing process here.
Level 4: This is the finishing level you normally see in homes and commercial properties in Newtown, PA. The third layer of joint compound has been applied to joints, angles, and screw holes, allowed to dry thoroughly, and then sanded down to eliminate any bumps or uneven patches. At level four, it is ready to be painted or covered with wallpaper.
Level 5: At the last level, a finish coat has been applied over the entire installation to create a flawlessly smooth surface. It can be applied by spraying or manually with a drywall knife or roller.
When Should a Level 5 Drywall Installation Be Done?
Practically speaking, a level five finish is not really necessary for drywall installation in Newtown, PA, in most cases. Level four finishing on wall and ceiling installations is perfectly adequate to provide a smooth, even, attractive surface that is sealed up against air drafts and pest infestations. Level five is a premium finish that does give a very nice-looking surface, but it's not commonly part of the finishing process in Newton homes and commercial buildings.
Ceilings are the one part of a building where you're more likely to see a level five finish. Because of how light plays across your ceiling, it highlights imperfections such as bumps and dents that can be literally smoothed over by a level-five finish. This is one of the reasons why popcorn ceiling texture is often used—along with its other benefits; it is a convenient way to hide ceiling imperfections.
Can Paint Be Applied Directly to Wallboard?
It is acceptable to apply paint directly to your wallboard as long as it has a level four finish. However, it's better to apply a coat of primer first. Primer helps the paint adhere to the wall, so it keeps the paint looking good for longer and resists peeling, chipping, or flaking. It also evens out the color of the paint over the top, so you may not need as many coats of color to achieve full coverage.
Do I Need Drywall Replacement or Wall and Ceiling Repairs?
If you've got damaged walls or ceilings, you may be wondering if a total replacement is the right move or if you'd be better off with drywall repair services. That's a pretty common question, and for a good reason—there's no point in diving right into a major replacement project if you just need a few repairs, but you don't want to mess around attempting repair work that isn't going to be sufficient to address the problem.
In the question of repair versus drywall installation, Newtown, PA professionals on our team have found that it really depends on the nature and extent of the damage. Small dents, scuffs, or holes like nail and screw holes can be easily repaired, even by an amateur. Larger holes that are less than about four inches in diameter, such as a hole caused by a doorknob punching through the wall, need to be repaired with a mesh patch. For holes that are more than four inches across, your handyman will cut out the damaged section of your wall and replace it or remove and replace an entire panel. That being said, if the damage is widespread across a large percentage of a wall, ceiling, or entire room, a total replacement will definitely be the most cost-effective solution to get it back in good shape.
Can an Amateur Handle Newtown Drywall Installation?
Most of us have seen some messed-up drywall in our day that was installed by someone who definitely didn't know what they were doing. While it may sound like it would be a simple matter to take care of drywall installation, in Newtown, PA, property owners who decide to give it a try for the first time often discover that it's a lot more complicated than they thought it would be. From dents and cracks to gaps between panels and loose corner beads, there's a lot that can go wrong.
But the biggest problem that amateurs typically have is severely underestimating how time-consuming and laborious drywall installation can be—especially if you don't have the experience, skill, and steady hands to work quickly and accurately. Homeowners often get part of the way through the mudding and taping before they realize they are in over their heads or simply don't want to do all the work that is required.
Unless you already have the equipment you need just sitting around in your garage, you'll need to pay the additional cost of buying the correct tools. If you get halfway through and realize you're not up to the task, it'll be even more time and work to repair what you've done before a professional can take over. Rather than spending time, money, and stress trying to figure out how to do it yourself, call our team of Newtown drywall installation experts to get it done quickly and economically to the highest standards of workmanship.
What Are Common DIY Drywall Installation Mistakes?
When it comes to drywall installation, Newtown, PA professionals on our team have seen and dealt with a few common DIY errors over the years. The typical mistakes that we are called in to correct include problems such as:
Too Many Hanging Joints: Sometimes, it's difficult to get the seams between panels lined up on the wall studs, but if you have too many "hanging joints" that are not fastened to studs, it will weaken the overall installation, and the wall is likely to suffer damage such as cracking or even collapsing sections.
Tight Seams Between Panels: There needs to be a bit of wiggle room between sheetrock panels to accommodate movement of the building over time, along with expansion and contraction of wooden framing in different temperature conditions, or your panels will be forced into each other and crack.
Over-Sanding: Sanding down dried joint compound to form an even, smooth surface is a necessary part of the finishing process, but if you're too aggressive with it, you'll sand too far and hit the joint tape that's hidden underneath. At that point, you have to redo several steps of the finishing process.
Count on Your Local Newtown Handyman for Expert Drywall Installation
Whether you are in Newtown, PA, or a nearby town such as Furlong, Richboro, or Langhorne, you can rely on the team of professionals at Mr. Handyman of Newtown and Yardley for expert workmanship and trustworthy customer service. Give us a call today to find out more about our reliable services or to book an appointment.