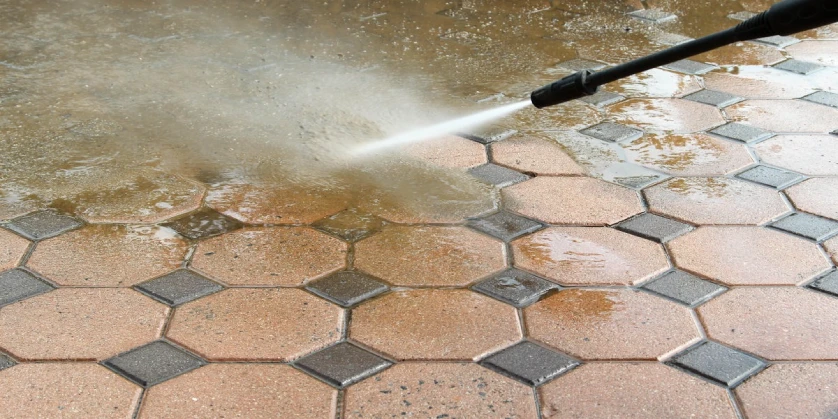 Wet seasons in Florida don't clean our properties; on the contrary, they can cause more damage than we're prepared for. The moment we step outside to a drier summer, we will notice areas on our properties that are not pleasant to look at, from ocean sediment at our doorstep to salt stains on our front door and siding. Leaving them could lead to problems down the road like corrosion and other damage.
West Palm Beach pressure washing services are designed to eliminate issues caused by high salinity in the air and facilitate your seasonal cleaning chores that would otherwise include hours on end of scrubbing. Here's why you can rely on Mr. Handyman serving South Palm Beach to get the job done fast and efficiently.
Why Pressure Washing?
West Palm Beach is a beautiful neighborhood with many large properties that people marvel at from a distance. But once they come close, you want your property to be spotless. Any sign of grime on your white siding or oil stains and tire marks on your concrete driveway might raise eyebrows. These stubborn stains can be difficult to remove without proper cleaning power. When you hire us for pressure washing service, we will arrive with our high-pressure water jet that ranges between 750 and 3,000 psi. A quick inspection of the exterior surfaces will help us determine material condition and water pressure strength before we go ahead with professional cleaning. Often, soft washing with heated water will suffice, but sometimes a high-pressure stream is needed for tough stains.
There are different types of pressure washers. West Palm Beach residents may have seen those in the hardware store and wondered which ones the pros would use. Before you decide, it's important to know which type serves which purpose—from lightweight to heavy-duty and gas-operated to electric—size and psi level matter.
Commercial pressure washing would be an example where you need heavy-duty power washers. Depending on the preference of the property manager, service technicians typically use commercial cleaners that contain sodium hypochlorite—a stain-removing agent that you also find in bleach. These will get rid of pesky grease stains and perform gum removal effectively and can handle larger areas like parking lots. When power washing residential homes, we prefer using multi-cleaning purpose cleaners that are less harsh on surfaces. Biodegradable cleaning solutions are also available.
Where Do I Need Pressure Washing?
Beachfront homes are most susceptible to salt air corrosion when they have outdoor surfaces that are made of metal or wood-based materials. If you love these materials, you will have to remember to maintain them properly with routine inspections and maintenance services like pressure washing. The six top spots that often call for West Palm Beach pressure washing include:
Front and backyard
Florida's climate and soil can be challenging for growing plants and would require lots of garden maintenance, which is why many homeowners opt for hardscape environments when possible, including paved areas and rock decorations. Over time, the surfaces collect dirt, grime, or have moss growing on them. Whether you have a bed border that separates your beach sunflowers from stained concrete or have a range of rock features that have collected slime and other substances, our pressure-washing service will recover your yard's original look.
Siding
Some homeowners love white, cream, and other bright colors for their siding, which can be easy to maintain if you stick to your annual exterior cleaning schedule. But the days of scrubbing are over! Our siding can still meet its life expectancy of 50 years if it receives its maintenance services and minor repairs. Your local handyman is happy to take that burden off your shoulders, whether you have vinyl, brick veneer, wood, fiber cement, or composite siding.
Deck
There's nothing we enjoy more than a healthy, shiny deck in the summertime. When we invite friends over, we want to ensure our deck boards are safe and clean. If you have pressure-treated wood with quality sealant, you can rest easy knowing that your deck boards will last, but it doesn't mean it doesn't collect dirt and grime. If you are planning a gathering soon, we recommend that you schedule an inspection and pressure washing! West Palm Beach homeowners will see their deck's natural shine again, especially after a new fresh layer of finish and deck cleaning.
Fence
Clean, healthy fences mark our home's territory and protect our children and pets. Whether you have engineered wood, vinyl, or aluminum, you will see results after pressure washing; West Palm Beach property owners can look forward to a cleaner, spotless look in their exterior space. Further maintenance services we offer include repainting or restaining, termite checking, and repairing broken boards and hinges.
Soffits and Gutters
A healthy gutter ensures your roof system is protected from excess moisture and won't need frequent roof cleaning. Clogged gutters or salt damage are serious problems, but the good news is that West Palm Beach pressure washing can quickly eliminate this issue. First, we will inspect your soffit and gutter's health before going ahead with pressure washing. West Palm Beach homeowners are recommended to take this measure before the rainy season arrives in late May. Severe water damage can lead to structural damage and costly repairs. Proper roof washing will keep your home's roof in pristine condition.
Other areas to pressure wash:
Garage floors
Driveways
Parking garages
Decks, porches, and patios
Tile stones
Patio furniture and other types of outdoor furniture
And more!
Call Mr. Handyman in West Palm Beach for Pressure Washing
Has your home's exterior seen better days? Whether you own a residential or commercial property, count on your handyman in West Palm Beach for expert pressure cleaning. Whether you have dirty concrete surfaces or graffiti on your building, your team at Mr. Handyman serving South Palm Beach will take care of any chores that take up too much of your valuable time. Our priority is your safety and a clean living environment, which is why you can trust us to get the job done right without leaving any mess behind. We are a locally-owned and operated business, with reviews from many satisfied customers in West Palm Beach and nearby communities like Boynton Beach.
Give us a call today to chat with our outstanding customer service reps about what we can do to make your home safer and more comfortable. We offer services for everything from pressure washing to exterior door repair.