When you need drywall repair or installation in your home or business in West Columbus, contact Mr. Handyman. We provide quality drywall service promptly at your convenience.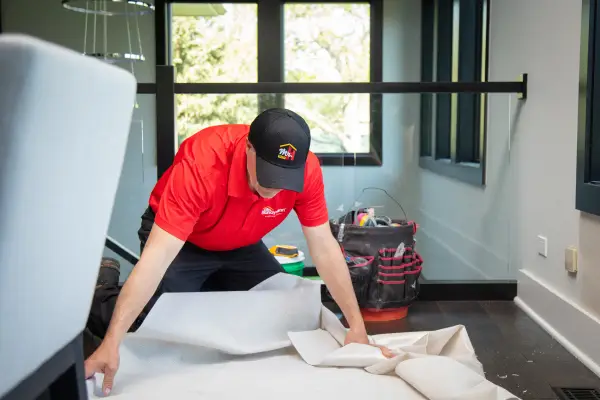 Drywall Repair Services
Various problems can occur with drywall in West Columbus, and Mr. Handyman is prepared to take care of them. This includes issues such as:
Damage from moisture
Damage from children or pets
Damage from door knobs or kickers
Damage from moving furniture
Damage from nails, screws, and drywall anchors
And more
Drywall Ceiling Repair


Ceilings are a very common place for drywall damage to happen. This can occur when you update lighting, move, or improperly install older fixtures. Another common situation is water damage from bathrooms on the second floor or from leaky roofs. Whatever the reason, Mr. Handyman can make it right. We can repair the drywall in your ceiling professionally to make it look new again.
Drywall Crack Repair
Drywall cracks commonly occur from house settling. Over the years, older homes settle onto their foundation, or the foundation itself settles in the earth below, inducing a strain on the drywall. The stress on the drywall results in visible and unsightly cracks. Mr. Handyman of West Columbus can repair drywall cracks anywhere in your residence or business.
Drywall Hole Repair


Drywall holes are the worst. No matter how small, they are incredibly unsightly and arise easily from a doorknob or couch striking the wall or something as simple as hanging a picture. Recently, the popularity of wall-hung plasma TVs has resulted in many people needing drywall hole repair in West Columbus. Fortunately, Mr. Handyman is on the job, ready to make your drywall look great again.
Drywall Installation and Finishing


If you are renovating your home, chances are you'll need drywall installation and finishing in West Columbus. Drywall is challenging to work with, no matter how many people are on the job. However, the team at Mr. Handyman is highly skilled at installing and finishing drywall and creating a smooth, pleasing surface ready for paint or wallpaper.

Contact Mr. Handyman today for all your West Columbus drywall installation and finishing needs. We look forward to working with you!