Summer Home Maintenance Checklist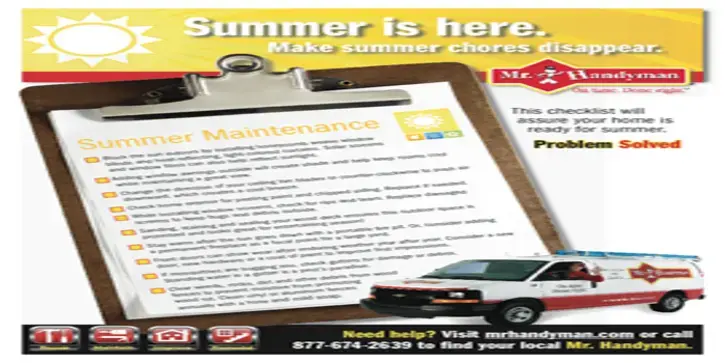 Download a free, printable Summer Home Maintenance Checklist.
1. Hang Summer Window Coverings Help keep your home energy-efficient and cool this summer by blocking as much sunlight as possible. Honeycomb weave window blinds and heat-reflecting, light-colored curtains reduce the light, while window films and solar screens reflect it.
2. Install Awnings Outside If you want to maintain a clear view, window awnings allow you to do so while also creating shade that helps reduce the amount of room-warming sunlight coming into the house.
3. Flip the Switch on Your Ceiling Fans In the summer, your ceiling fan blades should run counter-clockwise. That way, the air pushes downward and against you, creating a cool breeze inside. This also proves a perfect time to give the blades a good cleaning and to have any maintenance required performed. A squeaky ceiling fan can disturb your sleep, after all.
4. Check Your Exterior Paint and Siding Before the sun has a chance to beat down on the exterior of your home, check the state of your paint and siding. Peeling paint and oxidation adds to the cost of prep work needed for an exterior paint job, which makes it financially smart to paint more often than less. Also have chipped siding repaired before it creates a problem in terms of letting water seep into your home.
5. Repair or Replace Any Damaged Window Screens If you only keep screens on your windows in the warmer months, now proves the perfect time to check them for rips and tears. If you leave them up year-round, though, they still need an inspection. You don't want insects and debris entering your home. Also, consider caulking where necessary while you're working in the window areas of your home.
6. Prep Your Deck or Patio Most decks and patios need power washing, deck staining, and sealing every year. You may also be due for spot sanding or an entire refinishing. You will get the most enjoyment from your outdoor living space the nicer it looks.
7. Add a Fire Pit to Your Outdoors In areas of the country where temperatures drop at night, having a fire pit extends the number of hours you can use your outdoor living spaces. You can opt for a portable pit or have a permanent fireplace or pit installed if you have the room. If you already have a pit, this is a great time to give it a good cleaning.
8. Inspect Your Front Door Just like you looked at your exterior paint job and siding, give your front door a once over. It could be time for a fresh coat of paint, new hardware, or even a total door replacement if it no longer makes a good first impression or presents a safety risk.
9. Clear Your Gutters The last thing you want to see in your gutters is standing water. It serves as a breeding ground for mosquitoes. If you do find it, be sure to do some serious gutter cleaning and assess if any repairs need to be made.
10. Check Your Fences You should never let weeds, rocks, dirt, or other debris sit against a wooden fence. It can result in moisture building up and turning into wood rot. Clear the way, then decide if your fence needs a good cleaning. It may be time to power wash and retreat your fence. If you have a vinyl or aluminum fence, you can simply clean it with a hose and mild soap.
Your professional handyman can help with any of the tasks on this Summer Home Maintenance Checklist. We'd be more than happy to free up your time, so you can spend it enjoying the summer with friends and family.
Read more about, seasonal home maintenance checklists and schedules.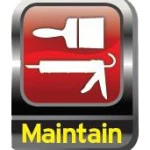 Mr. Handyman can maintain your home to save you money. One call really does take care of everything on your to-do list. Make sure to stay on top of all your household repairs, improvements, and maintenance needs, and
request service
now online.
Repair. Improve. Maintain. One call does it all!