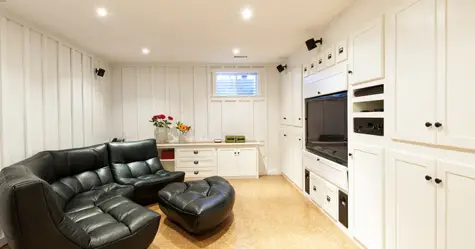 Often a dumping ground for old holiday decorations or unsorted family photos, your basement can become a cluttered space rather than a living space – especially if it's small. However, with just a few small improvements to lighting, storage, and design, your basement can become a spacious living area where you actually want to hang out.
Small Finished Basement Ideas
Think tall – Consider adding wainscoting or paneling to your basement walls to create vertical lines, which can make your basement ceiling look taller. This solution also blends horizontal lines like baseboards and chair rails, which can aesthetically improve a small space.
Lie like a rug – Small finished basements usually have wall-to-wall carpet, which contributes to the small feeling. Try breaking up the space with an area rug. This is an affordable yet effective way to make a small basement seem larger and cozier.
Lighten up – Consider installing wall-mounted lights to add a warm touch of light without taking up valuable headspace or floor space. Sconces produce ambient lighting that reflects off walls, floors, and ceilings so you can have maximum light­ing while still saving space.
Mind your step – An under-the-stairs storage solution is great for maximizing your basement storage space. Set up simple shelving units to efficiently store and sort rarely or seasonally used items, and – voilà! – you're maximizing basement space! Under-the-stairs space is often unused or not used effectively, so finding storage remedies there will create bonus space in the remainder of your basement.
Smoke and mirrors – This optical illusion is hardly a secret: Installing mirrors makes any space appear larger than it is. Plus, remember that ambient light that you added to brighten up your basement? It will also reflect off your mirror, making the space even brighter. If you have only one or two small windows to let in natural light, consider placing your mirror in such a way that it reflects that natural light.
Cut the couch – Furniture can be enemy number one when it comes to saving space. Keep only the furniture that you absolutely need, and when possible, purchase multi-functional furniture. Trade in that chunky recliner for comfy yet compact furniture. Many furniture companies offer space-saving furniture options, and the extra legroom will be worthwhile.
Broad daylight – Maximize exposure to natural light as much as possible. Natural light can make your finished basement feel less like a basement and more like a living space. While man-made lighting solutions are helpful, nothing lightens the mood like natural light in a small space.
Professional Help for a Basement Makeover
Your finished basement is a living area, not a place for junk to pile up. By implementing some of these ideas, you can turn even the smallest basement into a comfortable and functional space. Does your basement need a little more than just added storage space and decoration? Mr. Handyman can help. Request service today or call. Our team of home improvement professionals will help you turn your basement into the living space you've always wanted!
Basements are notoriously dank and musty spaces. Before you begin your small basement project, make sure you remove any existing mold and address the root cause of the mold so that it doesn't come back. We recommend contacting your local Rainbow International for mold removal and remediation services. Learn more about Rainbow International and Neighborly's community of home service professionals.